Click Here for More Articles on OPERA - LOS ANGELES
LA Opera Off Grand to Present LA BELLE ET LA BETE with Live Performance of Philip Glass Score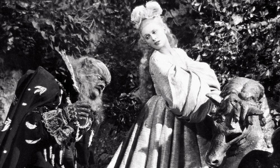 From October 28 through 31, LA Opera presents a special Halloween treat for cinephiles and opera lovers alike: a screening of Jean Cocteau's ravishingly beautiful 1946 cinematic masterpiece La Belle et la Bête ("Beauty and the Beast"), with an enchanting Philip Glass score performed live by the Philip Glass Ensemble and four vocal soloists at the spectacular Theatre at Ace Hotel.
The modern maestro added his special magic to the shimmering spectacle on the screen by replacing the film's original music and dialogue with nothing less than a full-length opera; the dialogue is sung by the vocalists in synch with the onscreen actors. La Belle et la Bête is sung in French, with English subtitles. The performances are conducted by Michael Riesman.
There will be three performances of La Belle et la Bête presented at the Theatre at Ace Hotel (929 South Broadway, Los Angeles, 90015): Saturday, October 28, 2017, at 8pm; Sunday, October 29, 2017, at 2pm; and Tuesday, October 31, 2017, at 8pm. Learn more at LAOpera.org/Belle.
Tickets are on sale now. Tickets begin at $41 and can be purchased in person at the LA Opera Box Office at the Dorothy Chandler Pavilion, by phone at 213.972.8001 or online at LAOpera.org. For disability access, call 213.972.0777 or email LAOpera@LAOpera.org.
Special Events on October 28 and 31:
- After the October 28 performance, all ticket holders are invited to the Ace Hotel's Beastly Ball, a Halloween party featuring DJ sets by Thee Mike B, DJ Franc and the Restless Nites DJs, with dark arts provided by Super Deluxe and special cocktails. Dweller-of-the-night attire encouraged. Click here for details.
- After the October 31 presentation, there will be a Halloween after-party at the Theatre at Ace Hotel. Everyone with a ticket for this performance will be able to participate, and all ages are welcome. There will be a cash bar. There will be a costume contest, judged by members of LA Opera's costume staff; the first 40 people who register for the costume contest will receive a free drink token.
Released in 1946, La Belle et la Bête is director Jean Cocteau's sublimely poetic adaptation of the beloved fairy tale, in which a beautiful young woman saves her father's life by melting the heart of a feral but noble beast. Regarded as a landmark of motion picture fantasy, the film features ravishing cinematography, innovative lighting techniques and breathtaking visuals. The exquisite Josette Day stars as Belle opposite Jean Marais in the dual role of the Beast and Prince Ardent; Marais also appears in a third role, as Belle's suitor Avenant.
Legendary composer Philip Glass is responsible for some of LA Opera's most notable recent highlights, from Einstein on the Beach in 2013 and Dracula: The Music and Film in 2015 to last year's stunning Akhnaten. "Cocteau has always been an artist whose work was central to the 'modern' art movement of the 20th century," said Mr. Glass. "La Belle et la Bête is for me the most compelling of his films. This work, more than any other, expresses the profundity of his thoughts and the eloquence of his artistic vision."
The newly restored Theatre at Ace Hotel in downtown Los Angeles opened in early 2014 in the historic United Artists building. An ornate, storied and vibrant Los Angeles gem originally built in 1927 for the maverick film studio, the UA theater and tower stand as monuments to a group of seminal American artists pushing out on their own. For more information about the theater, click here.
La Belle et la Bête is presented under LA Opera's Off Grand banner, which complements the company's mainstage programming through a wide variety forms of artistic exploration in a range of venues throughout Los Angeles. Its objectives are to serve a broader geographical area, increase the diversity of our audience and expand the range of experiences available to existing audiences.
In addition to La Belle et la Bête, the 2017/18 season's Off Grand offerings include Keeril Makan's Persona at REDCAT, Matthew Aucoin's Crossing at the Wallis Annenberg Center for the Performing Arts, and a double bill of Gordon Getty's Usher House and The Canterville Ghost at The Broad Stage. To learn more, visit LAOpera.org/OffGrand.
For additional information about this presentation, visit LAOpera.org/Belle.
Related Articles
More Hot Stories For You