IN A BOOTH AT CHASEN'S Comes to El Portal - Tickets On Sale Sunday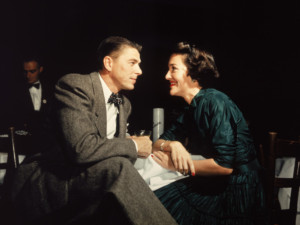 On November 15, 1949, in Hollywood, California, an up-and-coming young actress met a handsome movie star for dinner -- a blind date that changed history.
Two-time Academy Award winner and Tony Nominee,
Al Kasha
, multiple award-winning hit songwriter,
Phil Swann
, and acclaimed author and poet,
Sam Bennett
, have woven the two-year courtship of
Ronald Reagan
and
Nancy Davis
into a funny and touching two-character musical that is both poignant, and endearing. A true Hollywood love story made both human and timeless. In an intermission-less 85 minutes directed by
Kay Cole
, In a Booth at Chasen's - The Real Life Romance of Ron and Nancy Reagan will run for 17 performances from November 9 to 25 (press opening Sunday November 11th) at the El Portal Theatre. The musical presents the beginnings of one of the world's most legendary romances - and how it might not have happened at all. The show plays out on one set, with a precise attention to historic details -- depicting the eponymous booth from the famed (and now lost) Hollywood landmark, Chasen's Restaurant. Tickets are on sale Sunday, July 15 will be available at
http://www.elportaltheatre.com
and by calling 818-508-4200.
Al Kasha
was twice nominated for the Tony Award for Best Score -- in 1981 for Copperfield and 1983 for Seven Brides for Seven Brothers. Kasha's Oscar winning songs written with longtime collaborator
Joel Hirschhorn
are "The Morning After" and "We May Never Love Like This Again," and they were Oscar nominated for "Candle on the Water" and the score of Disney's Pete's Dragon. They also wrote songs for Freaky Friday and All Dogs Go To Heaven, and with
Charles Aznavour
. Kasha also wrote hit songs for
Jackie Wilson
,
Bobby Darin
, and
Helen Reddy
- and as part of the A&R Department of Columbia Records was responsible for signing
Aretha Franklin
,
Neil Diamond
,
Steve Lawrence
,
Eydie Gorme
,
Andy Williams
and
Janis Joplin
to the label. Producer
Ron Dante
is one of those rare multi-talented individuals capable of making a mark in many fields. Among theatergoers Dante is best known for producing two Tony Award-winning Broadway shows - Ain't Misbehavin', which earned him a Tony for Best Musical, and Children of a Lesser God, which took the Tony for Best Play. Dante was also behind such critically acclaimed plays as Whose Life Is It Anyway?, Crimes of the Heart, Duet for One, and the revival of
Neil Simon
's Little Me. Rivaling Ron's successes as a Broadway producer are his incredible achievements as a record producer. To date, records he has produced have sold over 100 million copies. Among the many major recording artists he has worked with are Cher,
Dionne Warwick
,
Pat Benatar
,
Irene Cara
,
Ray Charles
, and
John Denver
. His most famous collaboration was with
Barry Manilow
, co-producing the singer's first nine albums. Manilow's greatest hits, the signature songs that made pop music history, were all produced by Dante: "Mandy," "I Write the Songs," "Could It Be Magic," and the Grammy-winning "Copacabana." More about In A Booth at Chasen's In November 1949, a nervous 29 year-old starlet -
Nancy Davis
- went to a dinner at Chasen's restaurant with the President - of the Screen Actor's Guild - movie star
Ronald Reagan
, while Reagan is still nursing a broken heart from his divorce from
Jane Wyman
. There is an attraction, and the two hit it off. Several weeks later, the two have become closer, but not yet exclusive. Nancy helps Ron paint the fences at his ranch in the San Fernando Valley, and starts to get to know his children. She even loves his dumb jokes. Over the next two years, the couple confide in one another, turn up the heat, bicker and rage against the gossipy tabloid press, and even battle the threat of Communism. The drama is in how Nancy plays hard to get, and how long it takes Ron to propose. The marriage of Ron and Nancy Reagan continues to be written about, talked about, analyzed and scrutinized. To some, Ron's unyielding devotion to his wife is to be admired and Nancy's fierce protection of her husband is applauded. To others, their relationship seemed odd, old-fashioned and even corny. Either way, it cannot be denied that few, if any, marriages had more of an impact on the 20th century. The scenery is by
Andy Walmsley
; costumes by Kate Berg; and orchestrations by Luke Hannington. In a Booth at Chasen's is produced by John Kerklotz and American Happenings in association with
Ron Dante
and
Al Kasha
; Conwell Worthington is Supervising Producer, J & B Theatrical Productions, LLC. A longtime Hollywood insider and Reagan correspondent,
Al Kasha
was particularly well placed to bring to life the story of this quintessentially Hollywood courtship. Working with composer
Phil Swann
and writer
Sam Bennett
, Kasha was able to realize and recreate the beginning and blossoming of the romance of Ron and Nancy Reagan. Swann is the composer of the hit Off-Broadway musical, Play It Cool (Outer Critics Circle nominee for Best Musical), The People vs. Friar Laurence, the Man Who Killed Romeo and Juliet (
Jeffrey Joseph
Awards nomination Best Musical) DeLEARious (Garland Award winner for Best Score) and
Neil Simon
's Musical Fools, is a musical farce co-authored by Swann,
Ron West
and
Neil Simon
. As a songwriter,
Phil Swann
's songs have been used in countless TV shows, movies, and have been recorded by recording artists including:
Clay Aiken
,
Lee Ann Womack
,
Josh Strickland
,
Blake Shelton
,
Neal McCoy
, Rodney Atkins, Eamonn McCrystal and Lee Greenwood. A former staff songwriter and producer for DreamWorks, Swann's production credits include:
Helen Slater
, The Good Mad, The Sweet Potatoes, Danielle Kuri,
Roberta Duchak
, Dave Aguallo and Dan Nahmod. Solo projects by Swann include the critically acclaimed jazz recording, "Stale Scotch and Cheap Cigars," and the EP, "Age of Opportunity." A writer, actor, speaker, and teacher,
Sam Bennett
is the author of the bestselling, Get It Done: From Procrastination to Creative Genius in 15 Minutes a Day, which
Seth Godin
called, "An instant classic. Essential reading for anyone who wants to make a ruckus." Her latest bestseller is, Start Right Where You Are: How Little Changes Can Make a Big Difference for Overwhelmed Procrastinators, Frustrated Overachievers and Recovering Perfectionists (New World Library). She has also written two popular books of poems, An Artist Talks to God, and By The Way, You Look Really Great Today. She is also the author of the inspirational book, 365 Reasons To Write. Originally from Chicago, where she became part of the world-famous Second City Theatre family, Ms. Bennett moved to Los Angeles in 1994, and appeared in over 100 live stage productions, ranging from Shakespeare to contemporary classics to world premieres. She has worked extensively with The Open Fist Theatre Company as well as with the critically acclaimed LA TheatreWorks. She has continued her comedic work with ComedySportz, as well as a long list of other improv comedy venues. Her television credits include: The
Drew Carey
Show, Bull, The Huntress, Detective, Single Santa Seeks Mrs. Claus, Strong Medicine and Days Of Our Lives. She wrote the one-person show Kiss The Monster, co-authored the hit alt-comedy Miss Millicent's Fall Recital, and has also contributed hundreds of hours of comedy to corporations everywhere through her work with The Second City's Business Theatre. As Director/Choreographer
Kay Cole
's credits include Love Songs, Spelling Bee, Rose Bowl Queens, Bark! No Strings, Desperate Writers (Off-B'way/L.A.), Flunky, Dining Room, Nuncrackers, Judy's Scary Little Christmas, Frog & Toad, A Chorus Line. As a choreographer her credits include: Hunger, Nightmare Alley, Atlanta, Great Expectations, Triumph of Love, Dancing at Lughnasa.
Pasadena Playhouse
: 110 in the Shade, Do I Hear a Waltz? At the Hollywood Bowl she has done: Mame, Bernstein's Mass, My Fair Lady, The Music Man, Camelot. Reprise: Three Penny Opera, City of Angels, Company, 20th Century, Follies, Sweeney Todd, The Most Happy Fella. Other Los Angeles credits include: Atlanta, Paint Your Wagon (Geffen); Grave White Way (Hudson Theatre); Dogeaters, Gaytino (
Kirk Douglas
Theatre); Six Dance Lessons (Falcon, Geffen, B'way); Snoopy, Blockheads (London West End). Her Film/TV credits include: Country Rules, Santa Clause 3, Six Dance Lessons in Six Weeks. Tickets are available at
www.elportal.com
and by calling 818-508-4200.
More Hot Stories For You