Catalina Museum For Art & History To Explore History Of Catalina Grand Prix During First Fridays At The Museum
The event is Friday, February 3 at 6:00 p.m.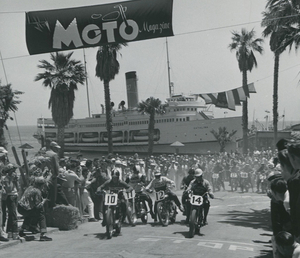 The Catalina Museum for Art & History is traveling back to the 1950s during a virtual First Fridays at the Museum: History of the Catalina Grand Prix on Friday, February 3, 2023 from 6-7:30 p.m. The presentation will cover the history of the Catalina Grand Prix motorcycle race.
Registrants are invited to join guest speaker, vintage dealer and motorcycle enthusiast, Shane Bagnall, as he delves into the fascinating history of the famed Catalina Island Grand Prix, held annually from 1951 to 1958. Originally proposed to the Catalina Island owner, Philip K. Wrigley, as a way to draw more people to the little-known spot off California's southwestern coast, the Catalina Grand Prix quickly became one of the most hotly contested races on the West Coast, attracting hundreds of the world's best riders and thousands of spectators to Catalina Island. Through his family's collection of historic photos and documents, Mr. Bagnall will cover the history of motorcycling that led up to the Catalina Grand Prix and its seemingly sudden demise.
The Zoom link to participate will be emailed to the registrant one day prior to the event on Thursday, February 2 by 5 p.m. PST. The presentation will be recorded and sent to all registrants in the week following the program.
Tickets are free for members and $5 for non-members. Please note that registration is required. For more information about the event and to register, visit catalinamuseum.org/calendar.