Broadway and TV Veteran Jason Kravits Taking His Solo, Completely-improvised Comedic Cabaret Show on a World Tour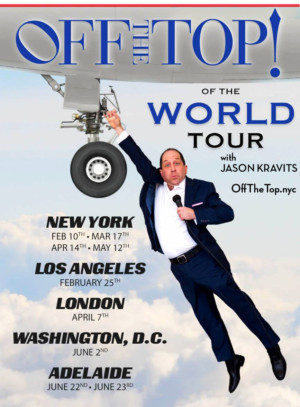 An entire cabaret, made up on the spot? Who does that?!"
TV and Broadway veteran Jason Kravits pulls off the improbable (or at the very least, unadvisable) in one of the most hilariously spontaneous evenings of cabaret you're likely to see.
Backed by the most daring band in the business, Kravits invents an entire life story in song - music, lyrics, stories, characters - completely from scratch, based solely on audience suggestions.
All patter songs, showstoppers, eleven-o'clock numbers...
All showbiz anecdotes, flashbacks and sob stories...
All casually dropped names, humblebrags and overshares... Made up. On the spot.
Improv, cabaret and comedy... It's a once in a lifetime show, every show! And we're taking it on the road! From New York to Los Angeles to London to Washington, D.C. to Adelaide, Australia: the songs, lyrics, stories, music, and remembrances will be created on the spot in each city thanks to suggestions from the audience.
About Jason Kravits
Jason has been fortunate enough to appear on stages and screens, large and small for over 30 years. He is probably best known for his long-running role as Richard Bay on ABC's The Practice, though he has amassed over 40 other television appearances. These include recurring roles on The Unbreakable Kimmy Schmidt, Madam Secretary, Smash, The Michael J. Fox Show, Royal Pains, and Dallas, as well as memorable appearances on The Mick, Disjointed, Major Crimes, Blindspot, The Blacklist, Curb Your Enthusiasm, Hot in Cleveland, Married, Masters of Sex, Raising Hope, 30 Rock, The Good Wife, Gilmore Girls, CSI, Grey's Anatomy, Everybody Loves Raymond and all the Law and Order franchises. Film Credits include Chinese Puzzle (Casse-tête chinois), The Stepford Wives, Sweet November, Morning Glory, Laura Gets a Cat, and What Just Happened. On Broadway, Jason is best know for his work in The Drowsy Chaperone. Other credits include Sly Fox and most recently, Relatively Speaking, three original one-acts by Ethan Coen, Elaine May and Woody Allen. He recently appeared in the City Center Encores! production of The Golden Apple as Mayor Hector. In 1999, his two-man sketch show, An Evening with Kravits and Jones, won the Jury Award at the US Comedy Festival in Aspen, Co. He is a founding member of The Rumble in the Red Room writing collective, as well as the long-running University of Maryland improv troupe Erasable, Inc. As a writer, Jason has penned the 10-minute play Green Eggs and Hamlet, the holiday stories The Kvetch, and A Christmoose Story, as well as the acclaimed web-series Lords of the Playground. Jason is a native of the D.C. area, where he performed extensively at the Shakespeare Theatre, Round House Theatre and Woolly Mammoth Theatre Co. He is a member of the Actors Center Workshop Company.
Dates and Times
New York: The Duplex Cabaret and Piano Bar
Saturday, February 10 at 7 PM
Saturday, March 17 at 7 PM
Saturday, April 14 at 7 PM
Saturday, May 12 at 7 PM
Los Angeles: Upstairs at Vitello's
Sunday, February 25 at 7:30 PM
London: Brasserie Zédel's Live at Zédel
Saturday, April 7 at 7 PM
Washington, D.C.: AMP by Strathmore
Saturday, June 2 at 8 PM
Adelaide, Australia: Adelaide Cabaret Festival
Friday, June 22 at 6:30 PM
Saturday, June 23 at 9:30 PM
For more information: https://www.offthetop.nyc