BWW Review: SWEET VALLEY GROUNDLINGS - So Sweetly Hysterical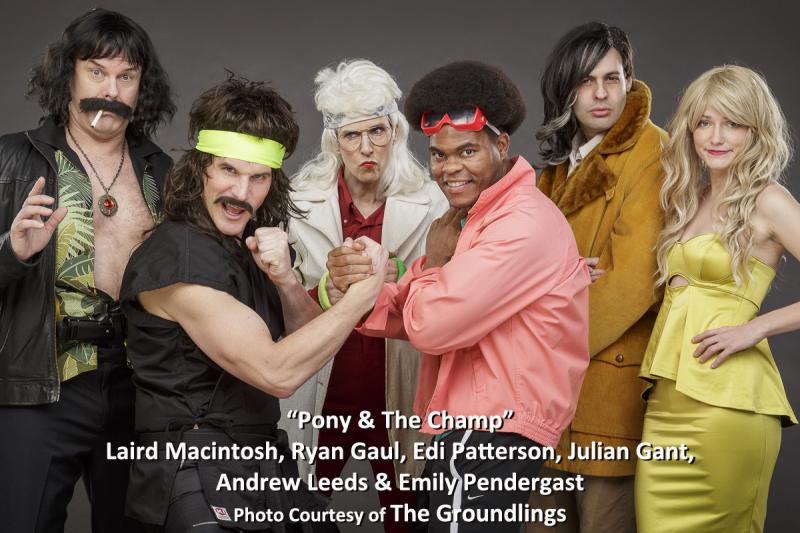 In their current side-splitting, pee-in-your-pants, Friday & Saturday night show SWEET VALLEY GROUNDLINGS, the very talented Groundlings troupe just keeps coming up with original, funny skits revolving around the foibles of flawed characters.
As in Groundlings' custom, the writer of the skit takes the lead with the others in the sketch providing able, selfless support.
Director Kevin Kirkpatrick has mined the very best out of his eight-member cast, keeping the lines (and resulting audience laughter) coming at breakneck speed.
In the opening sketch "180," writers/performers Anne Lane and Ryan Gaul so convincingly play a recently matched-up couple too afraid of offending their matchmaker friends limned by Julian Gant and Emily Pendergast. Lane and Gaul's attitudes change on a dime whenever someone leaves the room. Talk about talking out of both sides of your mouth!
"Math" has Andrew Leeds as a interloping student hijacking a lecture from Gaul. Gaul's low-key frustrated reactions perfectly balances Leeds' over-the-top, passionate 'mathematic'(singular) ramblings. Very nice!
"This Meets That" has Edi Patterson as an acting coach of students Annie Sertich, Gant, Leeds and Lane. With everyone complimentarily identifying the other's casting type, suggestions of Sertich's character become brutal in their honesty. Decked out in a short blonde wig and flannel shirt, Sertich gets 'type-cast' as Ellen Degeneres crossed with a bounty hunter. The more Sertich's 'type' gets more 'butch,' the more Sertich becomes Ellen. Sertich's flair for physical comedy shines here.
Laird Macintosh and Gaul wrote and star in "Mrs. Crumbles," a Pulp Fiction-ish arranged dual hit job with a cat puppet deciding the hitmen's fates. Kudos to the un-credited hand puppeting the stuffed cat Mrs. Crumble. As each hitman attempts to impress Mrs. Crumbles, the puppet moves towards that hitman. Bravo to both Macintosh and Gaul for ceding their stage spotlight to Mrs. Crumbles. Comic gold!
In Patterson and Pendergast's "Marky's Girlfriend," Gaul brings his girlfriend Pendergast home to meet his parents Macintosh and Patterson. Patterson and Pendergast's unexpected mutual attraction simply sizzles. Their physical antics seducing each other just kills!
Gant and Gaul's "Pony and the Champ" features the pair as crime-fighting kung fu dancers. Their choreographed lethal kicking (and dance moves) just effectively hilarious in defeating the criminals.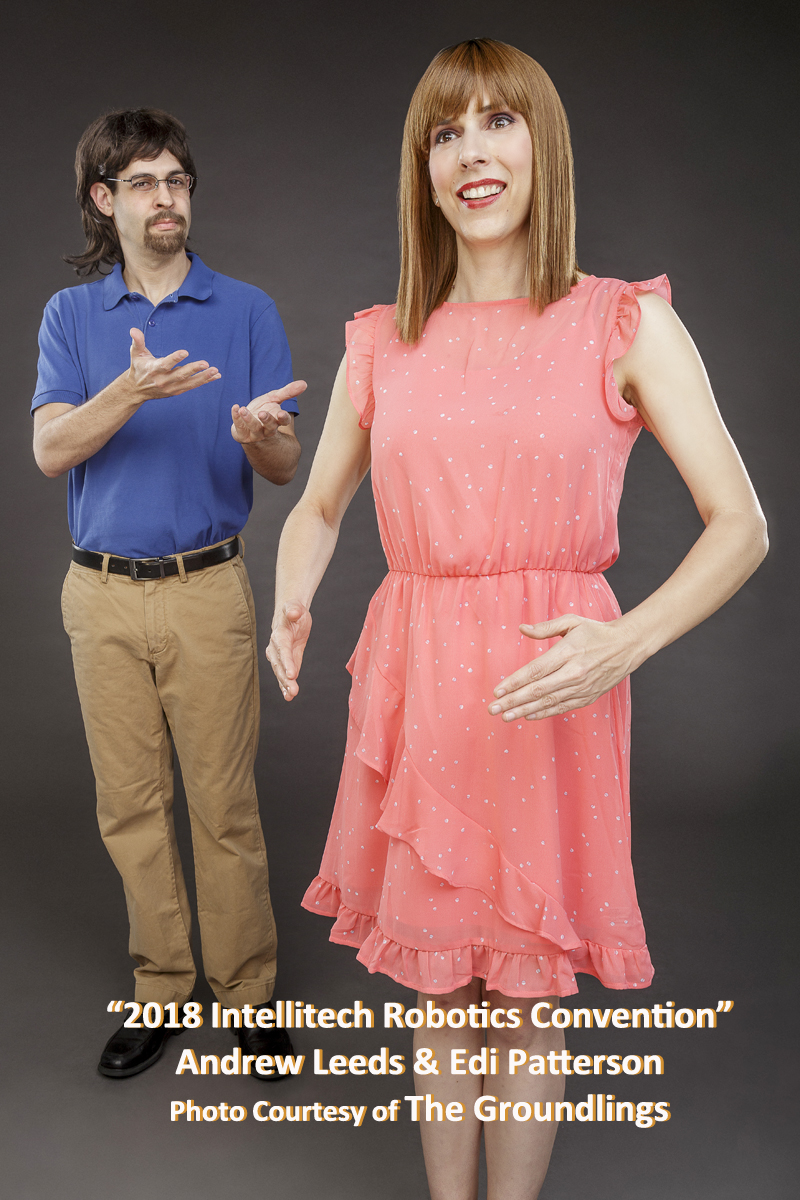 Leeds and Patterson's "2018 Intellitech Robotics Convention" provides the opportunity for Patterson to really shine as 'KB,' the robot Leeds designed. In her ultra-robotic voice, Patterson answered random questions thrown out from the audience to raucous effect.
In Sertich and Gant's "Fantasy," they both got to get their sensual motors roaring as they picked each other up in a bar. Hot!
Patterson and Gaul inhabit trailer park trash most convincingly in their "Evening." Patterson's frantic flailing/dancing's just too funny!
"Premium Cream" has Macintosh and Sertich going out into the audience auditioning for their back-up to accompany them on their upcoming tour. When one audience member sings too well, they send her back to her seat as 'too good.'
Closing skit "Bananas" takes place in a Banana Republic store in which Leeds and Gaul play salesmen. In helping customer Pendergast, they ask that she informs whomever rings her up that they were helping her. Leeds and Gaul's reaction, almost in slo-mo, to Pendergast telling saleslady Lane that no one helped her -- simply priceless! Looong sustained laughter (as Pendergast almost successfully does not break up).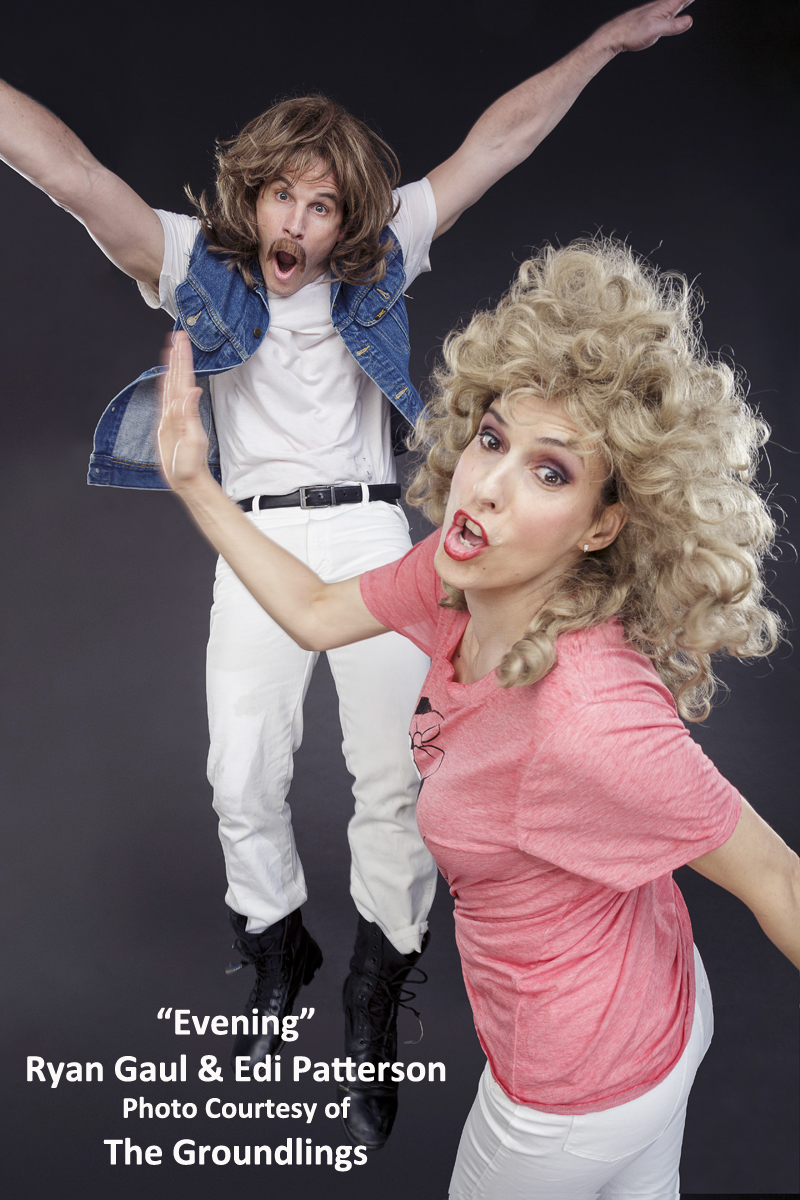 Improv pieces with idea suggestions from the audience always score with the audience. The first had to be sung in Sondheim-style. Sertich and Patterson nailed the complexities of a Sondheim-ish lyric and fast, multi-word phrasing. The second had Leeds and Lane unicycling to the chiropractor. On bar stools, these two kept up the pumping of the imaginary pedals the entire length of the sketch while waxing poetically, and most amusingly, on their situation which led to this chiropractic visit. Very fun!
And, as always, the Groundlings Band (Greg Kanaga on drums, Larry Treadwell on guitar, and musical director Matthew Loren Cohen on keyboards) provide fantastic musical interludes for the very smooth set changes. Always want to hear more music from these musicians.
A very SWEET way to spend a Friday or Saturday night!
Related Articles View More Los Angeles

Stories

Shows
From This Author Gil Kaan