BWW Review: A Razor-Sharp SCISSORHANDS - A MUSICAL Totally Slays!!!
SCISSORHANDS - A MUSICAL/co-written by Bradley Bredeweg & Kate Pazakis/directed by Bradley Bredeweg/musical direction by Gregory Nabours/Rockwell Table & Stage/thru January 27, 2019
Rockwell Table & Stage currently houses The Fuse Project's stunning, STUNNING production of SCISSORHANDS - A MUSICAL. Co-written by Kate Pazakis and Bradley Bredeweg (who also adapted and sure-handedly directs), the 1990 hit film Edward Scissorhands receives the Pazakis/Bredeweg Midas touch, updating the movie with gender-bending, social issues consciousness, and, as they both are known for including - incredible vocals. Not all fun and laughs, mind you. Smartly mixed in, some very serious, tear-your-heart-out numbers that will bring a tear to your eyes ("Hallelujah") or scare the crap out of you (I'm talking the Act 1 closer - David Bowie/Nine Inch Nails' "I'm Afraid of American." "Hands up! Weapons down!" Too frighteningly close to reality!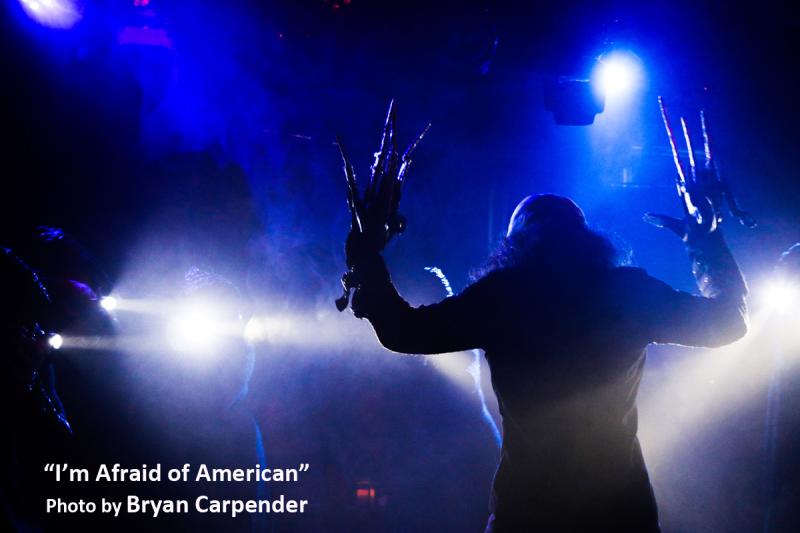 SCISSORHANDS - A MUSICAL opens with the most inventive, completely unhidden snow effect ever! Various hooded cast members wave paper fans to distribute white confetti held in their hands, in perfect time with the calming rhythms of "Silent Night." This technique effectively repeats as a shrubbery cutting effect (with green confetti). The hair-trimming effect (with thrown falls of hair) has to be seen to be fully appreciated.
Scissorhands has been created out of scrap metal by The Inventor. Before Inventor can give Scissorhands less lethal hands to replace the attached scissors, Inventor dies.
Avon lady Peg, looking for new customers to sell her products to, finds the isolated house atop a hill housing the orphaned Scissorhands. Unafraid of Scissorhands' deadly weaponed-appendages, Peg takes Scissorhands to live in her home with her husband and daughter Kim. Peg's busybody neighbors eventually get won over by Scissorhands, now christened 'Edward,' as they take advantage of Edward's prowess in trimming their shrubbery and hairdos.
Jordan Kai Burnett seamlessly inhabits the innocent Edward, a sheltered being not fully understanding the lethalness of her extremities.
Dionne Gipson as The Inventor imbues her character with much warmth, gravitas, and vocal fabulousness (especially in the Act 2 opener "Higher Ground").
Emma Hunton can do just anything - sing, comically quip, tackle serious drama. And Hunton does just that as Peg. Hunton brings down the Rockwell house with Nirvana's "All Apologies." Brava, Ms. Hunton!
The three noisy neighbors -Carly Casey as Joyce, Ryan O'Connor as Helen and Morgan Smith as Esmerelda - perform together as a hysterical bitchy Greek chorus, and individually as divas in their own right. These three's too funny interacting in Lady Gaga's "Telephone." They KILL in their hilarious, high energy rendition of Scissor Sisters' "Let's Have a Kiki." Casey's Joyce seductively vamps and entices Edward in Lady Gaga's "The Edge of Glory." Smith's perfectly rigid as the ultra-religious-bent Esmerelda. Smith's bump and grinding of Madonna's "Like A Prayer" will leave you breathless from laughing. O'Connor effortlessly extends his vocal and comedic chops, covering not only the acerbic Helen, but Peg's unaware husband, and various other integral roles.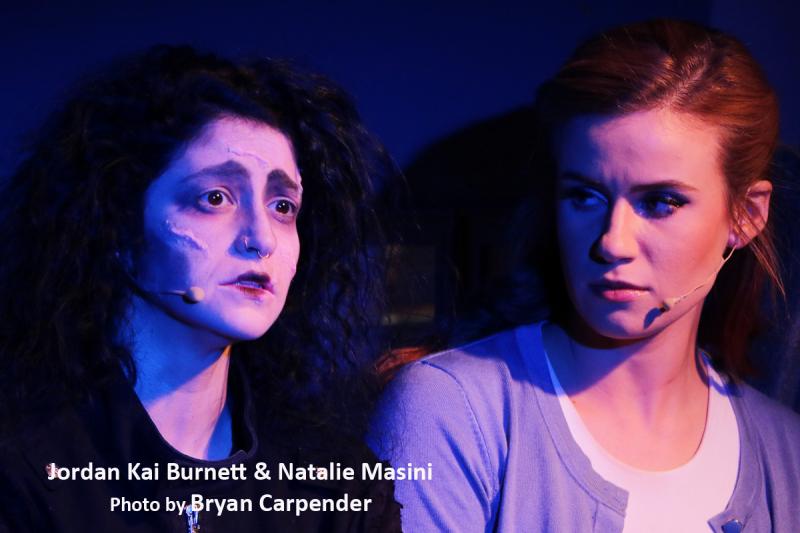 Natalie Masini as Kim sings a lovely duet with Burnett in T.V. Carpio's version of The Beatles' "I Want To Hold Your Hand," then later grabs, GRABS centerstage with her amazing vocals on "Shallow" from A Star is Born.
Completing the 'love' triangle between Edward and Kim, Keir Kirkegaard's appropriately unsympathetic as Jim. Kirkegaard shines in his solo, Peter Gabriel's "Sledgehammer," complementing his strong vocals with his bouncing pectorals.
The very fun choreography of Chris Downey, SaraAnne Fahey and Nick Guerts (that all handled quite smoothly and enthusiastically) especially invigorates Madonna's "Like A Prayer," American Authors' "Best Day of My Life," Abba's "Money, Money, Money," and the finale - Florence & the Machine's "Shake It Out."
Musical director Gregory Nabours (on piano) sharply leads, as always, his melodious band (Emily Rosenfield on guitar, Blake Estrada on bass and Gregory Sadler on drums) providing first-rate, innovative back-up musicality to the vocally-gifted cast.
Kudos to the meticulous designers -Chadd Michael McMillan for his illustrative costumes and production designs, Brian Joseph Marchini for his exacting sound balancing and Joey Guthman for his well-timed lighting of the various areas the cast use all over the Rockwell.
With SCISSORHANDS - A MUSICAL's original dates almost sold-out, additional dates have already been added through the end of January. Go. See. And Hear This!!!