Review: A Noise Within's So ON With their NOISES OFF
NOISES OFF/by Michael Frayn/directed by Julia Rodriguez-Elliott & Geoff Elliott/A Noise Within/thru May 20, 2018
A Noise Within most successfully revives their 2011 audience favorite, Michael Frayn's 1982 NOISES OFF. Co-directors Julia Rodriguez-Elliott and Geoff Elliott sure-handedly lead their comically gifted cast through a fast moving two-hour-forty-minute romp of the most expert props handling, laser sharp comic timing and funny, naturalistic, three-dimensional characters. Time just whizzes up with this guffaw-inducing cast oft times making their entrances and exits through the seated audience.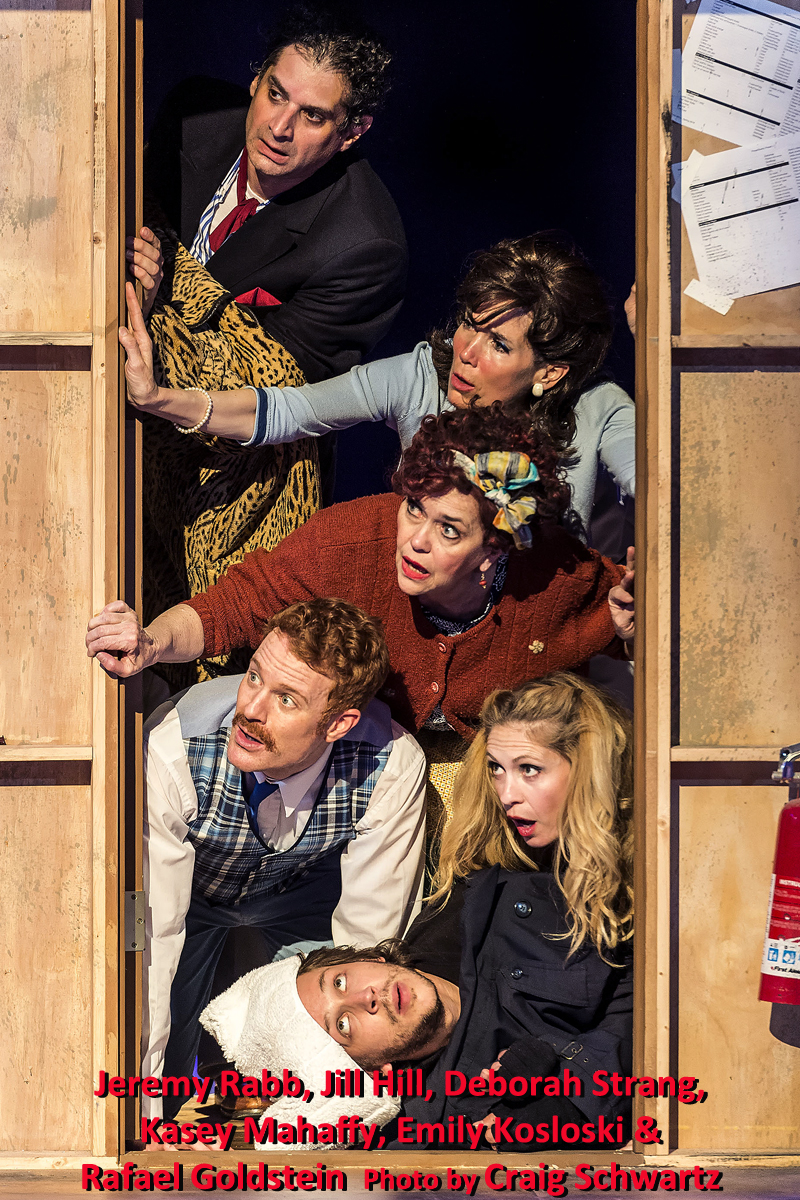 NOISES OFF focuses on a group of theatre people rehearsing, then performing a British farce titled NOTHING ON. We, the audience not only witness the rehearsals and performances of NOTHING ON during Act I and Act III, we are privy to all the backstage activity in Act II. (Kudos to scenic designer Fred Kinney for his detailed, revolving stage/backstage set.)
Final dress rehearsal teeters on disaster as scripted lines still keep getting changed and a technical run-through becomes non-existent.
Frayn's piece of this play within a play in less skilled hands would be hard to sit through as much of the laughter depends on split-second timing of physical comedy, dialogue and prop usage. This ANW production could not be more precise in their comic deliveries.
Some of this cast performed in the 2011 production, but the entire cast work so seamlessly together in their team comedic efforts, one would not be able to differentiate the novices from the returnees.
Returning from the 2011 edition: co-director Elliott nailing his character of the oh-so-jaded director Lloyd Dallas with rapier put-downs always ready to use at any instance; Deborah Strang so lovably ditzy as the past-her-prime actress Dotty Otley essaying the discombobulated housekeeper role; Apollo Dukakis appropriately befuddled as alcoholic actor Selsdon Mowbray who's more lucid that others think; Emily Kosloski fully embodying the contact lens-losing, blonde bombshell Brooke Ashton; and Jill Hill wonderfully frantic as Belinda Blair, the knowing encyclopedia of all illicit goings-on of their troupe.
Jeremy Rabb effortlessly limns the pivotal role of Frederick Fellows, the tax-delinquent owner of the house. Rafael Goldstein and Erika Soto give more than able and hilarious support respectively as Tim Algood, the all-around fix-it/problem-solver/gopher/cast stand-by and Poppy Norton-Taylor, the frazzled assistant stage manager with a secret (or two).
Kasey Mahaffy simply steals the show as Garry Lejeune the actor who's always at lost for words when not scripted. Rarely does one of his speeches end in complete sensible sentences. Too funny! NOISES OFF's funniest physical comedy bit consists of Mahaffy slamming a door with his elbow repeatedly, preventing Kosloski from coming through the doorway. Comedy Gold this bit!!! And they repeat this perfectly again and again! Mahaffy pratfalls more than once, but his tumble down an entire flight of stairs - professional stuntman quality!
All smoothly execute the handling and passing off of props (sardines, boxes, sheets, a telephone). Of course, sublimely timed entrances and exits through the various doors of the Fellows house make for much awe and laughter. And who knew hopping around in dropped trousers or sitting on a cactus plant would cause sooooo much laughing smiles???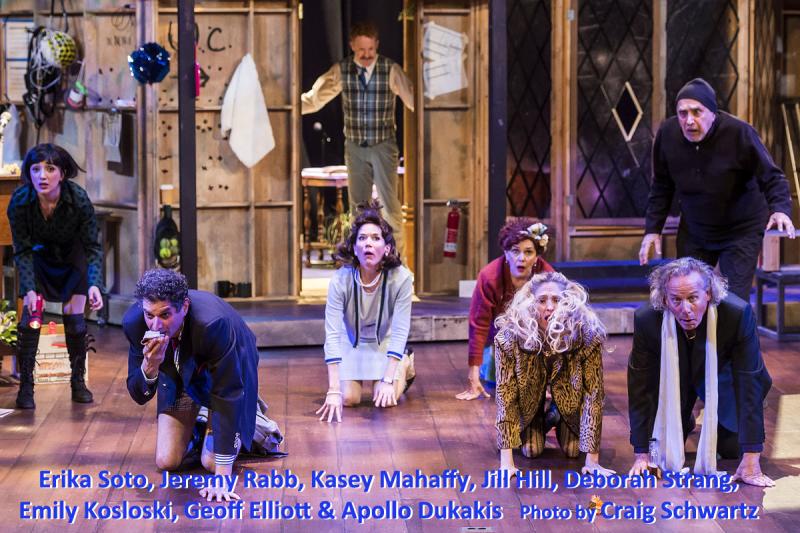 As expected with a ANW production, technical elements sustain top notch distinction. Hats off to the already mentioned Kinney, costume designer Angela Balogh Calin, lighting designer Ken Booth, sound designer Jeff Gardner, wig/make-up designer Klint Flowers, prop masters Sydney Russell and Erin Walley, and dialect coach Nike Doukas.
Do go and see NOISES OFF. It'll be the quickest hilarity-filled two hours and forty you're likely to legally experience.