BWW Interview: Robin S Opens Up About Her Music Career And Her Headlining Engagement At Halloween Palm Springs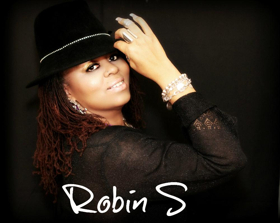 Robin S, one of the most prolific dance artists of our time and Billboard® Dance Chart Topper known for her mega hits "Show Me Love" and "Luv 4 Luv" will headline Halloween Palm Springs on Arenas Road Tuesday, October 31 from 5:00-10:00p.m. I had the chance to catch up with Robin to talk about her upcoming appearance in the desert, and all things Robin. Here are a few excerpts from that conversation:
DG: Where are you from, and how did your life lead you into a career in professional music?
RS: Well, I am originally from St. Albans, Queens, New York. I've been singing since I can remember, which is the age of five. in the children's choir. My daddy used to sing to me all the time.
DG: Do you remember the first time you ever performed in front of an audience?
RS: Yes. Absolutely I do. I was five and I had the lead in the choir at church. It was for a Christmas Play.
DG: When did you first realize you could be a competitive force in professional music and that this could be a real career choice for you?
RS: To be completely honest, I never thought I was good enough. I was always told I didn't have the tone or sound that the industry was looking for. In fact, I was told that I could not sing by some of the powers in control at that time.
DG: How do you describe your vocal style?
RS: My vocal style is a mixture of all the voices I listened to growing up. Aretha, Phyllis,Terrence Trent, Donna, Michael, Nina and Nancy Wilson, and so many more.
DG: Do you remember the first time you heard yourself on the radio?
RS: Absolutely. I felt kind of numb. It was very surreal to me. So, I changed the radio station and it was on there also. I changed to another station and it was on there too. At that point, I pulled my car over to BREATHE! (she laughs).
DG: Was there a particular moment when you realized you were truly a success?
RS: After all these years, I still don't feel like I'm a success. I'm always striving to recreate. Always climbing and reaching for more. I'm still hungry for success. Now, don't get me wrong. I appreciate each and every one who has, and who still are, supporting me. I guess it's just a personal thing.
DG: What kids of music do you listen to?
RS: I listen to some Rap, a lot of gospel, R&B, Jazz, Neosxoul, Dance, of course, and some rock.
DG: Who were your role models?
RS: Nancy Wilson. I met her years ago along with another great lady - actress Jennifer Lewis. Nancy embedded in my head "No matter what, always keep it classy". To this day I still here her saying that to me.
DG: What do you consider your greatest professional accomplishment so far in your career?
RS: Family is everything to me. So, I would say all of my work is done. After my time here on earth is completed I will leave a legacy for my grandchildren. All seven if them.
DG: What can Palm Springs audiences expect form your show on Halloween?
RS: A lot of fun! I like to have fun while on the stage. That is my outlet and I take full advantage of it. (she laughs).
DG: What advice do you give to young people who might want a career in professional music?
RS: Okay, this is serious stuff here. Please, please learn all that can regarding the industry so that you are businessman/woman first. Know your self worth so that you don't sell yourself short. Know that you are a commodity worth every bit of what you put out into the universe. Stay true to yourself first so that no one can take you to places unknown.
Robin S. headlines Halloween Palm Springs on October 31 on Arenas Road, downtown Palm Springs. Additional performances will include: KEISHA D, DJ COREY D, CHI ENERGY AS Edward Scissorhands and the effervescent Bella da Ball as Master of Ceremonies. The event is Tuesday, October 31 from 5:00-10:00p.m. Registration for the Costume Contest begins at 6:00p.m at the Palm Springs Gay Men's Chorus booth on Arenas Road and will end promptly at 7:45p.m. Registered participants must be in line with their wristband on at the main stage no later that 8:00p.m.
For tickets and further information visit www.halloweenpalmsprings.com.