Feature: Streaming Opera For The Week Of 8/26
From the to Navajo reservation th Chicago, Paris and Belgrade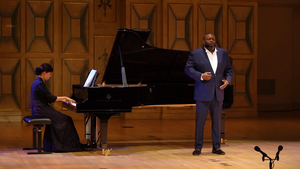 Mid afternoon, our tour group meets on the Magic Opera Flying Carpet at Los Angeles Airport (LAX). We watch LA Opera's digital short entitled Gallup, or Na'nízhoozhí in Navajo. The scene incorporates the high desert New Mexico landscape and the city famed for Navajo jewelry. Tour members should wear the biggest and best turquoise they have for the show!
Two mystical beings emerge from the scenery and embark on a journey through Na'nízhoozhí before melting back into the desert at nightfall. Filmmaker Blackhorse Lowe's Digital Short features a new musical score by Matthew Aucoin that tells of the Navajo capital of Native America.
After the show, we eat a dinner on the Magic Opera Flying Carpet that includes stewed lamb from the reservation. The next morning we fly on to Chicago for the Pagliacci at Lyric Opera. First, however, we sample the city's famous deep dish pizza.
At the Uno Pizzeria & Grill, our group orders the numero uno deep-dish pizza, a mainstay there since since 1943. It's a flaky crust loaded with sausage, pepperoni, onions, peppers, mushrooms, with spicy, chunky tomato sauce, and topped with mozzarella and Romano cheeses.
Our second group of tour members dines at the Greek Islands restaurant where servers light a flame on their famous brandy-soaked Kasseri cheese next to our tables. Located in the heart of Chicago's Greektown, Greek Islands is said to be the most popular Greek restaurant in America.
We all meet for dessert and coffee at the Palmer House. We sink our teeth into dense, chewy Bertha's famous original recipe Brownies in the dining room where the chocolate delight was created in 1893 for the Chicago World's Fair.
Tour members are in Chicago to see Leoncavallo's searing drama Pagliacci return to the Lyric Opera stage for the first time in more than a decade. Performed and filmed in the Lyric Opera House, Music Director Enrique Mazzola conducts a powerhouse cast including tenor Russell Thomas, soprano Ailyn Pérez, baritones Lucas Meachem, and Quinn Kelsey, along with members of the Lyric Opera of Chicago Orchestra and Chorus.
In this staging of Pagliacci, Canio manages a small touring company of actors. In the town where they're about to perform, he discovers that his wife Nedda, the company's leading actress, has fallen in love with a handsome young man from the town, Silvio, and is planning to run away with him. Canio, the clown, laughs on the outside, but inside, he's seething with jealousy that culminates in searing passion, riveting drama, and unforgettably thrilling music. Viewing of the film is free, but requires registration to access. If the link below is faulty, work from Lyric Opera of Chicago Pagliacci.
LINK https://www.lyricopera.org/shows/upcoming/2020-21/pagliacci/
After the show and and a nightap, we take off for Europe and land in Belgrade, Serbia. We pick up our take-out order of cevapcici, a grilled dish of spicy minced meat, typical Serbian food. There are many varieties of Serbian sausage such as srem sausage, krvavice blood sausage, and svargla head cheese. Some sausage links are for frying, and some you can eat as cold appetizers. Kara?'or?'eva šnicla or Karadjordje's Schnitzel is named for Serbian Prince Karadjordje and represents a royal meal! Its schnitzel can be veal or pork which is rolled and stuffed with creamy kajmak, then breaded, and fried.
The Sudjic Symphony Orchestra plays Carl Orff's Carmina Burana in a film by RTS Music Production. Artists include: the Symphony Orchestra and Choir of Radio Television of Serbia with the RTS Children Choir, Kolibri Choir, Choir of the Belgrade Faculty of Music of Obilić, Belgrade Dance Institute. Soloists: Marija Mitic, soprano, Dejan Maksimilijan Vrbančič, tenor, Ivan Thirion, baritone. The conductor is Bojan Sudjic.
LINK. https://www.youtube.com/watch?v=dzvZFnI7Vw8&t=84s
After this wonderful outdoor show, we board the Magic Opera Flying Carpet for Paris, the city of light.
On arrival, we take a virtual tour of the National Museum of the Middle Ages. (Musée National du Moyen Age), also is known as Musée de Cluny. The Middle Ages Collection is housed in one of the oldest buildings in Paris, a former mansion whose construction began in 1334. The mansion is built on the site of the ruins of ancient Gallo-Roman thermal baths. The museum is best known for the beautiful "Lady and the Unicorn" tapestry, and its impressive collections of medieval art.
LINK https://joyofmuseums.com/
LINK https://joyofmuseums.com/museums/europe/france-museums/paris-museums/musee-national-du-moyen-age/
For dinner we eat the special pre-theater menu at Restaurant Boutary. Their farmer style side of lamb is slow roasted with mini-pears, artichoke, celery root confit, and lamb juices.
William Christie and Les Arts Florissants perform Jean-Philippe Rameau's Les Boréades at the Opéra National de Paris in 2003. Jean-Philippe Rameau (1683-1764) was one of the most important French composers and music theorists of the 18th century. He replaced Jean-Baptiste Lully as the dominant composer of French opera and is also considered the leading French composer of his time for the harpsichord, alongside François Couperin.
Alphise, Queen of Bactria, is in love with Abaris, whose origins are unknown. According to the traditions of her country, Alphise must marry a Boread, one of the descendants of the god of the North Wind. Determined to marry Abaris, Alphise abdicates, angering Boreas who storms into the wedding and abducts Alphise to his kingdom. With the help of Apollo and the muse Polyhymnia, Abaris sets off to rescue her. He challenges Boreas and his sons with a magic golden arrow. Apollo descends as deus ex machina and reveals that Abaris is really his son by a Boread nymph. Therefore, there is no longer any obstacle to Abaris and Alphise's marriage.
Alphise is Barbara Bonney; Abaris is Paul Agnew; Calisis is Toby Spence; Borilée is Stéphane Debout; Borée is Laurent Naourui; Adames is Nicholas Rivencq; and Sémire is Anna Maria Panzarella.
LINK https://www.youtube.com/watch?v=JlVsEnOpCao
After the opera, we go on an eclair hunt. Eclairs originate in France, and we decide to sample them at L'Éclair De Génie. For après l'opera, we order a selection of their gorgeous pastries topped with familiar flavors like dark chocolate and passion fruit as well as some new entries boasting bolder tastes such as orange, coconut, and lime. For those who want a different nightcap, at Le Servan, we find excellent Paris-Brest desserts. Paris-Best is a ring-shaped choux pastry made with the same dough used in many other French pastries like eclairs, profiteroles, beignets, et cetera, filled with hazelnut cream.
After a good sleep on the Magic Opera Flying Carpet, we take off for Nancy in Lorraine. In and around the city of Nancy, food comes in many guises. There is renowned charcuterie (prepared meat products such as sausage and pâtés), fish, and wild mushrooms, in addition to fruit and wild berries. Lorraine also has an impressive list of spirits, including mirabelle plum brandy, Clair de groseille (redcurrants), and Perlé de rhubarbe.
The word quiche is thought to have been adapted from the German word küchen, meaning cake, as the first Lorraine quiches were made with bread dough instead of shortcrust dough. In the French region of Lorraine, quiche is traditionally served on May Day as an accompaniment to roasted suckling pig. Any other day in the year, it is served as an appetizer, usually with a green salad on the side, and it is typically consumed either at room temperature or warm, while the golden-brown crust is still crunchy. Although quiches can be made with nearly anything, from meats and vegetables to seafood, herbs, and cheeses, the king among these delicious baked tarts is the original quiche Lorraine, a shortcrust dough filled with bacon, eggs, cream, and nutmeg.
Leonardo Vinci's Artaserse is an opera in three acts to an Italian libretto by Metastasio. This was the first of many musical settings of arguably Metastasio's most popular libretto. Vinci and Metastasio were known to have collaborated closely for the world premiere of the opera in Rome. Vinci composed his masterpiece shortly before his death. It is renowned among baroque opera enthusiasts for its florid vocal lines and taxing tessituras.
l'Opera de Nancy presents Vinci's opera Artaserse as performed in 2012. Diego Fasolis conducts Philippe Jaroussky as Aratoires, Max Emanuel Cencic as Mandane, Valer Barna Sabadus as Semira, Yuriy Mynenko as Megabise, and the Concerto Köln Chamber Ensemble.
LINK https://www.youtube.com/watch?v=OCTiqj2lrTs&t=893s
From the Opera National de Lorraine, 2012
LINK Watch the full opera: http://bit.ly/LeonardoVinciArtaserse
Tired but full of good food, tour members sleep soundly on our return to sunny Los Angeles. Breakfast burritos and lattes await them in the morning.
Photo of Russell Thomas whose recital can be streamed on the L A Opera website.