Photo Flash: OLIVER At JWE Northport
The John W. Engeman Theater at Northport is proud to announce its production of Oliver! which arrives just in time for the holidays. This precocious and charming classic has enchanted and entertained audiences for years. Lionel Bart's show is based on Charles Dickens' touching tale of an orphan boy who runs away from the orphanage and learns to live life on the hard streets of a not so merry ole' England. With such unforgettable songs as Food, Glorious Food, You've Got To Pick-A-Pocket Or Two, and I'd Do Anything, this show will have you wanting more, sir!
Oliver! will play the following performance schedule: Thursdays at 8:00 p.m., Fridays at 8:00 p.m., Saturdays at 8:00 p.m., and Sundays at 2:00 p.m.In addition, there will be matinees on the following days: Saturday November 29 at 3:00pm, Saturday December 6, 13, and 27 at 3:00pm, and Saturday January 3 at 3:00pm.Also there will performances on Sunday December 21 at 7:00 pm, Sunday December 28 at 7:00, and Sunday January 4 at 7:00pm.
Note: there will be no performances on December 25, 2008 and January 1, 2009. Tickets are now on sale and are $60. Tickets may be purchased by calling (631) 261-2900, by visiting
www.engemantheater.com
, or at the Engeman Theater Box Office at 250 Main Street, Northport. Visa, MasterCard, Discover and
American Express
accepted.Oliver! is being produced for the John W. Engeman Theater by Richard T. Dolce, the theater's Producing Artistic Director. The director is
Stephen Nachamie
who comes to Northport after directing Engeman Theater alumnus
Seth Rudetsky
in Torch Song Trilogy and assistant directing Broadway concerts of Funny Girl and Chess. The choreographer is
Vic Dimonda
who is currently the Associate Artistic Director for the John W. Engeman Theater, where he directed and choreographed the inaugural production of Smokey Joe's Cafe. He is also a faculty member of The Ailey School, The Ailey Extension and The American Academy of Dramatic Arts. The musical director is Donny Jones, who has played on Broadway in the pits of Flower Drum Song and
Wicked
, as well as having musically directed numerous shows including Jekyll & Hyde, A Wonderful Life, Man of La Mancha, and Little Shop of Horrors for the John W. Engeman Theater at Northport. The Design Team includes Robert Andrew Kovach (Scenic Designer) who has designed at numerous regional theaters including the Walnut Street Theater, the Chicago Shakespeare Theater and has designed for companies such as GM, Morgan Stanley, and MTV. Justin A. Partier (Lighting Designer) whose design credits include Smokey Joe's Cafe, A Wonderful Life, Always...Patsy Cline and Over the River and Through the Woods for the John W. Engeman Theater and who recently designed In Darfur (New York Shakespeare/
Joseph Papp
Public Theater).
Scott Stauffer
(Sound Designer) who has worked on Broadway in Rivals, Contact, Marie Christine, Twelfth Night, Jekyll & Hyde, and who returns after designing Man of La Mancha for the John W. Engeman Theater.
Mark Adam Rampmeyer
(Hair and Wig Designer) returns to the John W. Engeman Theater after designing numerous shows in its inaugural season. He recently completed work on the Hartford Stage Company production of The Milk Train Doesn't Stop Here Anymore starring
Olympia Dukakis
and also recently worked with
Cybill Shepherd
on her one woman production of Curvy Widow for the Post Street Theatre in San Francisco. The Costume Designer is Kimberly Matela. The Production Stage Manager is CJ LaRoche.
The cast of Oliver! features Michelle DeJean (Nancy) who comes direct from Broadway starring as Roxie Hart in Chicago; Neal Benari (Fagin) who returns to the John W. Engeman Theater after playing Tito Morelli in last season's acclaimed production of Lend Me a Tenor and who has performed in Broadway productions of Fiddler on the Roof, Aida, and Victor/Victoria; Rob Gallagher (Bill Sykes) also returns to the John W. Engeman Theater after appearing in Man of La Mancha and whose New York credits include Les Miserables, Forbidden Broadway, and Reefer Madness.
The cast also includes Michael Kleeman (Oliver); Troy Doherty (Dodger) who at 12 years of age has film credits including Hachiko: A Dog's Story and The Wrestler; JB Adams (Mr. Bumble) who appeared on Broadway in Chitty Chitty Bang Bang, Beauty and the Beast, and Annie; Stephanie Keller (Charlotte) who returns the John W. Engeman Theater after appearing in Jekyll & Hyde and A Wonderful Life; Jane Blass (Widow Corney) who is currently also playing Ellie in Glimpses of the Moon at the Algonquin Hotel's Oak Room; Terry Palasz (Mrs. Sowerberry) who most recently performed at Harrah's Las Vegas in the musical Hats!; Bruce Rebold (Dr. Grimwig) who has extensive regional credits including Man of La Mancha and Fiddler on the Roof; and Roger Preston Smith (Mr. Sowerberry) most recently served as assistant choreographer on Gypsy starring Patti LuPone, and performed on Broadway in both the Cathy Rigby and Sandy Duncan productions of Peter Pan.
Rounding out the cast are Alexis Henderson, Courtney Brown, Kate Loitz, Matthew Naclerio, Nicolina Sciascia, Rebecca Stavis, Jacob Thompson, Kit Treece, and Amber Ward.
The Youth Performers include Ian Buchman, McLean Carlin, Salvatore Casto, Karl Dill, Lauren Doherty, Troy Doherty, Christian Eble, Nancy Fallon, Jenna Goerke, Rachel Goerke, Celia Kleeman, Michael Kleeman, Holden Koestner, Adam Lawrence, Dylan Sage Perles, Zoe Kaya Perles, Austin Pogrob, Michael Recchia, Larry Saperstein, Camden Selby, Alexa Sgroi, and Jake Siegfried
The John W. Engeman Theater is Long Island's only year round professional theater company, utilizing actors from the Broadway union - Actors' Equity Association. Shows are performed year round in the heart of Northport village amidst a scene of elegant restaurants and beautiful boutiques. The newly renovated Theater offers stadium-style seating, a full orchestra pit, and a classic wood-paneled piano lounge with full bar. For more information contact the theater directly at 631-261-2900.OLIVER!
November 28, 2008 - January 4, 2009
Photos by Paul DeGrocco
Oliver! Cast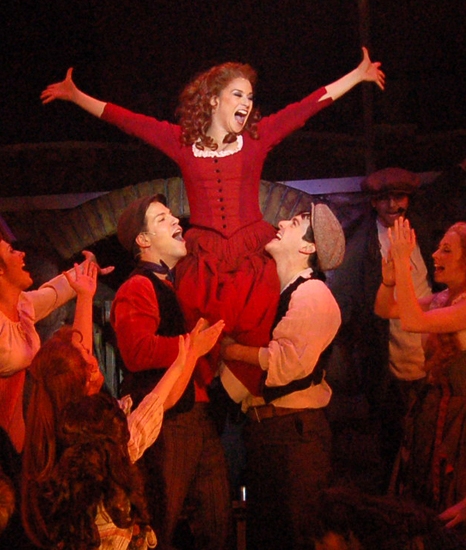 Oliver! Cast

Oliver! Nancy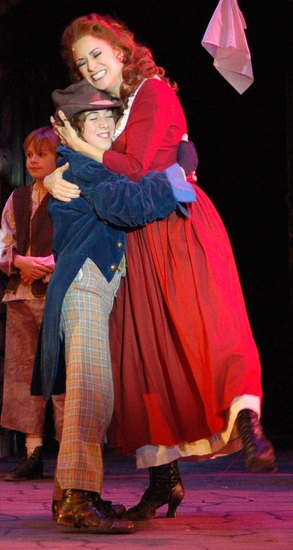 Oliver!

Oliver!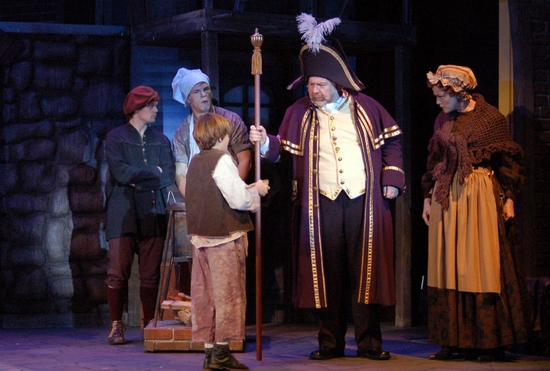 Oliver! Cast