Review: DISNEY THE LITTLE MERMAID at The Argyle Theatre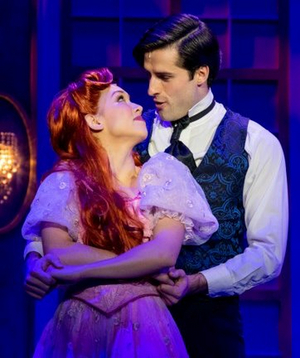 Babylon's shores are brimming and bubbling with beautiful brine now that Disney's "The Little Mermaid" and half the ocean
washed up on the stage of the Argyle Theatre. Ariel, Ursula, King Triton, and a mix of
maritime mavens present the classic underwater adventure based on the story by
Hans Christian Andersen and the Disney film.
Ariel the mermaid constantly dreams of life out of the sea and we all know what happens when you take a fish out of water! Despite her flashy friends and an overprotective father, she makes a deal with a Disney devil and suffers the consequences. In true fairy tale fashion, the poor filet has to learn from her mistakes while defeating the enemy in order to live happily ever after. Whether it be on land or under the sea, Kimberly Immanuel couldn't be more perfect as Ariel.

With the grace of a Disney princess and the voice of an angel, Ms. Immanuel leads a charming cast of crustaceans who not only expertly swim and dance but nosedive right into our tanks.
The great Warren Nolan Jr. is the strapping King Triton who struggles to keep his daughter out of mackerel mischief. This patriarch certainly commands the ocean with an iron fin and cares for his six other multitalented daughters played by Danielle Jordan, A-Laranee Davis, Victoria Madden, Adrian Grace Bumpas, Emily Madden, and Valerie Torres-Rosario. The crowd-pleasing Sebastian the crab, played by the excellent Ryan Gregory Thurman, is luckily on hand as a Jiminy Cricket to steer Ariel away from any danger. Mr. Thurman serves as ringmaster for this under the sea extravaganza and leads his waterbabies to victory while dodging the hysterical Stephen Foster Harris as Chef Louis.
Ariel's peers also include the chirpy Alphonse Gonzales and Christopher Salvaggio as a flock of gulls who are lead by a wisecracking Michael Valvo as Scuttle. While squawking up a storm, they keep Ariel informed about the shore's land lubbers especially the suave Jeff Sullivan as Prince Eric. The tall, dark, and handsome human who got flung overboard never thought in a million years a mermaid would wind up saving his life and eventually sharing it. Luckily, Eric's confidant Grimsby, played by the witty and always reliable J Ryan Carroll, is on deck to enhance the timeless tale.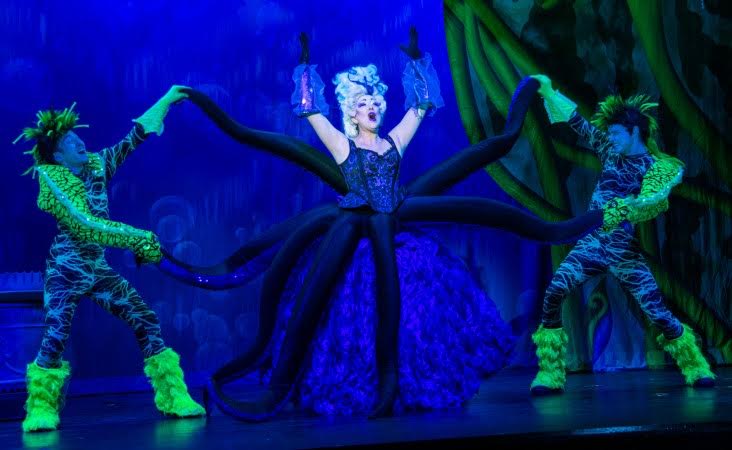 Every Disney fable has its share of villains and here we get three for the price of one. The over the top Courtney Balan as Ursula the Sea Witch along with her slimy cohorts Conor Stepnowski and Derek Kastner as eels Flotsam and Jetsam mysteriously slither around the stage and clearly are never up to any good. The unnerving scheme to steal Ariel's shimmering voice is accomplished through their plotting, plankton, and planning. The larger than life Ms. Balan commands the Argyle stage like the Titanic and suffers a similar trauma in the end. As much as Ursula tried to insincerely schmooze Ariel, no good deed goes unpunished.
The entire company is as cohesive as a school of fish and exudes ocean glamour. There's always a

sand dollar hidden in the buried treasure chest and it's Argyle staple Matthew Rafanelli who is absolutely marvelous as Ariel's friend Flounder. With his expert comic timing and sharp acting brilliance, Mr. Rafanelli delivers another fantastic performance. While we continue to be entertained with his wild and quirky characters, we can't wait to see Mr. Rafanelli as our lead in the future.
The Argyle stage has never been more celebratory as costume designer Kurt Alger's flashes of color and John Salutz' rays of light are on nautical display. The parade of exquisite
sealife consistently enlighten the playing area and gives the illusion we are actually twenty thousand leagues under the sea.
Jonathan Brenner, Drew Nichols, Steve Henry, Brian Schatz, Pete Averso, and Jim Waddell round out the snappy musicians and the Alan Menken score has never sounded better! Director and choreographer Tara Jeanne Vallee masterly transformed a 2008 Broadway mess into an endearing and

effervescent

fairy tale. "The Little Mermaid" is an explosion of joy and merriment for all ages. Everyone relishes a boy meets girl love story, especially when the girl's a fish!
--------------------------------------------------------------------
Starring:
Courtney Balan
,
Adrian Grace
Bumpas, J. Ryan Carroll,
Ryan Cavanagh
, A-Larenée Davis, Alphonse Gonzales,
Stephen Foster
Harris,
Kimberly Immanuel
,
Danielle Sue Jordan
, Warren Nolan Jr. , Derek Kastner, Emily Madden, Victoria Madden, Matthew Rafanelli, Michelle Rubino,
Christopher Salvaggio
, Conor Stepnowski,
Jeff Sullivan
,
Ryan Gregory Thurman
, Valerie Torres-Rosario and
Michael Valvo
Music by
Alan Menken
, Lyrics by
Howard Ashman
and
Glenn Slater
, Book by
Doug Wright
, Artistic Director
Evan Pappas
, Set Design Front Row Theatrical, Lighting Design
John Salutz
, Costume and Wig Design
Kurt Alger
, Sound Design Carlos Dias, Jr., Production Coordinator
Alison Savino
, Production Stage Manager
Krista Swan
, Casting Director
Michael Cassara
, CSA, Musical Director
Jonathan Brenner
, Associate Director/Choreographer
Danielle Sue Jordan
and Directed and Choreographed by
Tara Jeanne Vallee
.