BWW Review: BroadHollow's RAGTIME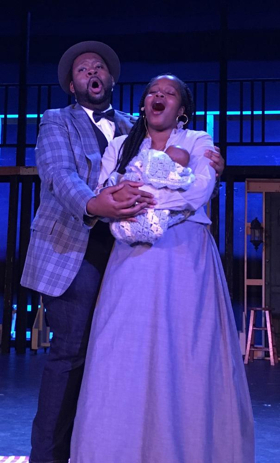 I had the honor of seeing the original Broadway cast of the Tony winning musical Ragtime as my very first Broadway show. So, as you can guess, I am absolutely thrilled to see that Long Island's BroadHollow Theatre Company has added it to their Spring season. This exciting incarnation, directed by Marian Waller, runs through July 9th at East Islip's BayWay Theatre and then heads over to BroadHollow's Elmont location beginning August 5th.
The heartbreaking story, based on the 1975 novel by E. L. Doctorow, centers on three groups of people in the United States around the turn of the 20th century. We first meet New Rochelle suburbanites headed up by Mother, then we meet African Americans headed up by musician Coalhouse Walker, Jr., and then we meet Eastern European immigrants headed up by Tateh, a Jewish immigrant from Latvia. They each take us through their American experience; three different facets of society. The gripping book for this show is done by Terrence McNally and the soaring score by Lynn Ahrens (Lyrics) and Stephen Flaherty includes gospel and, of course, ragtime.
For this big show, the large cast is wonderful. There are, however, in an otherwise solid production, a few moments throughout the show where the energy just isn't there. For example, the grand opening number seemed to start off slow, but ended strong. This is, perhaps, opening weekend jitters, so hopefully everyone will find their stride as the sure to be successful run continues.
Among the talented cast, Chazmond Peacock makes a superb Coalhouse; intense, great voice... he's a natural for the role. Coalhouse is the beau of Sarah (and father of her child) portrayed exquisitely by Amanda-Camille Isaac. Ms. Isaac's striking portrayal of poor Sarah is a roller coaster of emotions including a gorgeous rendition of the hopeful song "Wheels Of A Dream" with Mr. Peacock. Additionally, kudos to Mike Press who is an outstanding Booker T. Washington, Coalhouse's mentor.
On Ms. Waller's clever creative team, Bob Butterley's bi-level set ideally fills the open stage. Rolling pieces, tucked away on the sides, are used throughout. Also, the fun here is that you get to use your imagination a great deal. The music, on tracks, is coordinated by Eizabeth DeGennaro who is also part of the cast. This is enhanced beautifully by Jessy Gill's choreography and Joseph Kassner's stunning costumes.
And so, BroadHollow's Ragtime is certainly a boffo effort for such a big show. A stellar cast and gripping story make for an emotional night of theatre.
---
Ragtime is presented by the BroadHollow Theatre company. For more information and to purchase tickets, please call (631) 581-2700 or visit www.broadhollow.org.
Book by Terrence McNally, Music by Stephen Flaherty, Lyrics by Lynn Ahrens, Directed by Marian Waller, Technical/Set Design by Bob Butterley, Stage Management by Anne Longobardo, Lighting Design by Hemraj Budhram, Costume Design by Joseph Kassner, Choreography by Jessy Gill, Musical Direction by Elizabeth DeGennaro, Lighting Board operated by Rachel Heide
Starring Ava Anise, Edward A. Brennan, Bryan Bowie, Kayla Cappe, Leanne Contino, Liz DeGennaro, Taylor Duff, Scott Earle, Carrie Heffernan, W. Gordon Innes, Rosemary Innes, Amanda-Camille Isaac, Maurice Jerry, Melanie Jolley, Sebastian Jolley, Kayla Murray, Chazmond Peacock, Mike Press, Meredith Lynn Riordan, Tim Rogers, Sandro Scenga, James Taffarelli, Mark Tarantino, Ashley Taylor, Andrew Timmins, Blaise Valentin, and Chase Zayas
| | | |
| --- | --- | --- |
| | Donations | Arts Orgs |
Related Articles View More Long Island

Stories

Shows