BWW Review: AVENUE Q at Syosset Cultural Arts Playhouse
Its always a joy to take a stroll down "Avenue Q," Broadway's Tony Award winning musical soon to be ending a fifteen year run in New York City and currently being presented at the Cultural Arts Playhouse in Syosset. Audiences are still flocking to the numerous productions of this crowd-pleasing sensation popping up all over the globe. The Cultural Arts Playhouse admirably delivers the hysterical "Sesame Street for adults" musical, faithfully sticking to the original concept and adding it's own special touches here and there keeping it fresh and exciting.
The puppets and humans on Avenue Q live together in harmony and share the same day to day squabbles. Relationship issues, unemployment, identity crises, racism, and addiction all surface on the street yet through boisterous "learn a lesson" production numbers and the quaint community rallying together, the residents discover their fixable problems, except for death and paying taxes, are only temporary. Fifteen years later, the story and characters of "Avenue Q" are as timeless and relevant as ever while they continue to create parallels to our own lives.
At the performance we attended, the amazing Evan Torres, who puppeteers and voices the recent college graduate Princeton, started the show asking what he should do with a BA in English. (Ironically, we had a friend in 1996 who asked us the same exact question!) Mr. Torres, with his velvet singing voice and glowing persona, was a delightful and perfect Princeton. He luckily found his first apartment on Avenue Q inhabited by a troop of zany and neighborly characters all in each other's business.
The sweet and sensitive Kate Monster, played by the marvelous Liz Jeffrey, has the hots for Princeton but her teaching career is getting in the way. We last saw Ms. Jeffrey grace the stage in another puppet show, "Hand To God," but we had no idea this brilliant actress was also a powerhouse singer. She is a wealth of talent not be reckoned with.
Lucy The Slut, performed by the fast and feisty Rebecca Deturris, is no match for Kate Monster. Both gals have their eyes set on Princeton and it makes for one furry love triangle. Just when you think Princeton will make good choices and do the right the thing, the adorable Bad Idea Bears, performed by the witty duo of Jared Glazer and Anna Delgato, make appearances to cause havoc and get everybody wasted! How many Bad Idea Bears do you know?
Asami Tsuzuki and Jason Donohue play an engaging human couple who share living quarters with the furbabies and are about to be married. The charming Tsuzuki is therapist Christmas Eve and Donohue is her lumpy unemployed husband Brian. The original moment when Tsuzuki whips a microphone out of her pocket for the song "The More You Ruv Someone" is priceless.
Just when you think things can't get any wilder, we learn Gary Coleman, the washed up star of TV's Diff'rent Strokes, is the building's superintendent. The neighbors question what hope they possibly have if Gary Coleman is on hard times yet the convincible Taneisha Corbin sets them straight. Ms. Corbin commands the stage with enormous energy and a belting voice that can even be heard on Avenue A. She has many giddy scene stealers including another original when the puppets are copulating and she hilariously strolls behind them, peeps, and blasts out the song "You Can Be As Loud As The Hell You Want When You're Making Love."
Of course there has to be one pervert on the block and the pornography obsessed Trekkie Monster is performed by the super Nick Masson. Mr. Masson rings out all the laughs while teaching the internet is for porn and in the end, warms our hearts with his childhood flashback and generous neighborly contribution.
Two friends and roommates also go through their own trials and tribulations on the block. Nicky and Rod are best buddies and Rod wants more. Though Nicky is not receptive to his desires, Rod eventually discovers and celebrates his true self identity through therapy and self evaluation. The wonderful Alex Mecklosky, who puppeteers and voices Nicky, exceptionally delivers the silliness and foolishness of the winning pair.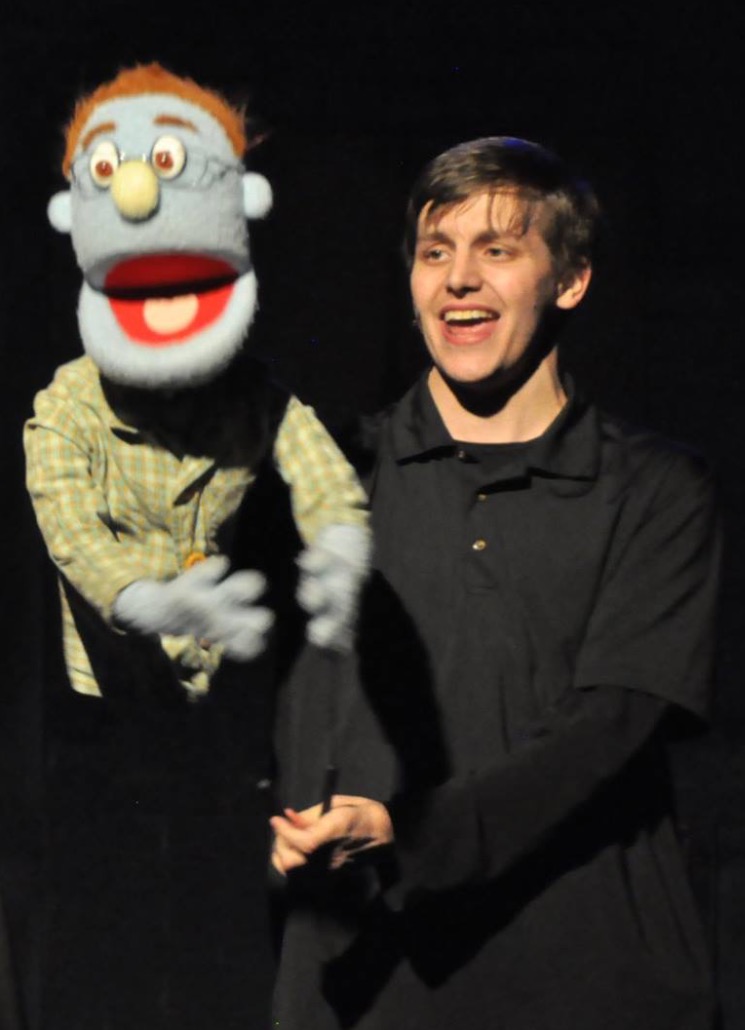 Finally, the stiff and uptight Rod is portrayed by the funny and fabulous Kyle Mahoney. Not only did he effortlessly bring Rod to life but he also serves as Puppet Captain. Mahoney, who recently starred in "Hand To God" and gave the best leading performance of the Long Island theater season so far, continues to mesmerize audiences with his expert puppetry while continuing to perfect his craft. He humbly blends into "Avenue Q's" winning ensemble, not only singing and smiling this time around, but always supporting his team even when the spotlight provides him with a well deserved center of attention. Someone get this guy a job with the Muppets ASAP!
Avenue Q certainly answers the age old question, "Who Are The People In Your Neighborhood?" The Cultural Arts Playhouse recruited a youthful gaggle of Long Island's finest singers and puppeteers to bring this wacky and tacky tale to life. Once upon a time, the youth of America wanted to be told how to get to Sesame Street. Nowadays, can you tell us how to get to Avenue Q?
----------------------------------------------------------------------
Starring: Evan Torres, Jared Grossman, Kyle Mahoney, Rich Giordano, Liz Jeffrey, Samantha Eagle, Taneisha Corbin, Asami Tsuzuki, Eunha Grace Shin, Rebecca Deturris, Sydnee LaBuda, Alex Mecklosky, Sean Ryan, Nick Masson, Ricki Dee, Brian Lomasky, Jason Donohue, Gina Arfi, Anna Delgato, and Jared Glazer.
Music and Lyrics by Robert Lopez and Jeff Marx, Book by Jeff Whitty. Puppets Conceived and Designed by Rick Lyon, Animation Design by Robert Lopez. Lighting by Tony Frangipane, Puppet Captain Kyle Mahoney, Set Design Danny Amy and Thomas McKenna, Set Construction Thomas McKenna, Steve Gozdziewski and Robert Surber, Choreographer Danielle Coutieri, Musical Direction Rich Giordano, Stage Manager Diane Marmann, and Director Tony Frangipane.
For more information and tickets please visit: http://www.culturalartsplayhouse.com or call the box office: 516-694-3330. Avenue Q runs from February 23-March 30, 2019.
Related Articles View More Long Island

Stories

Shows