BWW Review: THE UNSINKABLE MOLLY BROWN at Metropolitan Theatre Ensemble At The Warwick Theatre

The Unsinkable Molly Brown, by Meredith Willson and Richard Morris, is now showing at the Warwick Theatre. A production of the Metropolitan Ensemble Theatre (MET) and directed by Karen Paisley, with musical direction by Loren Bridge, this musical is a fun romp and definite crowd pleaser. Unsinkable marked Meredith Willson's second show after the popular hit The Music Man and is filled with music that charms and delights.
The show revolves around Molly Tobin, a determined girl from Hannibal, MO at the turn of the century (1900) as she sets out for Colorado in hopes of making her dreams come true. She lands in the mining town of Leadville working at the Saddle Rock Saloon where she meets Johnny Brown. But, her dreams of fortune don't seem to align with the rather simple Brown and in spite of his pleading she is slow to warm to him. He persists and after building a cabin with a room for her father and her own brass bed she marries him. "Lucky Leadville Johnny Brown" soon hits it big mining making them rich. Molly has a fabulous house built in Denver and hopes to join the circle of wealthy folk, but they bristle at her lack of sophistication and shun her. In hopes of becoming more cultured she and Johnny head to Europe and begin making friends with many of the elite, including royalty, yet Johnny yearns for home. Molly finally relents, but brings a group of her friends back to impress Denver. Molly and JJ throw a big coming out party and mayhem ensues, dampening Molly's dreams. Feeling like she's missing out, Molly finally gives up on Denver and moves back to Europe, but JJ is having none of it and in frustration moves back to Leadville without her. Molly enjoys her retreat, but soon finds that her friend, the Prince, has romantic plans for her. Confused by her feelings, and seeking answers, she boards ship on none other than the Titanic. As the ship sinks she takes lead of one of the lifeboats and rows to safety and into the newspaper headlines back home. Having returned a hero and reunited with her true love, JJ Brown, the "Unsinkable Molly" finds she has the life she always dreamed of.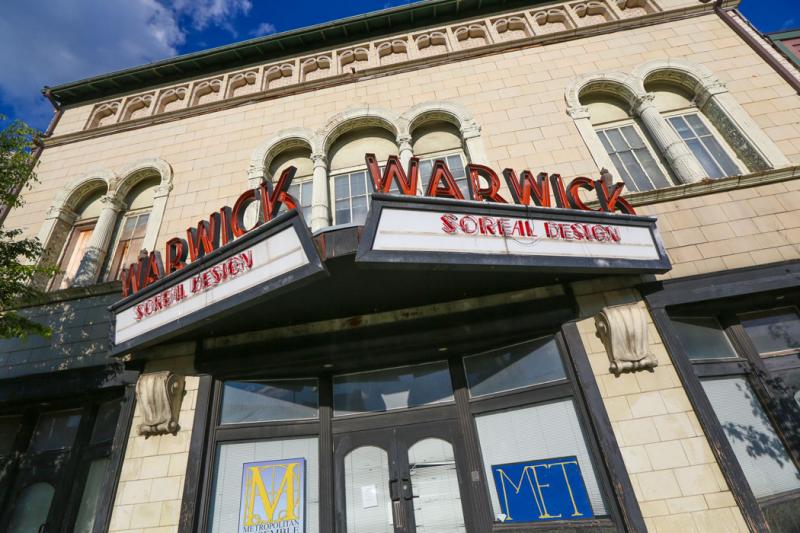 Morgan Dayley takes on the lead role with the whirlwind of gusto that is Molly Brown. Dayley captures the spirit of the pioneering woman at the heart of the show. Johnny "JJ" Brown is played by Christopher Sanders whose big baritone voice fills the space. Sanders delivers a master class vocal performance with songs like "I'll Never Say No," and "If I Knew". The strength of this ensemble makes "Unsinkable" a hit for MET as it closes out its season. The quality of the vocal music is top notch and the exciting choreography gives punch to the larger production numbers. MET has taken on a big show, but does it quite well. Using every foot of space and outfitting it with sets, props, and costumes of the era, this is first class treatment. MET should be proud of producing such a fine effort in a space they are just getting to know. After all that the MET has been through in getting moved, the grand production of "Unsinkable" proves "They Ain't Down Yet"!
The Warwick Theatre is once again an entertainment space after an absence of more than 60 years. This show ends the season in the newly inhabited venue and proves to be yet another well done production. Directed by Karen Paisley, this effort is a perfect inaugural season show for the reopened Warwick.
The Unsinkable Molly Brown is showing June 14-24, 2018 at the MET's newly acquired venue. The Warwick is at 3927 Main St, KCMO 64111 and there's plenty of parking behind the building. Tickets can be ordered online at metkc.org or over the phone by calling the box office at 816-569-3226