BWW Review: THE ADDAMS FAMILY MUSICAL at Theatre In The Park, Shawnee Mission
They're creepy and they're kooky,
Mysterious and spooky,
They're all together ooky,
The Addams Family.
For those who remember the Addams Family tv show, or have seen reruns, it has returned in a stage musical format that recaptures the original comedic fun. Theatre in The Park (TTIP) seizes the hysterical absurdity of the beloved/bedeviled family along with the marvelous music of Andrew Lippa (for which he was nominated for a 2010 Tony Award
Addams Family is based on the comic strip by Charles Addams, with new stage book written by Marshall Brickman and Rick Elice. True to Addams strip, this story about a ghoulish American Family with an affinity for all things macabre, takes a romantic turn. Daughter Wednesday lets it slip, while torturing her brother Pugsley, that she has fallen in love with "normal" human boy, Lucas. Complicating matters, she has invited his parents to dinner so the families can meet. Uncle Fester, who has overheard the secret, enlists the help of the "Ancestors" while her parents (Gomez and Morticia) see a change in her and wonder where they went wrong.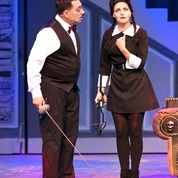 Wednesday instructs her family to act "normal" while the Beinekes visit, but from the moment Lurch ushers them into the spooky mansion things begin to go awry. One by one, the family members attempts to appear normal fail, but attention is diverted to Lucas and Wednesday as they announce their plan to marry. Meanwhile, Pugsley (who's worried that Wednesday won't torture him anymore) steals a potion from Grandma after she tells him it will bring out the dark nature in whoever drinks it. Mistakenly, Alice (Lucas mom) drinks the potion and begins to lament that her marriage to Mal is a miserable mess. As the humiliated Mal heads for the door, Uncle Fester gets the ancestors to created a horrible storm that traps them in the house
As the storm rages, Lucas and Wednesday get into their first argument, as do both sets of parents. Later, outside the house, Gomez encounters Wednesday as she is leaving causing him to come to terms with her growing up. With her father's support, Wednesday challenges Lucas to prove his love by allowing her to shoot an apple off his head with a crossbow. Lucas is more afraid of losing Wednesday than death, agrees, and wins back her heart. The ancestors step in to help all the couples resolve their conflicts and eventually "Tango" their way back to peaceful wedded bliss. As the moon and stars light the dark sky, the family finds that "when its dark enough, we can see the stars."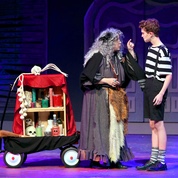 Brian Larios (Gomez) leads this frighteningly good cast of ghouls. Larios nails the accent brilliantly throughout the show and delivers on the comic moments with perfect timing. His singing is two, no three, no four things to love about his performance. Juel Perry is eerily dark as Morticia and proves to be a dynamic force as the family leader. Her strong female persona plays well in today's "Me Too" era and she follows it through with equally strong musical ability. Paris Naster makes Wednesday the surprise of the evening with a powerhouse singing performance in "Pulled". Naster is solid throughout, proving to be a truly talented lead.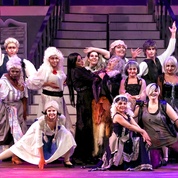 Fritz Sullivan is charmingly funny as brother Pugsley, but also gives him and edgy dark side that cements his place in the family. Ishaan Halder is Lucas and is normal bordering on not. Halder plays up the innocent love while still acting enough of a nerd to make it understandable that he's so wild about Wednesday. Matt Walberg and Renee Blinn, as Mal and Alice, are the perfectly "normal" and provide the balanced counterpoint to Gomez and Morticia that make the story click. Blinn, in particular, is a hoot as she falls apart after drinking the potion.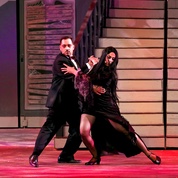 Matthew Robinson gives Uncle Fester a sense of childlike enthusiasm which is perfect to lead the Ancestors into action. Debbie Blinn is a quirky, don't-mess-with-me, grandma. Matthew Koehler as the nonverbal Lurch has one of the tougher acting assignments, but proves that grunts and groans can tell a story. And, Mia Cabrera is the bouncing fur ball Cousin Itt, and Thing is...still a mystery.
If you want my endorsement to go see this show let me give it to you with another verse from the original TV theme song...
Their house is a museum
When people come to see 'em
They really are a scream
The Addams Family!
The Addams Family musical runs from July 20 to 28th, 2018. Full details for the entire 2018 season, OUTDOORS and INDOORS, are available on the TTIP web site: www.theatreinthepark.org
The TTIP box office opens at 6:30 p.m. and the gates to the seating bowl open at 7 p.m. TTIP OUTDOOR ticket prices are $8 for adults (plus tax), $6 (plus tax) for youth and children three and under may attend for free (but require a ticket for entrance). Reserve seats and parking are also available. Tickets may be purchased online at www.theatreinthepark.org, or at the theatre box office the nights of performance.
Related Articles View More Kansas City

Stories

Shows