BWW Review: KINKY BOOTS at Starlight Theatre

These boots were made for walkin' - right in to the Starlight Theatre to see this kicky crowd-pleasing musical. Cindi Lauper and Harvey Fierstein have sewn together a model of modern musical theatre with this fun stomp through a shoe factory." Kinky Boots", which is directed by Jerry Mitchell and Music Directed by Kevin Casey, has cobbled together a message of courage, individuality, community, and acceptance that culminates in an exciting finale that has everyone kicking up their heels in joy.
As the show opens we find Charlie Price (Lance Bordelon) has inherited the failing Northhampton footwear factory, Price & Sons. Knowing he has to come up with a new plan, he stumbles upon a drag show where inspiration arrives in the unlikely form of Lola (Jos N. Banks) the star drag queen. Lola's idea for a niche product line, in the form of knee high, calf hugging, stiletto-heeled swathes of flamboyant color, strong enough for a man but made for a woman, might just be the thing to rescue the floundering foot fashion factory. Charlie, who has been longing to escape to London with his status-conscious fiancée, Nicola (Hayley Lampart), now finds new enthusiasm to reboot the factory and save the jobs of his family's faithful workers, rather than convert the factory to condo's as Nicola demands. With a new plan in place the unlikely combo set their sights on a Milan fashion show to launch their new line. However, in this more conservative town, things don't flow so smoothly and our hero's face perilous obstacles in their salvage attempt. The factory workers begin to clash with both Lola and Charlie threatening their success. Fearing failure, the lovelorn Charlie receives some kooky encouragement from recently promoted Lauren (Sydney Patrick). Lola, too, finds that to get along one must sometimes throw a few punches to get the point across. In a robust finale that brings the show to a rousing climax the audience can see the results of their labors with a number that has everyone kicking their heels up.
Lance Bordelon gives the character Charlie all the right moves. His strength as an actor, who is able to captivate the audience with emotional range, is equally matched by his killer vocals. Jos N Banks, as Lola, is a quadruple threat! Banks acting makes one think he was born onstage and has never left. His singing and dancing in numbers like "Sex is in the Heel" are stellar, and his acrobatics in both heels and boxing gloves must make him the envy of the Broadway acting community. Sydney Patrick takes the character Lauren to comedic heights, however, make no mistake, this powerhouse can sing as well as she can throw a well-timed punch line. The ensemble is not just a backdrop in this production. With near constant movement in the factory and rock styled dance numbers they earn the ruby slipper award.
It is surprising the broad range of music Lauper has crafted in this show. Far removed from her rather crazy rock star image are numbers that convincingly shine light into the thoughts and feelings of each character. There are plenty of energetic pop rock dance numbers to get your pulse going, but there are also tender, comedic, and compassionate ones as well. If you've been waiting to see the best of newer Broadway shows, the wait is over.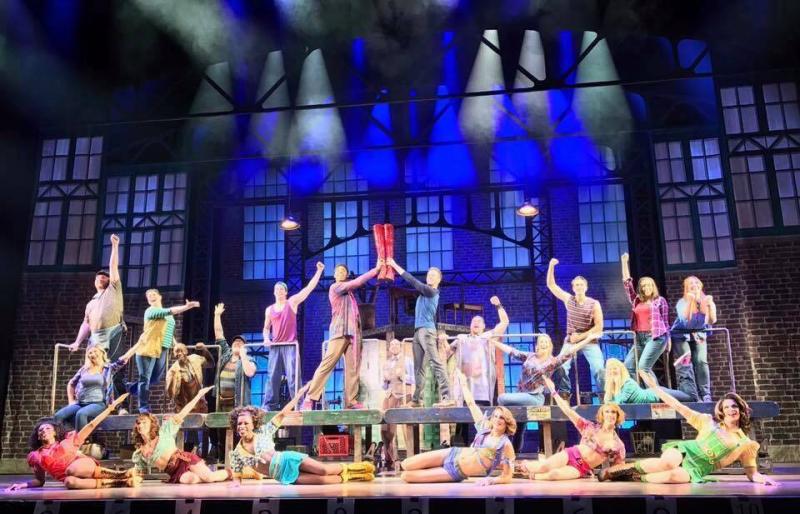 Tickets available at kcstarlight.com or (816) 363-STAR
"Kinky Boots" runs through October 1st at Kansas City's Starlight Theatre.