BWW Review: BACK TO THE 80S at Theatre In The Park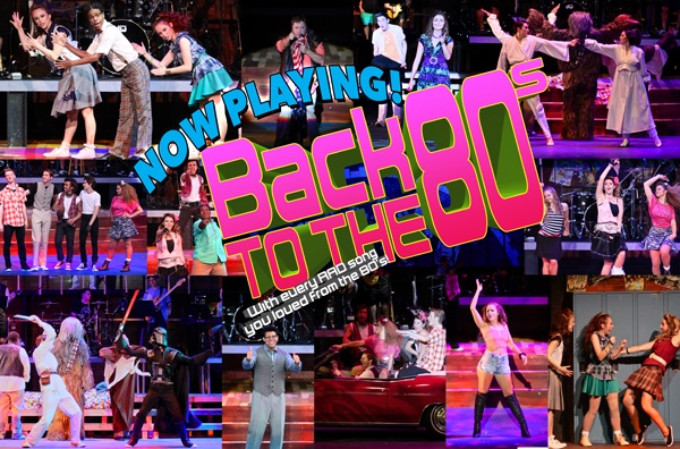 It's big hair, even bigger music numbers, and a little Star Wars as Theatre in the Park takes audiences BACK TO THE 80S.
The musical, written by Neil Gooding, takes place as a flashback with an older version of protagonist Corey Palmer (Langston Hemenway) narrating his senior year of high school and the trials and tribulations that is involved with being a teenager in the 80s, and is all centered around Billboard's top songs from the 80s.
Younger Corey (Alec Bridges) is running for senior class president with his friends (the hilarious Hewleek McKoy and Ryan Richeson) as his cohorts. He is running against the most popular guy in school, Michael Feldman (Alec Walberg), and the techno geek always ahead of his time, Feargal McFarrin (played by the witty Gerald Briscoe). Corey's whole platform is based on a benefit concert he wants the school to put on to raise money, but when Michael Feldman finds Corey's speech and goes first, stealing his ideas, Corey is left flabbergasted and can't bring himself to think of anything else to say in his speech.
Feargal is then laughed off the stage when he unveils his plan to make the school more technologically advanced with powerful computers, something no one believes will actually happen. Briscoe's rendition of "Video Killed the Radio Star" starts off as a joyful interpretation complete with a robot dance, but ultimately ends sad when the other students start to mock Feargal.
To no one's surprise, Michael Feldman wins the school elections. That's when, unbeknownst to both of them, Michael and Corey decide to put the moves on Tiffany (the delightful Korrie Murphy) with her favorite group's song (and my favorite number in the show) "I'm Gonna Be (500 Miles)" competing for her heart. Though both put in a valiant effort, Tiffany chooses the popular guy instead of our protagonist. In the pains of broken teenage love, Corey runs off the stage, and older Corey comes out to sing a heartfelt version of "You Give Love A Bad Name."
Corey is avenged when later in the second act it is revealed that Michael had been stuffing love letters in the new girl's locker with plans to ask her to prom, but stand her up. Tiffany finds out and Michael is no longer the ladies' man of the school. And what would a show that takes place in high school be without a big showstopper at prom? The whole cast dances together to perform a reprise of Wham's "Wake Me Up Before You Go-Go."
My favorite part of the show was the girls' costumes. The 80's had such defined fashion, and these girls didn't disappoint with sparkly frocks, fringe boots, and plaid skirts. Their song "Girls Just Want to have Fun," sung by Murphy, Maggie Hutchinson, Anna Hastings, and Colette Worthington, was my second favorite song in the show with their iconic dance moves.
The show is riddled with 80's references; Feargal working with nerdy Billy Gates on computers, a karate class taught by Mr. Miyagi, and of course a Star Wars number that will have you laughing in your seats.
BACK TO THE 80S plays at Theatre in the Park for just two more days, and you don't want to miss out! Go to https://www.theatreinthepark.org/ticket-options for tickets.