Click Here for More Articles on CIRQUE DU SOLEIL
BWW Interview: Crystal Kay & Shirota Yu talk PIPPIN in Japanese!

Diane Paulus, the original director of Pippin, is known to the world as a theatrical genius. Some might not know that she happens to be half-Japanese. This year, she and original dancer, Chet Walker, brought Pippin to Tokyo, in what might be the most personal revival this show has ever been through. From casting a lead who has never been in a musical before, to making changes for another language, lots of raw emotion, experimental collaboration, and stepping out of comfort zones went into producing this show.
Whether she meant to or not, Diane cast two other actors with mixed heritage as the leads; an unprecedented "happening" in Japan. There aren't so many multi-racial people in the homogeneous country of Japan, let alone in the performing arts industry! To get two in the same show is exceptionally rare. But perhaps it's a symbol of how the times are changing, and how Japan is becoming more and more accepting of western influences. No doubt introducing this new version of Pippin to Tokyo will pave the way for musical theater in Japan to finally be recognized as a form of mainstream entertainment.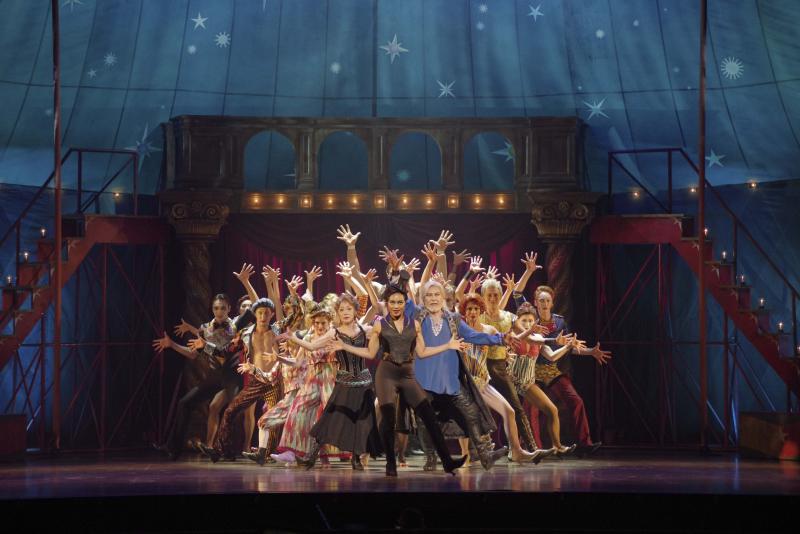 I sat down with Crystal Kay (Leading Player) and Shirota Yu (Pippin) to hear their opinions about how theater is changing in Japan, and what it was like working on such a legendary show from Broadway.
---

LARISA: What advice did Diane give you that you haven't heard from a Japanese director before?
YU:
Hmm, it's gonna be a hard!
CRYSTAL:
Well, it's gonna be all him, because this is my first show!
YU: But you can say, you know, what was surprising or...
Crystal: I'm just a singer. When singing on stage, there's not really a direction.
YU: So I can talk about that I think! First of all, Diane's a genius. I think she's really, really smart. And she's got like 20 eyes. So she can watch everything that's happening, and she can memorize everything. So I was surprised during the first week, which is the only week we had with her.
Crystal: The first week, when we started rehearsing, right.
YU: And with that one week, we just ran through the whole thing. It was really tough because, you know, we never did a rehearsal until that day. We just started and went boom-boom-boom. And for us it was so fast. But, because she explained everything about Pippin, or the backstory about it, it was really easy to understand. That's kind of rare in Japan. Some directors do give some information, but most people just start with, "Ok let's do it," and we just go directly into acting. But she started to talk about, you know, her blood.
CRYSTAL: Like her family history, and what it means for her bringing this show to Japan because she's half Japanese.
YU: That was, you know, the first step. And that's really important for us. She told us about her life, and started to talk about what she did in her life. So, you know, that's not a "direction," that's just a conversation. But that helped us a lot because you can gain trust, and there's a connection. And what we need is relationship, especially with this production. We need trust for every movement. As you can see, this Pippin is really, really hard to do, even one show. Twice in a day is impossible! There's a lot of acrobats, Crystal's doing trapeze, there's a hundred things to do, and you need trust. In even the small things we have to be connected. And especially for this story about circus, Crystal's the Leading Player, and everyone has to rely on her and trust her and she has to lead them all. Diane started talking about that and made that kind of bed. So that was the first thing she did. And then, from there, it was super fast to run through every scene. It was super fast, but also it was super detailed and precise. Even on small things she gave us notes, and that was really, really understandable and helpful! We never felt like, "what's she saying?" or "I don't understand," or "I think it's different." She was just right. And I never felt that in my career. And Diane is also a great actress! So that's why we understand everything she said, because, when she gave us notes, she could show us. And because of that, we got a vision, we could see what she wants. Even though she couldn't speak Japanese...
CRYSTAL: Yea, she's still spot on!
YU: Yea! She can understand everything we say, like, "Ok, you're saying this like this, but I think you should say it like that." And even though she doesn't understand Japanese, it works! But, that's not usual, even when the directors and actors speak the same language. She's special. With Diane, we could make the connection in just one day. That's super rare. But that's the key. We were rushed for time, but with just one day, we just got it. You know. That's the most important thing, and I think that's a rare thing to have from the director.
CRYSTAL: I think it's rare for somebody to be that invested in the show.
YU: Yea, that's a big one, I mean, she was the original director!
CRYSTAL: I feel like so many things kind of just fell into place, like her coming back and bringing the show to Japan, where it's half of her. And you know, everything kind of just came together, timing-wise.
---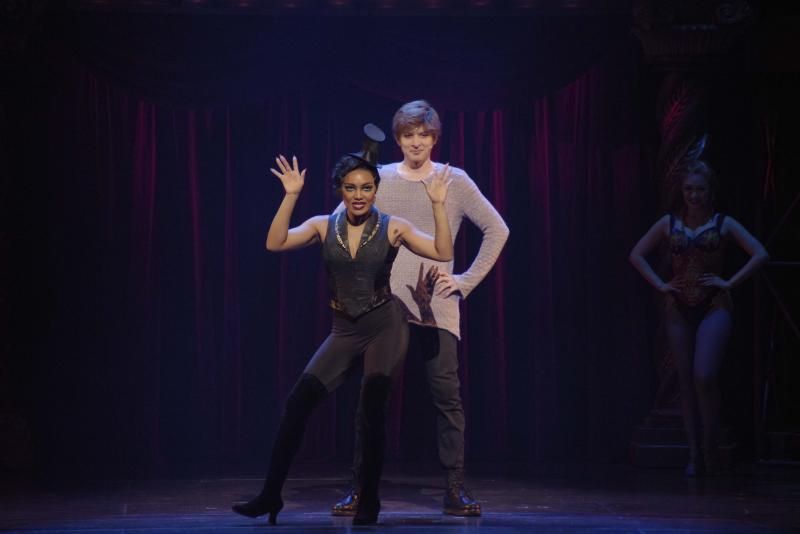 They continued to talk about how by coincidence they both saw Pippin on Broadway, starring Patina Miller as the Leading Player. A patron outside the show saw Crystal standing there, and asked for an autograph, thinking she was Patina. So, years later, when Yu contacted her to ask if she wanted to play the role, even though she had never been in a musical before, she felt it was her destiny. Yu also felt he was touched by destiny to play Pippin opposite her.
---
YU: I was in New York for a show called 4 Stars, which was a musical concert with Ramin Karimloo. I watched that Pippin with Ramin. We were like, "Hey, let's go watch some musical."
CRYSTAL: It was like that, too, for me! Someone just asked me to go see something, since we were in New York.
YU: Even if you guys doubt it, I didn't understand even half of the lines. I think I was like, "Ok, I'm lost." Because you know the lines are too fast, and it's kind of hard. Because that was 6 or 7 years ago, and maybe my English is better now? Maybe. I'm not really sure! But, at the time, even though I couldn't understand everything, I was still like, "oh my gosh!" you know? Speechless!
CRYSTAL: Especially the end!
YU: Yea! The ending, that finale... watching Patina, I was like, "Oh My God! She's f---ing mean!"
CRYSTAL: I was sick! I was like, "Oh my god, am I seeing something I'm not supposed to see?? They're really taking down the tent. Like, is this for real?" I felt REALLY uncomfortable. It was awkward!
YU: But That's the feeling you're supposed to have. That was the right feeling.
---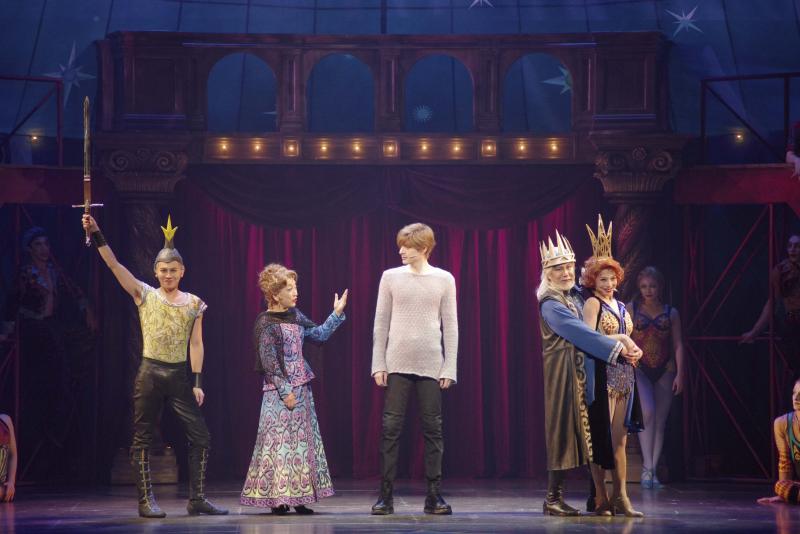 Yu has talked publicly about how he had a determination to re-create and go beyond the shocking feeling that he felt that day. He wants his audiences to be touched by Pippin as much as he had been so many years ago. And you can absolutely feel his passion when he talks about it.
---
LARISA: I was really surprised at the audience watching Pippin today, because the audiences in Japan are generally pretty -
CRYSTAL: - they're quiet!
YU: Yea, SO quiet! It's SUPER rare to have an excited audience like today! SUPER rare in Japan. It's one or two in a hundred productions. Just one or two. It's really rare. Maybe during the recent Kinky Boots (with Miura Haruma and Koike Teppei).
LARISA: The biggest cheer I heard was for Bertha (double-cast of Maeda Bibari and Nakao Mie) during her acrobatic scene!
---
In this 2019 cast, there are former Cirque du Soleil performers mystifying the audience with their circus tricks and acrobat moves throughout the entire show. All the main characters participate at some point in an acrobatic or magic trick, including Bertha, who sings her first big number hanging upside down on a swinging trapeze bar!
---
YU: She's 73! She told me that every morning she goes for a walk with her dog.
Crystal: From a year ago, they told her, "please make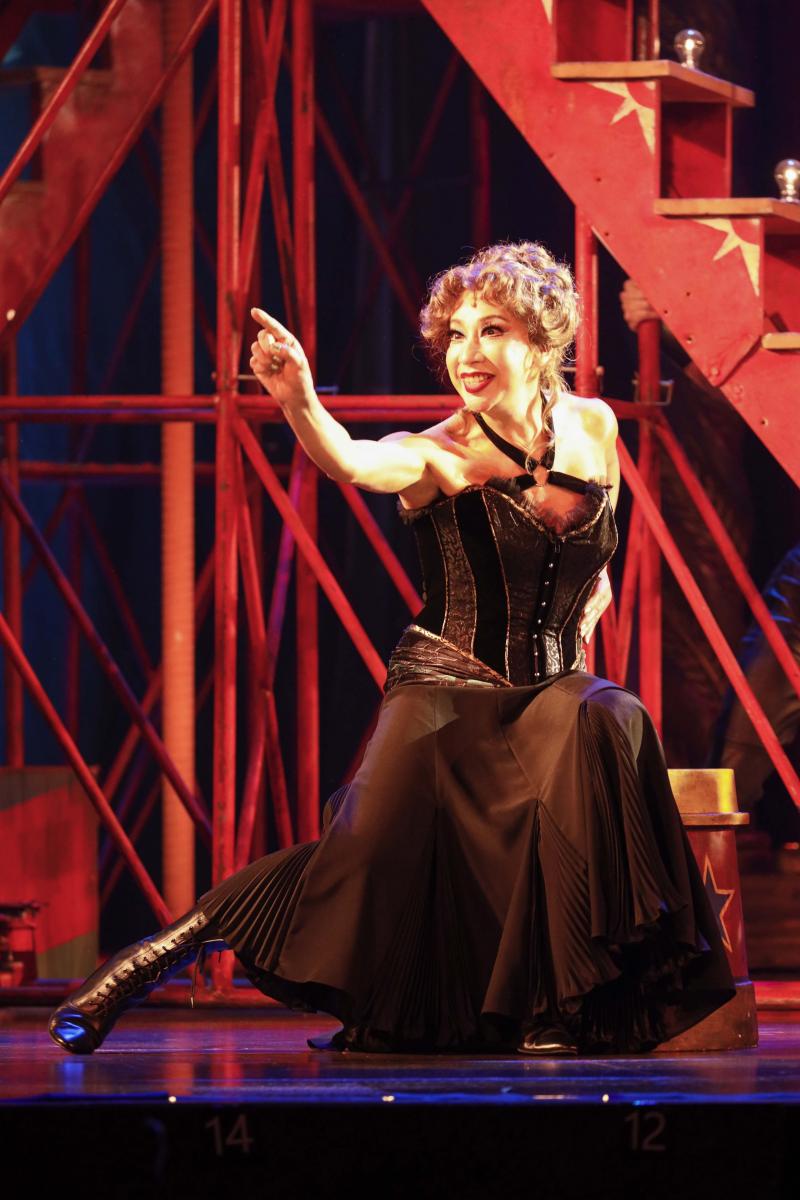 sure you can do 10 pull-ups by the time we start the show." She takes a walk with her dog every morning, so she'll go to the park. In Japan, the parks usually have a version of what Americans know as monkey bars. So she started practicing on that every day. And she said that now everybody does it, too; all the other old people!
YU: Oh yea, that's a funny story! And her muscles...!
CRYSTAL: All the other people, because of her!
YU: They all saw her getting stronger, and said, "We wanna do it!"
---
We touched on the subject of both of their being "hafu," the Japanese expression for people who are half-Japanese. While it can at times be hindering in such a homogeneous culture, they both found in their 20-year careers that Japan is becoming more accepting of western culture, people and theater. Yu is half-Spanish, and Crystal, although born and raised in Japan, has a Korean mother and American father. Both of them are celebrity pop stars, but are they famous for their talent, or for being exotic?
---
YU: The good thing is, for musicals, the face doesn't matter.
CRYSTAL: Yea, I know right.
YU: That's why I could succeed. That's why I could start my career as an actor. At the beginning, I auditioned 100 times for TV and film, but I couldn't get any role until 16 years old.
CRYSTAL: Why?
YU: I started from 13 years old. I went to lessons, I went to auditions, I went to interviews, but, in the end, I couldn't get any of it. But, I got this role from a musical called Sailor Moon. So that was my first role, and, until then, my face or my height was what was holding me back. Everyone told me, "Oh you're too high," and "You're too this..." like Pippin. But I finally found a place, and that was in a musical. So I started to do musicals, and, long-story-short, it was the first time I felt like my face, my height, or my body, just fit. In this type of show business. So that's why I started and just kept doing musicals for maybe 16 years, 17 years. I couldn't be on a TV show, or movie, but I could do a musical. And I really love to sing and act, also!
LARISA: Do you kind of feel like there's a huge difference between TV, movies, and stage in Japan?
YU: Yea, it's really big! There's a big difference, but, these days, the musical is getting bigger and bigger. Because of movies like La La Land, or Greatest Showman, or Les Mis.
CRYSTAL: Right, it's getting popular!
YU: Yea, it's getting really pop. But, until like 10 years ago, theater was the place where big actors' go when their careers start slowing down. No one knows the stars of musicals in Japan. No one knew who was doing this or that, or about musicals. But these days, for example, there's a big TV show for music.
CRYSTAL: Oh yea, we did a performance show, and they would have like a musical segment or a medley.
YU: Yea, and I mean, I sang Pippin's song "Corner of the Sky" for maybe 2 or 3 TV productions. That was impossible if it was 5 years ago, it was impossible! It was super weird to sing a song from musical on TV. Because no one knows that.
CRYSTAL: Yea, on mainstream TV.
YU: But these days it's changing. I'm singing some musical songs on a TV show so many times. And I'm really, really impressed, and I'm really happy. And the people who are acting in musicals, they are getting motivation, more than before. And it's really, really good.
---
LARISA: Yu, I heard you say that this was the best thing you've ever done and that you're ever gonna do.
YU: Oh yea, the best, and the most difficult!
LARISA: So where do you both go from here? Because, Crystal, this is your first musical, so what do you want to do after? Do you want to continue pop music? Or do you want to keep acting on stage?
CRYSTAL: Oh yea, I wanna continue music! But, of course, if there is a chance or opportunity, I'm down to do it! Actually, I wanted to be an actress, when I was little.
YU: Oh?
LARISA: What kind of actress?
CRYSTAL: Film.
LARISA: Dramatic or comedy, or...? You seem more of the dramatic type.
CRYSTAL: Maybe dramatic. Comedy is so hard! I think Comedy is the hardest.
LARISA: Yu, how much of the silly things you do on stage are adlibbed?
YU: I can say maybe 60% is adlib for me.
CRYSTAL: Really??
YU: Yea! Because it's not working. It's not working with what they do in America.
CRYSTAL: Yea, we had to change or adjust a lot of the scenes.
LARISA: There are a lot of jokes in English which I'm sure didn't make sense in Japanese! How much was changed to adapt to a Japanese audience?
CRYSTAL: A lot!
YU: Yea it didn't make sense, so we had to change the lines, or the timing.
CRYSTAL: I think we changed most of the comical scenes.
LARISA: Did you change it together as a cast, and with the director?
CRYSTAL: Yea, we changed it together.
YU: Yea, we were like, "Yo, what do you think about this," and it was, "Uh, ok yea!" or like, "Ok, let's do this, this, this." From the first week we could get Diane's input, and from the second week there's the associate director, or the Choreographer, Chet Walker. Because, when Diane left, we couldn't keep emailing her every time we wanted to change a line!
LARISA: Do you feel like this show is really personal for you, since you could be part of the creation?
YU: Yea, like trying to find the place where you fit, and you finally find out that it was really, really close to you.
LARISA: You find your corner in the sky?
YU: Exactly. It's really up to the person watching this show. There is no right answer. But, for me, I think what I said is my answer: that even though you see some bright light and beautiful rainbow, you need someone next to you to share that moment. Sometimes you forget about what you have in your hand, or in your house. But that's the most important thing in your life. Like family, or close friends. Not to be, like, a billionaire or hold a high position, or have power. What Pippin says, I Take That directly. But some people don't. Some people think very deeply about it. Of course it's deep, but, for me, the answer is...
CRYSTAL: It's pretty simple?
YU: Yea, it's pretty simple for me.
---
LARISA: Is this your first time studying Fosse? Crystal, is this your first time dancing?
CRYSTAL: A musical dance style, yes. But I dance when I perform.
YU: But she never had a lesson, like a serious lesson. So she's a born dancer.
CRYSTAL: But I'm not trained; I don't have any classical training.
YU: You know, she's the one who has the talent, and sense, and rhythm! So that's why she could learn Fosse. But I don't think, with just 4 weeks, you can progress like her.
LARISA: How much did you guys rehearse daily? When you're working on a project this big, do you stop your other commitments and just focus on one thing at a time?
CRYSTAL: Oh yea, for me, it was like that. I just gave my whole schedule for this show. So I was ONLY focusing on this.
LARISA: What kind of skills do you have now that you didn't have before?
CRYSTAL: I can do Fosse! Haha!
YU: Exactly! I mean, she can act now, she can dance now. And she can do trapeze, and hula hoop.
CRYSTAL: Singing and doing the hula hoop!
YU: Her core is so good!
CRYSTAL: But it's so fun, and it's just been a really, really great experience. Like, we actually had a 2-week dance boot camp with Chet, last year. Just for 2 weeks, and thank god we did that because doing all this in 4 weeks, plus choreography? That would have killed me!
YU: Yea, maybe.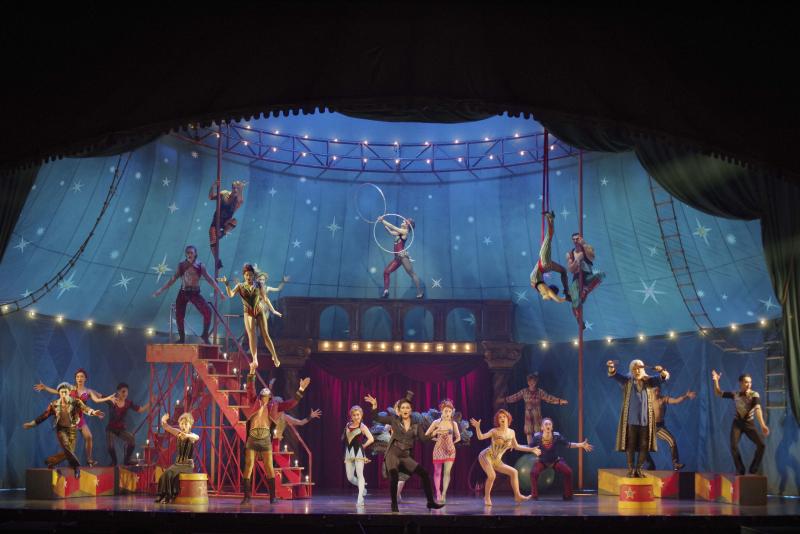 LARISA: Is there some piece of advice that Chet gave you about learning choreography?
CRYSTAL: He was just like, "Don't worry about anything,"
YU: Yea, just be you.
CRYSTAL: "Don't look at all the other leading players, like don't watch ANY of it, because this is Crystal's leading player. Nothing is wrong, whatever you do is right. Whatever the Leading Player does is right." He just kept telling me, just trust yourself, just let yourself go. Because that's where I think, as a person, I'm pretty... I'm kind of an introvert?
YU: Really??
CRYSTAL: Sometimes! You, too, kind of! But I think we're good at like... we're like an introverted extrovert. So I think Chet's advice was a really big point for me, because, as a person, I'm not super expressive. Like, I don't scream, I'm really kind of soft.
YU: She's so kind!
CRYSTAL: The Leading player is none of that! So that's what I had to, like, throw away.
YU: Yea, for the Finale, she needed to focus on the Finale so hard. Because she never screams, she never yells at people. But she needed to.
LARISA: So, where did you find that emotion?
CRYSTAL: Where DID I get that? Maybe it was always inside me? Hahaha!
YU: Yea in rehearsal one day you were like, "I think I got the feeling!" I remember that.
CRYSTAL: My mom was also telling me, to just borrow her experiences. I mean, she raised me as a single mother, and, you know, I saw all her sh---y boyfriends. And it p----s me off, so I was like, "Oh yea! I'll just borrow from that!" And there's a part where Pippin chooses Catherine. Like after all the Leading Player did for Catherine, and Pippin, they both kind of betray me, and I had a really similar moment in my real life.
YU: Oh, really? You never told me that!
CRYSTAL: Where two people betrayed me. There was a moment exactly like that! And I was like, "Wait, did this just happen to me?" That exact same thing as Pippin and Catherine. When I remembered that, I think that's when I told you that I know how to get the feeling.
YU: Wow, it's not good, but, it's good for you! Sometimes, actors or actresses NEED experience. To create the feeling or the emotion. So she got that one.
CRYSTAL: It's just my tiny thing, and my mom was saying, like "What? So, to play a killer you have to go and kill somebody? No! You just borrow, or take out some kind of experience, and replace it." Or, if you're having a hard time to act it out, Chet was like, "Go Big. Make everything big."
---
And this show has absolutely gone big! If you have a chance to see this production, hopefully you can feel the same strong emotions that Yu and Crystal felt the first time they saw it on Broadway. Even if you don't speak Japanese, there is plenty of "Magic for You...."
---
PIPPIN played at Tokyu Theatre Orb June 10th - 30th, 2019. Tickets could be purchased on the official website. (Japanese only.)
To read this article in Japanese, please CLICK HERE.
*Photo credit belongs to GEKKO. All images used in this article are official promotional images provided by PIPPIN Japan.