BWW Review: Phase Eight Theater Company Presents JESUS HOPPED THE A TRAIN
Theatre in Jacksonville is blossoming in a beautiful way. Veteran theatre companies in town are putting up some of their best works yet while emerging, progressive New Groups are popping up around town. One of these impressive new companies is Phase Eight, a Jacksonville based company rounding out its debut year. This past weekend, Phase Eight produced Stephen Adly Guirgis' JESUS HOPPED THE A-TRAIN, a chillingly honest look at the strikingly different lives of Angel and Lucius, two New York City men incarcerated on Riker's Island.
Phase Eight's JaMario Stills, a Douglas Anderson and Julliard graduate, directed last weekend's production. Stills brought this piece to the board of Phase Eight, who elects producing shows that are primarily investigative stories that give a voice to the marginalized. With a diverse, committed cast at his hands, Stills and his artistic team unapologetically bring the audience into the grungy, harsh life of two prisoners awaiting their fate for murder charges. Lucious, played by Derick Grant, is a psychopathic serial killer on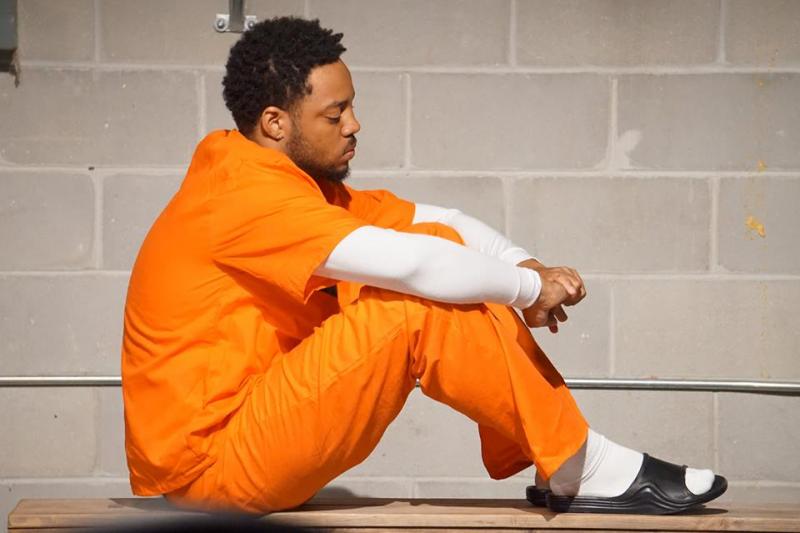 death row for the murders of eight (known) people, while Angel, played by Hays Jacobs, finds himself as Lucius' cell neighbor after seeking justice for one of his closest friends by shooting a local church leader. Grant breathes life into Lucius' character, a self-proclaimed convert to Christianity who postures himself as atoned for his past sins and seeks to reconcile those around him with God. Jacobs' Angel, on the other hand, is an unrepentant, conflicted man who truly believes that though he has committed a crime, his actions are just and truly a public service. Jacobs honestly gives one of the best performances I've seen in Jacksonville dramatic theatre, with a delightfully rich accent and natural character movement. Seeking acquittal for Angel's actions is Mary Jane Hanrahan, a weary but passionate defense attorney,
played by Blythe Reed. Reed beautifully masters several intense dialogue scenes with Jacobs, but it is her eloquent delivery of a handful of monologues spoke directly to the audience that unnerves the viewer in a way only a fantastic performer can.
Rounding out the cast are Rich Pantello as Valdez, a domineering, sadistic guard who feeds on the demoralization of the inmates, specifically Lucius, and Jan Peter Buksar as D'Amico, the prison guard prior to Valdez, who loses his position for being too soft on Lucius. This cast is connected, giving eachother what is necessary for believable storytelling on stage.
The complete artistic team for this production is filled by Angel Lewis' makeup, Demetrius Ballard's lighting design, and Adam Groff's set design. Produced by Heather Moore in one of WJCT's studios, Groff's minimalistic execution complements the structure of the space - I really felt like I was on Riker's Island with this cast.
My favorite kind of theatre is theatre that makes you think; a show that leaves you stuck in your seat, wanting just a few more moments to soak up the confrontation you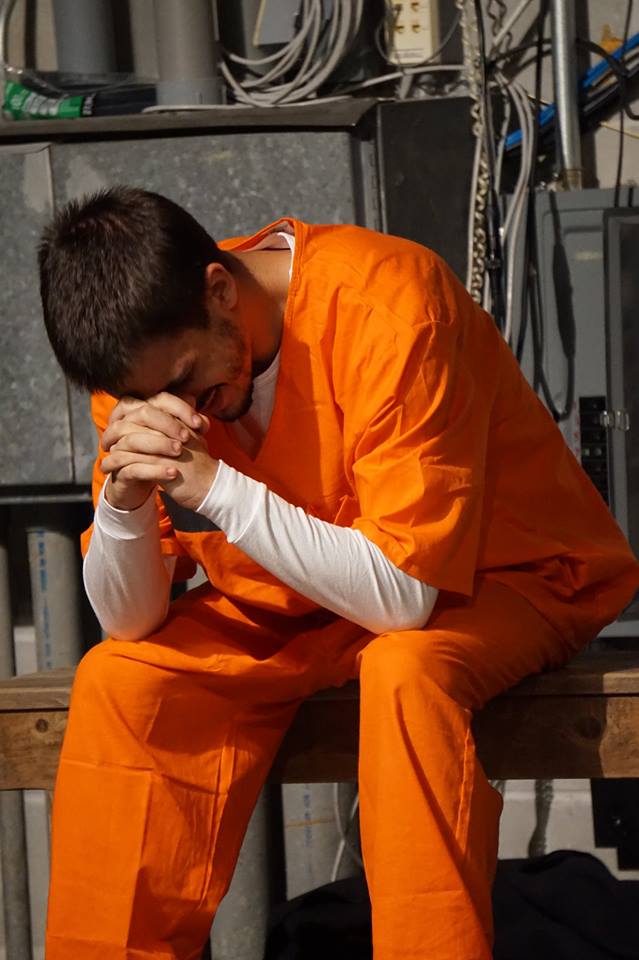 are now faced with processing. Phase Eight delivered on that this weekend. You have one more chance to see this evocative company produce a show this year: they're tackling Shakespeare's LOVE'S LABOUR'S LOST December 7th-10th at WJCT downtown. I highly encourage marking your calendars now for this 3 day only production. Find out more here on their website
All photos courtesy of Dick Kerekes
HEATHER VOLLMAN has roots that run deep in Northeast Florida theatre. A graduate of Douglas Anderson School of the Arts, with continued education in theatre (read more...)