Review: BANDSTAND at Times Union Performing Arts Center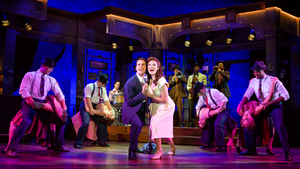 "Right This Way" to the Times Union Center for the Performing Arts to see Bandstand. Audiences were so moved by the musical on February 18. Bandstand follows the story of veterans' home from World War II as they try to qualify for a music competition. The group becomes the Donny Nova band and intends to win the competition and dedicate it to the veterans that defended the United States. It is very appropriate for the show to come to Jacksonville, FL as we have not one, but two naval bases. You could feel the theater become heavy with an array of emotions as audience members were transported to this time period and watched these characters portray very real post-war circumstances.
I cannot praise this cast enough. They all did such a fantastic job portraying such heavy material. Donny Novitski (Zack Zaromatidis) was fantastic as the leader of the group. He was able to really take control as the band leader, all the while facing his own battle, privately, with PTSD. My favorite number of Zaromatidis was "Right This Way." Tears streamed down my face as I watched him struggle to understand how they may not achieve all they have worked for. Then, when all the band joins in with him it heightens the emotion and is absolutely beautiful and moving experience. Julia Trojan (Jennifer Elizabeth Smith) was fantastic! She reminded me so much of the original actress, Laura Osnes. Smith's voice was so pure and beautiful in every song she sang. The final song ("Welcome Home") that received many minutes' worth of applause, displayed her talent beautifully. The audience was completely blown away by her performance and the emotion she conveyed as a fallen soldier's wife.
This show is unique, in that the musicians on stage are performing on their instruments live. The audience gets to meet each of these performers in "I Know a Guy." It has a real 1940's feel. Jimmy Campbell (Rob Clove), Davy Zlatic (Benjamin Powell), Nick Radel (Scott Bell), Wayne Wright (Louis Jannuzzi III), and Johnny Simpson (Jonmichael Tarleton) had great chemistry with one another. Though, they did not all get along the entire time, each had respect for one another because they could empathize with what they had to go through overseas. Each displayed the various coping mechanisms soldiers faced when coming home from the war. They were all so talented with their individual instruments, as well
The entire cast was astounding. Mrs. June Adams (Roxy York) was the best comedic relief! Every time I saw her coming on stage, I knew I would laugh. However, her voice blew me away. York's performance of "Everything Happens" was absolutely beautiful. The ensemble did a fantastic job, especially dancing. They transported the audience to the time period of swing dancing and listening to live music together.
Bandstand is an emotional rollercoaster everyone needs to go on. It is so poignant and beautiful, all audiences will be moved by the performers, and the story. Bandstand will be in Jacksonville now through February 23.
Photo Credit: Jeremy Daniel