Industry Pro Newsletter: Free webinar on Thursday and Producing Green Theatre
The webinar on COVID Safety regulations takes place Thursday, September 23rd.
This week, the Industry Pro Newsletter is brought to you by Axiom Medical.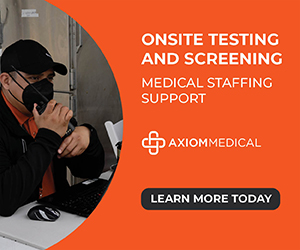 In response to the COVID-19 pandemic, Axiom Medical has introduced a specialized Workplace COVID-19 Testing and Screening service to help businesses quickly screen, test, and manage those employees exhibiting symptoms or have been potentially exposed to any respiratory illness.
September 20, 2021 -
As more regions continue to return to the stage, the situation with the variants continues to shift, and larger and larger cultural events continue to take place once again, keeping track of and implementing the ever-changing requirements can be a real challenge. On Thursday this week, we'll be joining Axiom Medical for a free webinar about how you can do just that - without becoming an epidemiologist in your spare time. You can register by clicking here or by clicking on the information below in this newsletter. In addition to that webinar, this week we have stories about Broadway's reopening, producing green theatre, and more about what the future of the industry might look like.
The Social Report
Following their return to Broadway last week, Wicked, Hamilton, Chicago, and The Lion King saw significant bumps in mentions across all platforms. Wicked was the top mentioned show by a significant margin. Next up are Six, Moulin Rouge, Is This A Room, The Lehman Trilogy, Aladdin, Chicken & Biscuits, and American Utopia.
Free Webinar: Mastering COVID Requirements with Moving Variant Targets
On Thursday, September 23rd, we're partnering with Axiom Medical to present a webinar on the ever-changing landscape of COVID safety protocols and how you can better understand, implement, and be compliant with them. Register at the link above and we'll see on Thursday!
Should You Require Proof of Vaccination?
For cultural entities more broadly, recent data shows that 48% of potential visitors feel it should be a requirement. When looking specifically at performance based cultural events, that number jumps to more than 56%.
At An Important Moment, Broadway is Full of Black Writers
For the first time ever, the upcoming Broadway season (if everything goes as planned), will feature shows by seven Black writers. Will this new influx of work be the start of a new trend? Or is this a one-time response to recent criticism of Broadway?
Producing Green Theatre is a Challenge All Its Own
John J. King reflects not only on the waste that is generated by many theatrical productions (despite best efforts), but lays out his own journey to creating sustainable theatre - and the myriad challenges that come with this particular mission in mind.
Still Two Years Away, Bill Rauch Offers an Update on the PAC
The Ronald O. Perelman Performing Arts Center will be the final piece of the rebuilding of the World Trade Center site, and though Artistic Director Bill Rauch has been on the job for two years - the site remains under construction.
Inside the Reopening of Broadway
The New York Times goes inside the reopening of Broadway - including all of the rebuilding, refurbishing, and rehearsing that are going into bringing 39 shows to the stage by the end of the year. For the third installment of our Broadway is Back series, we go inside the reopenings of multiple Broadway shows that have taken their bow (or are about to) as the reopenings continue.
BroadwayWorld is Hiring
We currently have two positions open on the team - a Weekend Newsdesk Editor and an Ad Operations Associate. Click the job title to read full job descriptions, and be sure and send the posting along to anyone in your network who might be a good fit to come work with us!
Road to Reopening: The ZACH Theatre
As the ZACH Theatre returns to in-person performance, they're doing so with a new ticketing model that has upended other industries: monthly subscriptions. We got the low-down on how they got there (and what else they've been doing during the pandemic to prepare) from their Director of Marketing and Communications Drew Nebrig.
Add Your Show to our Regional Events Calendar
As audiences get set to return to in-person performances, and as your company works to market your own return to the stage, make sure you've got your upcoming shows in our regional events calendars. Listings are free of charge, with boosting options available. Get your show listed now!
BroadwayWorld Stage Mag - A Fully Interactive Show Program
The digital solution to your show program needs - want to see what's possible? Check out the Stage Mag's for off-Broadway's Blindness and for Next on Stage Season 3! Then start building your own at stagemag.broadwayworld.com.
Want more information about marketing options with BroadwayWorld? Request a media kit here and a member of our sales and marketing team will reach out promptly.