Charity Concert for Ukrainian People WE ARE ONE to Be Held in Bucharest
The concert is set for the National Arena on March 12th.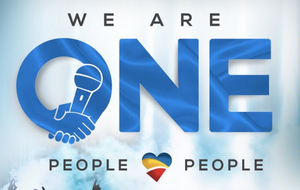 The biggest live charity concert in Romania will take place on 12 March at the National Arena, Bucharest in aid of those struggling amid the on-going crisis in neighbouring Ukraine. The upcoming event will be meticulously organized by the joint forces of SAGA Festival, PRO TV, KISS FM and the City Hall of Bucharest.
The worsening situation for those living in Ukraine simply can't be ignored, with millions of people displaced as a result of violence in the country. From the outside, preparations are underway to aid those caught up in the conflict seeking refuge across the country's many borders. Essential, humanitarian aid can't be provided though, without the selfless acts of volunteers and continued charity funding.
That's why organizations in Romania are coming together to actively support the cause of the Ukrainian people, staging a concert, WE ARE ONE, in their aid on Saturday, 12 March 2022, at the magnificent National Arena in Bucharest. From 16:00 that afternoon, some of the most highly-respected Romanian and International Artists will pull together on-stage, for over 8 hours of live music in front of an animated live audience. Supporting such a vital and topical cause, the talents in question are expected to be announced shortly. Those unable to attend the event will be able to watch and listen live, as the events will be broadcasted by Romanian TV and radio, and will also reach global audiences through an online livestream.
"We fully support the widespread efforts to help Ukraine and to show solidarity with the Ukrainian people. This is why the Bucharest City Hall entered the partnership with the Red Cross, SAGA Festival, PRO TV and KISS FM and decided to offer for free the National Arena of Bucharest as the venue for the charity concert benefiting Ukraine. Bucharest stands for peace and stands with Ukraine", said Nicusor Dan, mayor of Bucharest.
"Since day 1, we at PRO TV have openly declared our support for the Ukrainian population, which is so heavily affected by this dramatic situation. We intervened in a very tangible manner by enabling several reputable NGOs from Romania, such as Red Cross, to reach out to a larger population in order to provide much-needed support for the Ukrainians. We are happy to join efforts with ALDA in deploying this charitable concert, as in these moments of terror and stress, we are creating a movement that for sure will help further the ones in need.", stated Aleksandras Cesnavicius, CEO PRO TV.
"We are witnessing and participating in an unprecedented exercise in solidarity of Romanians with their Ukrainian neighbours. As a co-organizer, together with SAGA Festival and PRO TV, we stand beside our Red Cross partners, who will direct all the proceeds to the hard-tried Ukrainian people. Top artists from Romania and abroad will prove on the National Arena that music is the best opportunity for unity, collective emotion and generosity. They will show once again that music means peace, not war", Florin Ciobîcă, Director General, AG Radio Holding, declared.
Allan Hardenberg, CEO and co-founder of ALDA: "With WE ARE ONE we want to raise global awareness for the people in need of aid through the power of music; turning our powerlessness into actual help, raising money for the Ukrainian people. In Romania the situation in the neighbouring country of Ukraine is so visible and tangible. An unreal situation. Together with our 25 Romanian colleagues - who help fleeing families - we just had to do something. We stayed close to our core and created WE ARE ONE. During this 8-hour charity concert we'll stand by the Ukrainian people, unite through music and hope for peace."
"In this time of tension, our priority is to allocate all the possible resources to help. We thank all those who are together with us in this effort, we are truly impressed by the solidarity of the people who joined us", declared Ioan-Silviu Lefter, general manager Red Cross Romania.
This new music initiative seeks to support the Ukrainian people and the refugees that are fleeing their homes to seek safety. Hundreds of thousands of refugees have already fled to Romania, with that number expected to grow in the not-so-distant future. Music fans can offer their support for the cause and witness a unique and enthralling live music experience, by securing their tickets for the event here.
All proceeds from the event will be donated to the Romanian Red Cross. Those unable to attend or wishing to donate extra can do so directly, supporting the Ukrainian people through this link, transferring into the organization's bank accounts or by SMS to 8825 with the text "ONE".
A crucial campaign for the Ukrainian people, those in Bucharest won't want to miss this opportunity to help provide much-needed relief for their neighbours at this difficult time. Any support is gratefully welcomed by SAGA FESTIVAL, PRO TV, KISS FM and Bucharest City Hall and those affected by the on-going situation.

General info:
Date: Saturday 12 March 2022
Location: National Arena Bucharest
Starting time: 16:00
Address: Bulevardul Nicolae Bălcescu 2, Bucharest
About ALDA
ALDA is a producer, concept developer and promoter of international electronic music and DJ concepts. The company hosts events such as AMF, A Day At The Park, Armin Only, A State of Trance, Electronic Family, SAGA Festival, We Are Connected, New Horizons, This is Me, Secret Project Festival and The Flying Dutch. Since 2018, ALDA has joined forces with American festival giant Insomniac. Together, the two leading production companies bring the electronic music scene to a globally diverse and broad audience.