Stages Repertory Theatre presents ANN, 2/14-4/8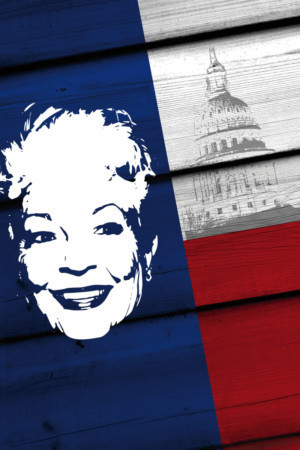 From February 14 to April 8, 2018, Stages Repertory Theatre presents the Houston premiere of ANN, the critically acclaimed one-woman production about iconic, larger-than-life Texas Governor Ann Richards.
---
ANN features the incomparable Sally Edmundson, a longtime Stages favorite known for her starring roles in productions including Auntie Mame, Full Gallop, Driving Miss Daisy and Steel Magnolias. Written by and originally starring Emmy Award-winning actress Holland Taylor, Ann premiered at The Grand 1894 Opera House in Galveston in 2010 under the title Money, Marbles and Chalk: An Affectionate Portrait of Ann Richards, and premiered on Broadway in 2013.

"The opportunity to portray a woman with Ann Richards's insatiable zest for life and energetic passion for social justice-not to mention her skillful storytelling and colorful use of language-is an actor's dream," Edmundson said. "She's a five-star general who takes charge with no prisoners. If you're not willing to jump onto her speeding locomotive, you'll be left behind at the station. But what a thrilling adventure for those who do!

Directed by Stages' Artistic Director Kenn McLaughlin, Ann has been called "...fiery, salty and brash!" by The New York Times, and "A highly entertaining and loveable depiction of a woman with energy to burn and purpose to fill" by The Huffington Post.

The play brings audiences face to face with a complex, colorful and captivating character bigger than the state from which she hailed, and takes a revealing look at the impassioned woman who enriched the lives of her followers, friends and family. "Ann Richards follows in a long line of powerful, passionate, visionary, iconic females that I've had the privilege of playing throughout my career," Edmundson said. "Queen Elizabeth I, Diana Vreeland, Auntie Mame, Lady Macbeth, to name a few. What distinguishes Ann from these other formidable women is her Texas grit, her salty humor, and a loud voice for the disenfranchised."

In the foreword to the script, Richards' daughter Cecile Richards notes that "Holland [Taylor] has mastered what many comedians, politicians, and writers have attempted for years - she found the voice of Ann Richards... Books have been written documentaries made, but nothing truly captures the life of my mother like Ann."

Costume Designer Barry Doss, who previously worked on the Broadway production of the play, joins the Stages' team that also includes Sound Designer Matt Crawford, Properties Designer Jodi Bobrovsky, Lighting Designer Devlin Browning, Scenic Designers Joel Burkholder and Kenn McLaguhlin, and Production Stage Manager Sara Hodgin Brossman.

February 14 - April 8, 2018. Performance times are Wednesday - Thursday at 7:30pm, Friday at 8:00pm, Saturday at 2:30pm and 8:00pm, and Sunday at 2:30pm.
Regular tickets start at $25 with savings for groups of 6 or more To purchase, call the Stages Box Office at 713.527.0123 or reserve online at www.stagestheatre.com.
Founded in 1978, Stages is a professional Equity theatre that produces new work, presents established work in new ways, nurtures and develops talent, and cultivates and strengthens relationships with Houston audiences. Characterized by courage, generosity, ingenuity and intimacy, Stages works to advance theatre and enliven community to make a more vibrant Houston.
Stages presents a broad scope of plays and musicals in an intimate setting, generating critical acclaim and creating powerful connections between plays and people. The third-largest theatre in Houston and the sixth-largest in Texas, Stages performs year-round, one of only a handful of Texas theatres that offers year-round employment for creative professionals. On average, Stages produces 12 productions per year totaling more than 375 performances and reaching 65,000+ patrons. Almost all of Stages' shows are rehearsed and constructed on-site in Houston, brought to life by an exceptional community of locally-based artists and craftspeople along with occasional guest directors, actors and designers from around the world.
For more than a decade Stages has made a strong investment in nurturing emerging artists and craftspeople who have now become field leaders and working professionals. Stages' learning opportunities include performance and production internship programs for college students and conservatory-style training for middle and high school students.
Through this robust scope of activities Stages encourages conversation about important ideas, provides insight into other cultures and viewpoints, and helps develop each new generation of artists, audiences and citizens. For more information visit www.stagestheatre.com.
UPCOMING SHOWS IN STAGES' 2017-2018 SEASON
REGIONAL PREMIERE
We are Proud to Present a Presentation About the Herero of Namibia, Formerly Known as South-West Africa From the German Sudwestafrika, Between the Years 1884-1915
March 14 - April 1, 2018
REGIONAL PREMIERE
The Revisionist by Jessie Eisenberg
presented at The Evelyn Rubenstein Jewish Community Center
April 10 - 22, 2018
The Great American Trailer Park Musical by Betsy Kelso, music and lyrics by David Nehls
May 2 - June 24, 2018
WORLD PREMIERE
Replica by Mickey Fisher
May 23 - June 10, 2018