Review Roundup: GUYS AND DOLLS at Theatre Under The Stars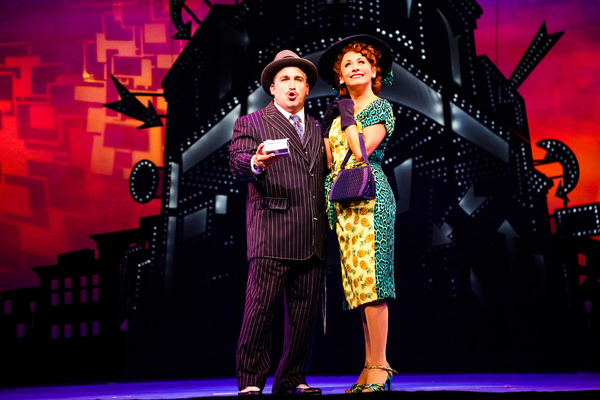 Theatre Under The Stars' (TUTS) final Mainstage show of the 49th Season, Guys & Dolls is now open!
Carlos Lopez leads the cast as "Nathan Detroit" with Madison Claire Parks as "Sarah Brown", Michelle Aravena as "Adelaide", and Omar Lopez-Cepero as "Sky Masterson".
Joining them will be Sofiya Cheyenne as "Big Jule", Paul Hope as "Arvide Abernathy", John Johnston as "Lt. Brannigan", Arthur Lazalde as "Harry the Horse", Cedric Leiba, Jr. as "Benny Southstreet", Lynda Keith McKnight as "Cartwright", and Roland Rusinek as "Nicely-Nicely".
Rounding out the cast in the ensemble are: Ryan Anthony, Mariela Arteaga, Austin Alejandro Arizpe, Gabriel Bernal, Cristina Maria Castro, Courtney Chilton, Juan Sebastian Cruz, Gabriella Enriquez, Hector Flores, Jr., Jorge Guerra, Jayson Kolbicz, Blair Medina, Michelle Mayo, Jessica Seavor, Michael Anthony Sylvester, and Christopher Tipps.
Directed by Nick DeGruccio, this Latin-inspired, reimagined production of Guys & Dolls runs through June 24 at the Hobby Center for the Performing Arts. Joining DeGruccio on the production is Julio Agustin as Choreographer, Stephen W. Jones as Music Director, Steven Young as Lighting Designer, Andrew Harper as Sound Designer, Ryan McGettigan as Scenic Coordinator, Colleen Grady as Costume Designer, and Gerard Kelly as Hair and Makeup Designer. Casting for Guys & Dolls was provided by Stewart/Whitley.
Guys & Dolls is the classic musical with music and lyrics by Frank Loesser and book by Jo Swerling and Abe Burrows, based on some of the short stories by Damon Runyonpremiered on Broadway in 1950, and the following year won five Tony Awards in every category in which it was nominated, including Best Musical. For tickets, visit TUTS.com.
THEATRE UNDER THE STARS ("TUTS") - (Dan Knechtges, Artistic Director; Hillary J Hart, Executive Director) - was founded by Frank M. Young in 1968 and is Houston's leading musical theatre company for performance, arts education and professional theatrical training; ranging from the classics to new work development. As a 501c3 performing arts organization, TUTS is dedicated to breaking down barriers to access by focusing on inclusivity, education, and community engagement through a commitment to artistic excellence, programs in the community, technique-based curriculum at the Humphreys School of Musical Theatre, and explorative, creative life-skills at The River Performing and Visual Arts Center. For more information, visit www.tuts.com.
Let's see what the critics have to say!
Doni Wilson, Houstonia Mag: The dancing might be what ultimately won me over, though. Choreographer Julio Agustin uses the Latinx casting to infuse exciting dance numbers that are so energetic and well-executed you feel at times that you are watching the finals of Dancing With the Stars. The ensemble cast is sexy and fantastic in all the numbers, and I think that alone made this one of my favorite things I have seen at TUTS in terms of sheer talent, even though the storyline of Guys & Dolls seems so forced and ridiculous. (I am not sure why people are so crazy about this musical.)
Wei-Huan Chen, Houston Chronicle: The production features Latino performers in nearly all major roles. The high-energy, high-hilarity Michelle Aravena plays Adelaide, and the silky Omar Lopez-Cepero stars as Sky Masterson. It's hard to tell whether the actors chose to speak with accents or were told by a director to do so. And the "Latin flair," so to speak, oscillates between being a grating, overzealous attempt at fashionable diversity and a rare opportunity to see non-white performers express the kind of sexuality, complexity, humor and agency rarely (almost never) granted to them during Broadway's Golden Age.
D.L. Groover, Houston Press: While TUTS' Latino-infused adaptation, directed by Nick DeGruccio, isn't entirely successful, the show's a pip nonetheless, even though Julio Agustin's choreography, busy and energetic, doesn't surprise, and Ryan McGettigan's set design is limited to wispy drops and legs (although his show curtain of the musical's title, made out of directional street arrows, is inspiring).
Pnina Topham, BroadwayWorld: What cannot be improved are the spectacular set, lighting, and costume designs by Ryan McGettigan, Steven Young, and Colleen Grady, respectively. McGettigan created a dynamic, colorful, and inviting space, perfectly complimented by Young's bold lighting choices. The set and lighting feel modern, yet well suited to this classic production. Grady's stunning costumes blew me away. Her daring, bright and perfectly-tailored designs help define each character, and add a huge boost to every scene. I won't soon forget the hilarity of Miss Adelaide and the Hot Box Girls performing with chickens on their head during "A Bushel and a Peck." (Somewhat related: I would wear every single one of the Guy's suits. Can we arrange that, please?)