BWW Review: A Modern Twist on the Classic Tale - GUYS & DOLLS at Theatre Under the Stars
It was the golden age of Broadway, and times were grand. Productions like CAROUSEL and MY FAIR LADY played for more than 2,000 audiences. Patrons dressed to the nines in their smartest tuxedoes and evening gowns for the chance to breathe rarified air and experience high-art. Gloves for both men and women were mandatory, and an average orchestra ticket price was under $5.00.
In 1948, the first Tony Award ceremony took place. Two years later, GUYS & DOLLS premiered at the 46th Street Theatre (now the Richard Rodgers Theatre, home to HAMILTON, where an average center orchestra ticket goes for $849, a 17,000% increase (well worth the cost)).
Adapted from a book of short stories by Damon Runyon, Frank Loesser's music and lyrics, and Jo Swerling and Abe Burrows' book about saucy women and dice-rolling wise-guys in Depression-era New York City won rave reviews, winning Drama Desks and Oliviers awards, and sweeping the 1951 Tonys with five awards, including the coveted Best Musical trophy.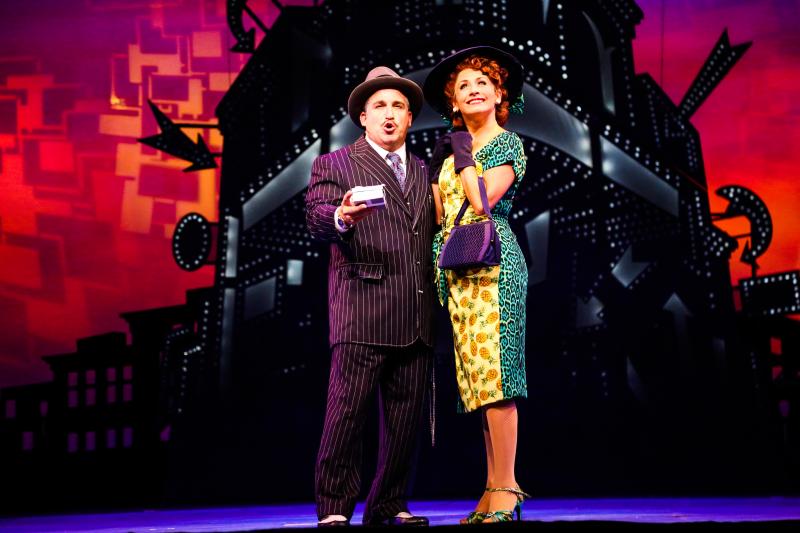 Set in Times Square, New York City, GUYS & DOLLS is a classic romantic comedy, with two intersecting love stories. Lovable scoundrel and gambler Nathan Detroit runs an illegal game of craps, much to the chagrin of his long-suffering fiancée of 14 years, Miss Adelaide. In an attempt to get some dough to secure a safe location for his next game, he makes a $1,000 bet with high-roller, super slick Sky Masterson, named for his sky-high bets. They wager that Sky can't convince a Doll of Nathan's choosing to accompany him to Havana. Womanizer and egotist Sky immediately accepts the bet, and is soon befuddled by Nathan's mark of straight-laced mission worker/anti-gambler/sinner-converter Sarah Brown. Trickery turns into love, lies lead to marriage, and comedy ensues.
That's one way of looking at it. Another plot synopsis is this:
Guys are in charge, and Dolls (women) are "accessories." A Guy is shocked to find his fiancée of 14 years reading a book. He constantly lies to her about his gambling addiction, breaks every promise while she pines for commitment, and only finally ties the knot when faced with a choice between marriage and jail. And they live happily ever after. Another Guy approaches a Doll aggressively, demeans her profession, mocks her beliefs, manipulates her with a potent combination of lies and liquor, uses a dice-game and blackmail to rescue the Doll from losing her job, shows her that he's more than just a sinning creep, and they live happily ever after.
If you can temporarily set aside your #MeToo world-view, and focus on how far we've come since the 50's, you might just be delighted by this production of GUYS & DOLLS.
Director Nick DeGruccio is wise to how audiences will interpret the show today, and presents a masterclass that could be called How to Make a Classic Production More Accessible to Modern Audiences. His progressive cast is among the most delightfully diverse group of players I've ever seen on stage in Houston. His intentional choices, such as replacing the typically male role of commanding boss Big Jule with Sofiya Cheyenne as Big Julie is a noticed and an appreciated attempt to balance the systemic male gaze written into the script. His Latin-inspired twist, and casting of Hispanics in nearly every major role, is representative of our fast-growing population. And in doing so, DeGruccio helmed a production that looks like the great tapestry of America today.
Arguably outdated plot aside, GUYS & DOLLS is propelled by Loesser's sublime score. Opening with "Fugue for Tinhorns," you are immediately swept away by the timeless refrain, and eventually thrilled by songs you know, even if you didn't know they originated in this show, including "A Bushel and a Peck," "Luck Be a Lady" and "Sit Down, You're Rocking the Boat." I love modern theatre, but there's something about a full orchestra in a traditional pit playing a glorious score 68 years old that just feels so special. Bravo, musical director Stephen W. Jones.
The actors do their job, and they do it well given the material, charming the audience with exaggerated expressions and sweeping gestures, reminiscent of the golden age. Some of the classic jokes fall flat, but that's simply the cost of producing a decades-old production.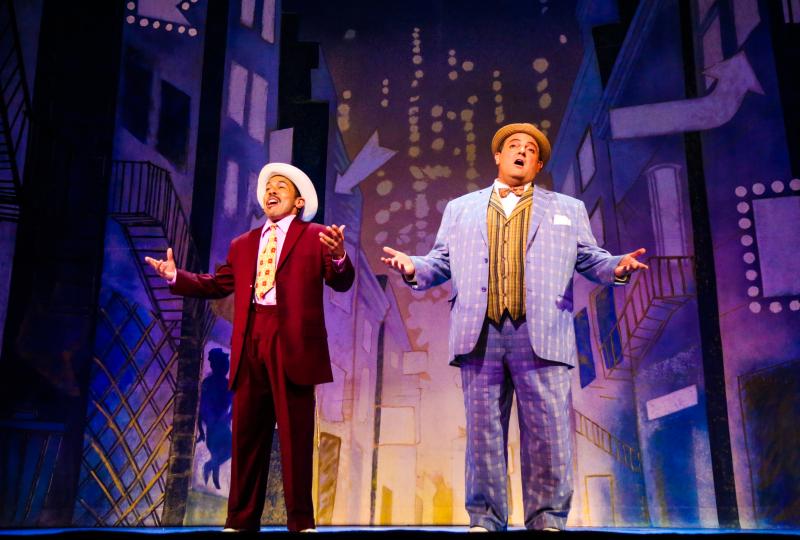 Standouts include Madison Claire Parks as Sarah Brown, who resembles Grace Kelly, and is perfectly cast in her role as the leader of an uptight citizen's brigade working to "convert Broadway" dwelling, dice-rolling sinners to a life of God-fearing morality.
Michelle Aravena steals every scene as the cheeky and gregarious Miss Adelaide. Granted, the script is written with the best lines for her role, but Aravena brings her own fire as the most fully developed character, moving steadily from relatable sadness and longing, to beautiful yet fleeting moments of rage and feminist independence.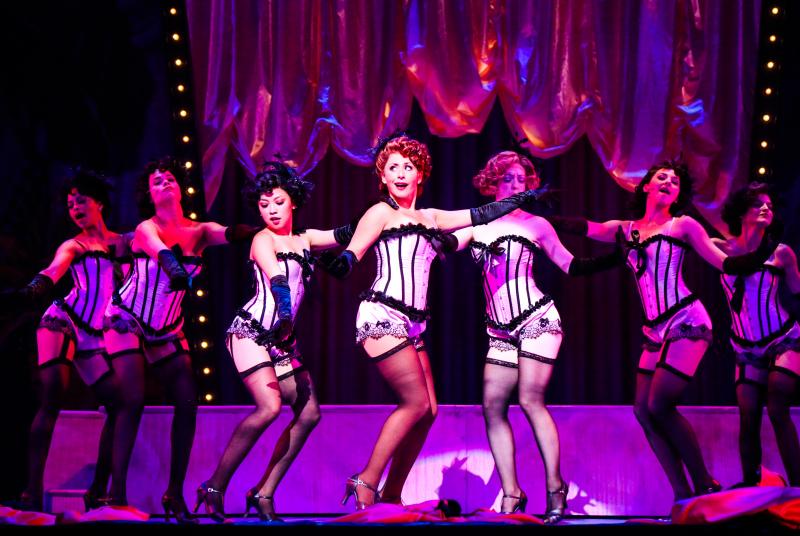 Omar Lopez-Cepero is the most believable character as Sky Masterson, with his smooth dance moves, unending charm and easy smile, resulting in the audience's ability to disapprove of his actions, but adore the person nonetheless.
Most of the cast speaks in classic New York and Chicago wise-guy-style dialects. At times, particularly in the first act, I found their accents distracting and inauthentic, crossing the line from character to wise-guy caricature. Happily, as the show progressed and the actors grew more comfortable in their roles, the distraction and their accents significantly improved.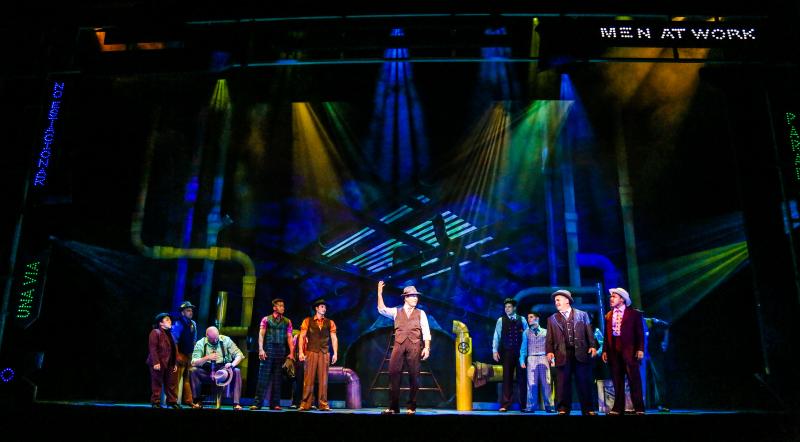 What cannot be improved are the spectacular set, lighting, and costume designs by Ryan McGettigan, Steven Young, and Colleen Grady, respectively. McGettigan created a dynamic, colorful, and inviting space, perfectly complimented by Young's bold lighting choices. The set and lighting feel modern, yet well suited to this classic production. Grady's stunning costumes blew me away. Her daring, bright and perfectly-tailored designs help define each character, and add a huge boost to every scene. I won't soon forget the hilarity of Miss Adelaide and the Hot Box Girls performing with chickens on their head during "A Bushel and a Peck." (Somewhat related: I would wear every single one of the Guy's suits. Can we arrange that, please?)
Choreographer Julio Agustin hit the right marks with a fantastic fusion of classic Broadway and contemporary Latin dancing. The show-stopping routines for "Havana" and "Luck Be a Lady" are particularly strong.
It's easy to find fault, but it's hard not to like GUYS & DOLLS. The music is infectious, and the characters are memorable. This production isn't perfect, nor is it a rendition of the old classic; some attendees are bound to be startled or surprised by the modern twists. But if you know what you're getting going in, this show is worthy of your time and the ticket price. For families of all ages who want to have fun without a ton of thought, go!
For me personally, GUYS & DOLLS is an important reminder that when rattling off musical theatre greats, like Irving Berlin, Cole Porter, and Steven Sondheim, I have been remiss not to include Frank Loesser. He may have written the show for a different time with dramatically different ideals, but good music is good music. And good music performed well... well that's just great.
Theatre Under The Stars presents GUYS & DOLLS, running now through June 24 at The Hobby Center, 800 Bagby Street. Tickets start at $30. For additional information and to purchase tickets, visit tuts.com or call the box office at 713-558-8887.