Photo Flash: Main Street Theater Extends A CIVIL WAR CHRISTMAS; Meet the Cast!
Main Street Theater is extending the run of A Civil War Christmas: An American Musical Celebration through Dec. 29. Added performances are Dec. 26 at 7:30pm, Dec. 27 & 28 at 8pm, and Dec. 29 at 3pm. Scroll down for photos of the cast in action!
This sweeping panorama set in Washington, D.C. at Christmastime, 1864, is comprised of 80 characters and interweaves holiday carols, hymns, and folk songs to illuminate one of the darkest and yet most hopeful moments in our country's history.
It's 1864, and Washington, D.C. is settling down to the coldest Christmas Eve in years. In the White House, President and Mrs. Lincoln plot their gift-giving. On the banks of the Potomac, a young rebel challenges a Union blacksmith's mercy. In the alleys downtown, an escaped slave loses her daughter just before finding freedom. Robert E. Lee and Ulysses S. Grant face Christmas Eve with their troops. This musical by Pulitzer Prize-winner Paula Vogel intertwines many lives in a rich and engaging tapestry.
Troy Scheid directs, with Michael Mertz as Music Director. The cast is Brandon Balque, Rachel H. Dickson, Tavian Dickson, Susan Draper, Jon L. Egging, Andrew Hager, Brittany Halen, Shawn Hamilton, Leila Moon, Liliane Moon, Joe Kirkendall, Rodrick Randall, Crystal Rae, Susan Shofner, Jonathan Teverbaugh, and Zack Varela.
The design team includes Ryan McGettigan (set design), Macy Perrone (costume design), Eric L. Marsh (lighting design), and Rodney Walsworth (properties design). Eva De La Cruz is the production stage manager.
The production plays at Main Street Theater - Chelsea Market, 4617 Montrose Blvd. Performances are on Thursdays at 7:30pm, Fridays and Saturdays at 8pm, and Sundays at 3pm. Tickets are $20 - $39, depending on date and section, and are on sale in person at the Main Street Theater Box Office, 2540 Times Blvd., via phone at 713.524.6706, or online at MainStreetTheater.com. Recommended for audiences 12 and up.
Photo Credit: RicOrnelProductions.com

Soldiers (Brandon Balque and Rodrick Randall) and Decatur Bronson (Shawn Hamilton)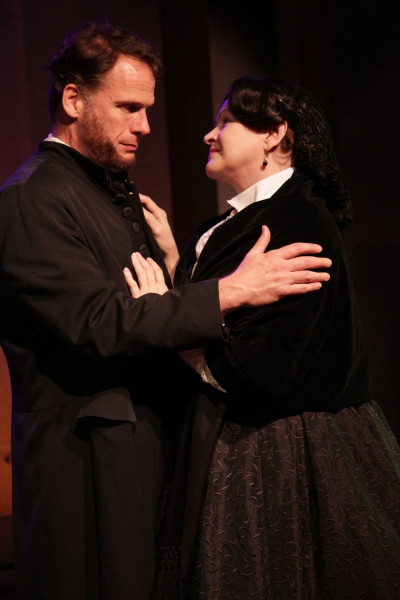 Abraham Lincoln (Joe Kirkendall) and Mary Todd Lincoln (Susan Shofner)

Hannah, the Runaway Slave (Crystal Rae)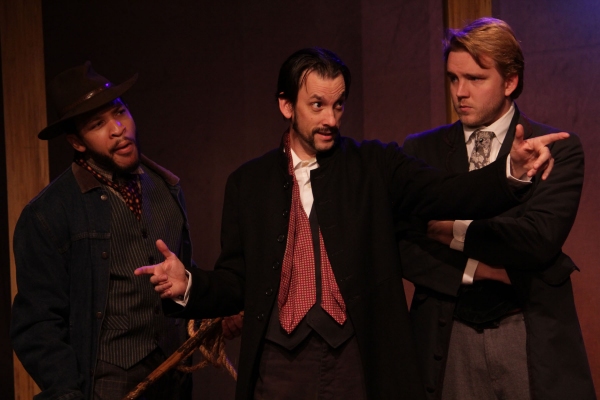 Lewis Payne (Brandon Balque), John Wilkes Booth (Jon L. Egging), and John Surratt (Jonathan Teverbaugh)