LOVE, CECIL, BODIED, SINGIN' IN THE RAIN Event and More Set for 2017 Houston Cinema Arts Festival; Lineup Announced!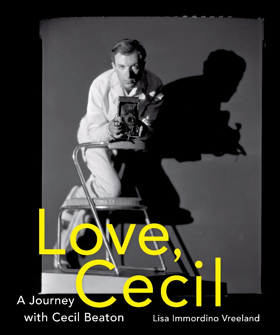 The Houston Cinema Arts Society has announced the complete program of theatrical film premieres, local and visiting artists, installations, and live performances that will be part of the 9th Annual Houston Cinema Arts Festival from November 9 - 13 at the Museum of Fine Arts, Rice Cinema, and additional partner venues across the city.
The 2017 Houston Cinema Arts Festival will kick off with two Opening Night films on Thursday, November 9th. Filmmaker Lisa Immordino Vreeland, an alumnus of HCAF12, will premiere Love, Cecil about iconic British photographer, costume designer, and larger-than-life personality Cecil Beaton, who won two Academy Awards for his work on Gigi and My Fair Lady. Following the film, Vreeland will join in conversation with international style icon Lynn Wyatt. After the screening, Vreeland will sign copies of her new book, Love, Cecil: A Journey with Cecil Beaton, also at the museum, which will have copies for sale.
At Rice Cinema, native Houstonian, influential music video director (Taylor Swift, Katy Perry, U2, Eminem), and boundary-pushing filmmaker Joseph Kahn will present his brand new feature, which was the winner of the People's Choice Midnight Madness award at the 2017 Toronto Film Festival. A satire set in the world of contemporary battle rap, Bodied explores the dangerous spaces of the world's most multicultural and artistically brutal sport. After the screening, Kahn will discuss his film with revered Houston hip-hop artist Bun B.
A major highlight of HCAF17 will be Singin' in the Rain: A Houston and Cinema Arts Celebration at White Oak Music Hall on Saturday, November 11th. The event will feature live performances from notable musical artists, including Bun B alongside talent from Gulf Coast Entertainment in the form of popular jazz singer Kat Edmonson, who recently appeared in the Woody Allen film Café Society, and others. The musical numbers will be unique renditions of songs from the iconic Gene Kelly film, which celebrates its 65th anniversary in 2017, and will be accompanied by energetic dance routines. As part of the evening, WOMH will donate 10% of box office proceeds to its Hurricane Harvey Relief Fund and additionally donate the venue to the Houston Cinema Arts Society for the program.
CineSpace - a short film competition presented in partnership with NASA - returns for the third year and will again be judged by indie director Richard Linklater. CineSpace finalists, selected from over 650 global submissions, will be announced via Facebook Live on October 23 at 7:30 PM CST. Prize winners will then be presented at Rice Cinema on Friday, November 10th.
World premieres of two films about Houston-based artists will screen in tandem on Sunday, November 12th at the Museum of Fine Arts, Houston. 14 Pews Executive Director Cressandra Thibodeaux will present Jesse Lott: Artist in Action about Fifth Ward-based painter Jesse Lott, recently awarded the 2016 Lifetime Achievement Award by the Art League of Houston. Filmmaker Wayne Slaten, whose short film Red Pearl was a prize winner at CineSpace in 2015, will premiere Ash: The Art of Wayne Gilbert about the eponymous artist who utilizes cremated human remains to create stunning artistic works. Many of Houston's renowned arts leaders - including James Harithas, Bill Arning, and Toby Kamps - appear in the films to testify about the magnitude of the artists' contributions. Station Museum Director Harithas will join the filmmakers and artists Jesse Lott and Wayne Gilbert in conversation after the screening.
Among the directors raised in Houston returning to show new works in this year's festival are Bradford Thomason with A Life in Waves and Blake Williams with Prototype. Also returning is Sam Wainwright Douglas, whose film Honky Tonk Heaven: Legend of the Broken Spoke served as the opening night film at last year's festival. Douglas will present his film Through the Repellent Fence, which follows Native American art collective Postcommodity as it strives to construct Repellent Fence, a two-mile long outdoor artwork that straddles the U.S.-Mexico border.
---
Premieres of Exciting Fall Titles
HCAF17 boasts a stellar slate of buzzed about festival darlings, major award contenders, and notable upcoming releases.
Three Billboards Outside Ebbing, Missouri (11/10 at MFAH), the People's Choice Award winner at the Toronto International Film Festival, is a scorching black comedy from acclaimed director Martin McDonagh (In Bruges). The film boasts a stellar cast, including Frances McDormand, Woody Harrelson, and Sam Rockwell. In the film, Mildred (McDormand) goes head-to-head with local law enforcement officials after they fail to properly catch her daughter's murderer.
The Ballad of Lefty Brown (11/11 at MFAH) is a gritTy Western starring screen legends Bill Pullman and Peter Fonda. The film depicts the 63-year-old Lefty Brown's transition from lifelong sidekick to sudden hero when the title character, portrayed in a career best performance by Pullman, must avenge the death of his lifelong friend Edward Johnson (Fonda). At times poignant, brutal, and uplifting, the film received considerable PRAISE when it screened at SXSW earlier this year.
Call Me By Your Name (centerpiece screening at MFAH on 11/11) is a radiant and sumptuous portrait of a budding romance. Directed by HCAF alumnus Luca Guadagnino and written by fellow HCAF alum James Ivory, the film stars Armie Hammer and Timothée Chalamet. Amid the sun-drenched splendor of northern Italy in 1983, Elio (Chalamet) and Oliver (Hammer) discover and explore the desire and passion of first love over the course of a life-altering summer.
Bomb City (11/12 at MFAH), written and directed by Amarillo natives Sheldon Chick and Jameson Brooks (who will attend the screening) is a combustion engine of a film, based on a true story, pitting punk rockers in a conservative Texas town against a more affluent clique and culminating in a brutal hate crime. The young cast includes Lorelei Linklater, who recently had a breakout turn in her father's landmark 2014 film Boyhood.
I, Tonya (closing night film on 11/13 at MFAH) is a darkly comedic tale of American figure skater, Tonya Harding, and one of the most sensational scandals in sports history. Starring Margot Robbie in the titular role, the film will close HCAF17 at the Museum of Fine Arts on Monday, November 13th. Harding's name lives in sports SCANDAL infamy through her involvement in a brutal attack on fellow Olympic figure skater NANCY KERRIGAN (Caitlin Carver).
Cinema on the Verge at DiverseWorks, iPic, and Aurora Picture Show
Cinema on the Verge, the Houston Cinema Arts Festival's section of cutting-edge cinematic experimentation, will feature guest artists Abigail Child, Patrick Bresnan and Ivete Lucas, and Blake Williams at sites throughout the city.
Abigail Child has been at the forefront of experimental writing and media since the 1980s, having completed more than thirty film/video works. An acknowledged pioneer in montage, Child produces, in the words of LA Weekly, "brilliant exciting work...a vibrant political filmmaking that's attentive to form." Her works include the cult classics Perils, Mayhem, and Covert Action (1984-87), part of the Is This What You Were Born For? series screening on November 11 at DiverseWorks. Her series, The Suburban Trilogy, on girlhood and the immigrant dream, screens on November 12. Child recently completed Acts and Intermissions, circling around the life of Emma Goldman and her legacy of political activism. Acts and Intermissions will close the retrospective on November 13 at Aurora Picture Show.
Houston film critic Michael Sicinski has curated a selection of exceptionally strong new experimental films titled Space is Lit, which he will host at DiverseWorks on November 11. Sicinski will also host a program with Toronto-based and Houston-raised director Blake Williams, featuring Williams' startling 3D avant-garde film based on the Galveston floods of 1900. Finally, Austin-based artists Ivete Lucas and Patrick Bresnan will present their acclaimed The Rabbit Hunt and other short films at DiverseWorks,
ArCH Film Festival: Activating the City
Two outstanding architecture-related films will be showcased as part of the annual ArCH Film Festival at Rice Media Center.
Citizen Jane: Battle for the City (11/11): In 1960, Jane Jacobs's book The Death and Life of Great American Cities sent shockwaves through the architecture and planning worlds with its exploration of the consequences of modern planners' and architects' reconfiguration of cities. This film retraces the battles for the city as personified by urban activist Jane Jacobs and her antagonist, "master builder" Robert Moses.
Columbus (11/13): THE SON of a renowned architecture scholar, Jin (John Cho) finds himself stranded in Columbus, Indiana - a small Midwestern city celebrated for its many significant modernist buildings. Jin strikes up a friendship with Casey (Haley Lu Richardson), a young architecture enthusiast who works at the local library. With strong supporting turns from Parker Posey, Rory Culkin, and Michelle Forbes, Columbus is a showcase for debut director Kogonada's striking eye for the way physical space can affect emotions.
Music: African Musical Migrations
Music films have always played a prominent role in the programming of the Houston Cinema Arts Festival. This year, three films, two of which will be presented by the filmmakers, will highlight the sonic expressions and migrations of African music across South AFRICA and North and South America.
Horace Tapscott: Musical Griot with guest artist Barbara McCullogh (11/10 at Rice): This film documents the late musical genius, composer, community activist and jazz mentor, Horace Tapscott. Born in Houston, Texas, he migrated to Los Angeles at the age of nine years old. Jazz icons Don Cherry and Arthur Blythe share their reflections on their shared music heritage with Mr. Tapscott and his teacher and mentor, Professor Samuel Brown.
Mama Africa: Miriam Makeba (11/12 at Rice): Mama Africa: Miriam Makeba introduces to a new generation of Americans the world-famous South African singer Miriam Makeba and her legacy. Makeba, whose music was always anchored in her traditional South African roots and her commitment to social justice, was one of the first African musicians to win international stardom.
Belén with guest artist Adriana Vila Guevara (11/12 at Rice): Belén María Palacios was a master of the bamboo instrument called the quitiplá's sounds and silences. The eponymous subject of the film was a cocoa farmer and musician from a small Afro-Venezuelan village. Guevara's film is a trip into the puzzle of this woman's life (and death), captured through multiple points of view also reflected in Guevara's 3-screen media installation, on view in the Rice Media Center November 9-24, From the Act of Remembering, A Constellation of Observations.
Dance, Dance, Dance
In addition to Singin' in the Rain: A Houston and Cinema Arts Celebration, HCAF17 will screen dazzling dance films across multiple venues.
No Maps on My Taps/About Tap with guest director George Nierenberg (11/12 at MFAH): Milestone Films' restoration of No Maps on My Taps and About Tap establishes the two seminal documentaries by George T. Nierenberg as the films that helped revitalize the art of tap dancing. Celebrating the dance artistry of Bunny Briggs, Chuck Green, and Harold "Sandman" Sims, Nierenberg's love for the dancers and their art has made this joyous documentary a hit with audiences and critics. The thrilling talent and ebullient charisma of the three dancers profiled shines through in every frame.
Rebels on Pointe hosted by Koomah (11/12 at Brasil patio): Exploring universal themes of identity, dreams and family, Rebels on Pointe is the first-ever documentary film celebrating the world famous Les Ballets Trockadero de Monte Carlo, the notorious all-male, drag ballet company founded over 40 years ago in New York City. The film juxtaposes intimate behind-the-scenes access, rich archives and history, engaging character driven stories, and dance performances shot in North America, Europe and Japan.
Pendular (11/11 at Brasil Patio): As part of an "Art & Sex" double feature with Flames at Café Brasil, this Brazilian film offers a glimpse into the life of a young couple as it settles down in a large abandoned industrial warehouse. An orange strip, glued to the floor, partitions the area in two equal portions: to the right, the man's sculpture atelier; to the left, the woman's dance studio. Pendular takes place in this setting, where art, performances and romantic intimacy mingle together.
Additional Films About the Arts
Diverse art forms blanket the Houston Cinema Arts Festival's venues, fulfilling the festival's mission to thread all of Houston's artistic community through film.
Latest News From the Cosmos (11/10 at Rice): At the age of 21 - despite having had no formal schooling or ever having been taught to read or write - Helene began arranging laminated alphabet letters one letter at a time. Under a pen name, this severely autistic woman now writes poetry that can be soaring and childlike, surreal and funny. In a film unlike any other portrait of a writer, director Julie Bertuccelli (School of Babel) prompts the audience to contemplate the nature of creativity and communication, and the hidden potential in humans of all abilities.
Beuys (11/11 at Rice): Thirty years after his death, installation and political performance artist Joseph Beuys looks like a visionary who was, and still is, ahead of his time. He was the first German artist to have a solo exhibition at the Guggenheim Museum in New York, at a time when his work was often still being derided back home in Germany as "the most expensive trash of all time". In the documentary Beuys, Andres Veiel lets the artist speak for himself, using rare audio and video footage.
Flames with co-director Zefrey Throwell (part of Art & Sex double feature at Brasil on 11/11): Filmed over five years, Flames follows real-life couple Josephine DECKER (Butter on the Latch, Thou Wast Mild and Lovely) and Zefrey Throwell from the white-hot passion of first love to the heartbreak of the bitter end. High on their intense connection, the pair of artists document their relationship's every beat, from their adventurous sex life, to their performance art collaborations, to a spur-of-the-moment getaway to the Maldives.
Saving Brinton and Silent Films from The Brinton Collection with director Andrew Shelburne and archivist Michael Zahs (11/11 at Rice): In a farmhouse basement on the Iowa countryside, eccentric collector Michael Zahs makes a remarkable discovery: the showreels of William Franklin Brinton, the man who brought Moving Pictures to America's Heartland. Among the treasures: rare footage of President Teddy Roosevelt, the first moving images from Burma, a lost relic from magical effects godfather Georges Méliés. As Mike uncovers this hidden legacy, he begins a journey to restore the Brinton name that takes us to the Library of Congress, Paris and back for a big screen extravaganza in the same small-town movie theater where Brinton first turned on a projector over a century ago. Zahs will project and narrate a sampling of Brinton's silent films and magic lantern slides at the end of the program.
A Life in Waves with Houstonian Writer/Editor Bradford Thomason (11/12 at Rice): An additional music film at HCAF17, A Life in Waves explores the life and innovations of composer and electronic music pioneer, Suzanne Ciani. From her earliest days learning the piano, to her successes in the world of New Age music, to her recent re-connection with her beloved Buchla synthesizer, the film is a journey into Suzanne's mind.
---
Full festival passes for HCAF17 are already on sale. Individual tickets will go on sale within the next week. For pass information, visit houstoncinemaartsfestival.org/box-office/buy-passes. For individual ticket information, go to www.houstoncinemaartsfestival.org/box-office/buy-tickets. The complete schedule is available at www.hcaf17.org.
Houston Cinema Arts Society (HCAS) is a 501 (c) (3) nonprofit organization dedicated to presenting innovative films, media installations, and performances that celebrate the artistic process and enrich Houston's culture and urban vitality. Created in 2008 with the support of former Houston Mayor Bill White and philanthropist Franci Neely, it organizes and hosts the annual Houston Cinema Arts Festival, a groundbreaking and innovative festival featuring films and new media by and about artists in the visual, performing, and literary arts. The Festival celebrates the diversity of the arts in Houston and elevates the city's film and arts scene. Houston Cinema Arts Society sponsors include premiere sponsor Houston First Corporation, signature sponsor Anadarko Petroleum Corporation, and featured sponsor Levantine Films. HCAS is also supported in part by the Franci Neely Foundation; the City of Houston through Houston Arts Alliance; an award from the National Endowment for the Arts, Art Works; the Brown Foundation; and a grant from the Texas Commission on the Arts. The 2017 Houston Cinema Arts Festival will take place from November 9-13, 2017.
Featured BroadwayWorld Events
Check out these concerts...




More Hot Stories For You