4th Wall Theatre Co to Stage the Regional Premiere of SHAKESPEARE IN VEGAS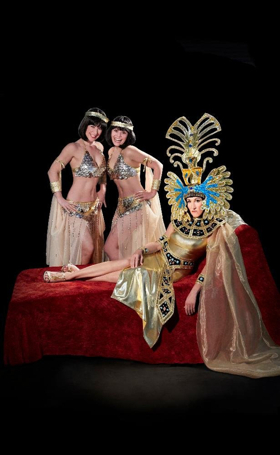 4th Wall Theatre Company's 2017 - 2018 season wraps up with the regional premiere of Suzanne Bradbeer's hilarious comedy, Shakespeare in Vegas May 17 - June 9, 2018, at Studio 101, Spring Street Studios, 1824 Spring Street, Houston, TX 77007. 4th Wall offered a staged reading of the play during its 2017 "4th Wall Reads: Women's Voices" series. 4th Wall audiences will remember Bradbeer's work from the 2014 production of her political drama, The God Game.
Shakespeare in Vegas is the story of Margot, a talented but underappreciated actress desperate to escape the soul-sucking nature of New York's theater scene. When a mysterious man offers her the chance to perform an entire season of Shakespeare she jumps at the chance. Unfortunately the season is in Las Vegas, and Vegas, it turns out, may not be the best place for Margot to get back her mojo; or is it?
This production features 4th Wall's Co-Artistic Directors, Kim Tobin-Lehl and Philip Lehl, Skyler Sinclair, Christy Watkins and Braden Hunt. It is directed by Jennifer Dean. The design team is Ryan McGettigan (set design), Macy Lyne (costume design), Clint Allen (lighting design), Michael Mullins (sound design) and Tina Montgomery (props master).
Shakespeare in Vegas runs May 17 - June 9, 2018
Opening Night is Friday, May 18, 2018
Performances are Thursdays, Fridays and Saturdays at 7:30 pm, Sundays at 3:00 pm.
TICKETS: Premier $53; Standard $32; Senior $26; Student $17
Pay What You Can performance: Monday, June 4 at 7:30 pm.
Sunday performances on May 27th and June 3rd are followed by a talkback with the creative team.
To purchase Tickets: 4thwalltheatreco.com or 832-786-1849.
For information about Group Sales rates call 832-265-5931.
4th Wall Theatre Co. does not charge any added service fees
Suzanne Bradbeer (playwright) Confederates (L. Arnold Weissberger and Susan Smith Blackburn nominations) opened the 2016-17 season at TheatreWorks - Silicon Valley and received seven Bay Area Critics Circle nominations including Best Production. Other produced plays include Naked Influence (Capital Repertory Theatre), The God Game (Pulitzer nomination; Gulfshore Playhouse/Capital Rep, 4th Wall Theatre, Hudson Stage, etc), Shakespeare in Vegas (Dreamcatcher Rep/PTNJ), Full Bloom (Barrington Stage, Hudson Stage, etc.), Lone Star Grace (Theater Workshop of Nantucket), Broken Window Theorem (Barrington Stage, Mile Square Theatre). Ms. Bradbeer was a contributing writer on Speakeasy (Joe's Pub at The Public Theater), and is the librettist for the musicals Cocus and Doot (commissioned and produced by Vital Theatre Company) and Max and the Truffle Pig (New York Musical Theater Festival). Three of Suzanne's 10-minute plays have been produced in the Barrington Stage 10x10 New Play Festivals (2012, 2014, 2017).
Ms. Bradbeer has received grants from the New York Foundation for the Arts, the Berrilla Kerr Foundation, the Anna Sosenko Trust, as well as the BMI Foundation's Harrington Award for Creative Excellence. She has twice been a winner of the NEXT ACT! New Play Summit at Capital Rep, and was twice an Honorable Mention for the Kilroy's List. Suzanne was a winner of the Ashland New Plays Festival and the Dayton Playhouse FutureFest, awarded an Honorable Mention for the Jane Chambers Award and was one of two finalists for the Stanley Drama Award. Residencies include: the TheatreWorks - Silicon Valley New Works Festival, The New Harmony Project, PlayPenn, the LAByrinth Theatre Company's Summer Intensive, the Alabama Shakespeare Festival's Southern Writers' Project, the Theresa Rebeck/Dorset Theatre Festival Writers' Retreat, The Drilling Company's Discovery Series, and New River Dramatists.
Suzanne was a Fellow of the Lark's Playwrights Workshop as well as a 2014-15 featured writer. Her work has been published by Playscripts, Samuel French, HowlRound.com, Applause Books, the Connotation Press and in multiple Smith & Kraus anthologies.
A personal and professional highlight for Ms. Bradbeer was her work as a dramaturg for Arthur Miller and Jim Houghton on Signature Theatre Company's production of The American Clock. Suzanne is a member of the Ensemble Studio Theatre and the EST Playwrights Unit, the Dramatists Guild and is a regular moderator at The Actors Studio Playwright/Director Workshop. She is currently on staff at Primary Stages - ESPA.
Kim Tobin-Lehl (Margo) is Co-Founder and Co-Artistic Director of 4th Wall Theatre Company (formerly Stark Naked Theatre Company). She previously directed 4th Wall Theatre/Stark Naked's Disgraced, Lobby Hero, True West, Small Mouth Sounds, Ho Ho Humbug 2.0, A Midsummer Night's Dream and A Winter's Tale. Kim has acted in 4th Wall's productions of Reckless, Much Ado About Nothing, Who's Afraid of Virginia Woolf?, Small Mouth Sounds, Stage Kiss, Ho Ho Humbug, The God Game, Faith Healer, Macbeth, All Girls, God of Carnage, Body Awareness, Dinner with Friends, and Debt Collectors. She directed The Best of Enemies for A. D. Players' 2017 - 2018 season. A Houston native, Kim has a BA in acting and directing from the University of Houston (including training with Jose' Quintero, Edward Albee & Sidney Berger). She won the Actress Excellence award at the Texas College Play Festival for her portrayal of Sarah in Children of a Lesser God. After relocating to New York she trained with and at a number of elite teachers and conservatories including Stella Adler and The Stella Adler Conservatory, Gene Frankel, Circle in the Square, The Shakespeare Lab at The Public Theatre, and Seth Barrish and Lee Brock at The Barrow Group. In New York Kim, became an officer with the New Mercury Theatre Company, where she produced and starred as Sally in the 1995 revival of Sam Shepard's A Lie of the Mind, and performed a number of other roles with the company. Kim later became Artistic Director of the Blue Sphere East theatre company, the New York sister company to the acclaimed Blue Sphere ALLIANCE THEATRE company based in Los Angeles. Favorite Off Broadway and Off-Off Broadway credits include Talk to Me Like the Rain..., A Streetcar Named Desire, The Fifth of July, Fool for Love, Savage in Limbo, The Smell of the Crowd, Bed, Bawd & Beyond, Impassioned Embraces (Emotional Recall), Ctrl, Alt, Delete, and Trust, and the Barrow Group's production of Short Stuff Two and their production of her original one-woman show, Inside Out. Kim spent more than three years in Los Angeles studying with Sandy Marshall and Larry Moss, and highlights of her LA theatre productions include the world premiere of Children of Shame, The Interrogation, Masseur, Baby with the Bathwater, Check to Check, and The Foreigner. Kim's film credits include roles in The Big Lebowski, The Alarmist, Ash and Sex Maniac, and the television series Sunset Beach. She has directing credits in both New York City and Los Angeles.
Kim is a highly sought-after acting teacher, and her studio offers an array of courses from beginner to advanced levels in acting technique, improvisation, script analysis and scene study, based on the teaching principles of Meisner, Adler and The Barrow Group. More details about Kim's background and her current class offerings can be found at her studio website: www.kimtobinactingstudio.com.
Philip Lehl (Tony) is Co-Founder and Co-Artistic Director of 4th Wall, and is an actor, director, and teacher. For 4th Wall he has acted in Disgraced, Much Ado About Nothing, True West, Who's Afraid of Virginia Woolf?, Ho Ho Humbug, The God Game, Winter's Tale, Faith Healer, Macbeth, Debt Collectors, and Dinner With Friends. He directed or co-directed 4th Wall's Reckless, Much Ado About Nothing, Winter's Tale, Midsummer Night's Dream, Debt Collectors, and Body Awareness. Broadway performances include Blood Brothers and The Kentucky Cycle. He appeared Off-Broadway in Hundreds of Hats and was in the National Tour of Titanic, the Musical. Since arriving in Texas in 2001, he's performed in more than 30 productions at the Alley including The Nether, Clybourne Park, The Pillowman, The Farnsworth Invention, Eurydice, The Crucible, The Exonerated, Our Lady of 121st Street, The Mousetrap, Hamlet and The Invention of Love. Other Houston appearances include Who Am I This Time?, Oh, the Humanity, Yankee Tavern, I Am My Own Wife, Mr. Marmalade, Lady, Souvenir, Amy's View, The Pavilion, Dirty Blonde (Stages Repertory Theatre); You Can't Take It With You, Twelve Angry Men (A.D. Players); Arcadia (Main Street Theater); Merchant of Venice, Tempest, Uncle Vanya, Ghosts (Classical Theatre Company); King John, Romeo and Juliet, Love's Labour's Lost, Julius Caesar, Cymbeline (Houston Shakespeare Festival); Memphis, LMNOP, Wonderful Life, The Sound of Music and one memorable performance of Henry Higgins in My Fair Lady (TUTS); Bat Boy, Spring Awakening, Our Town (Generations); On the Town, Fiorello, Assassins, She Loves Me (Bayou City Concert Musicals) and The Tempest (Episcopal High School). Other directing credits include Almost Maine, Reckless (Brave Dog Theatre); Ferdinand the Bull (Stages Repertory Theatre); Art (Generations); and On the Town (Bayou City Concert Musicals co-director). Regional credits include performances with Repertory Theatre of St. Louis, Cleveland Play House, Indiana Repertory Theatre, Missouri Repertory Theatre, McCarter Theatre, Portland Stage Company, Williamstown Theatre Festival, The New Harmony Theatre and Weston Playhouse. Education: The Juilliard School, Drake University, NTI, Moscow Arts Theatre School. Lehl is a proud member of Actor's Equity Association.
Jennifer Dean (Director) Jennifer has worked in Houston theater since she graduated from Baylor University with a BFA in Theater Performance in 2000. Her 4th Wall directing credits include The God Game, Who's Afraid of Virginia Woolf, a staged reading of Shakespeare in Vegas, and co-director of Lobby Hero. She also directed Twelve Angry Men, Leaving Iowa, Charley's Aunt, and The First Church of Texaco at A.D. Players. She appeared onstage in Pride and Prejudice, Anastasia, The Importance of Being Earnest, The Diary of Anne Frank, Shadowlands, Charley's Aunt and more (A.D. Players); Miss Julie (Classical Theatre); Enemies, Silent Sky, Coast of Utopia, I Am Barbie and Driftwood (Main Street Theater); and Dollhouse (Stages Repertory Theatre).
More Hot Stories For You