BWW Review: RING OF FIRE at Broadway Palm Has Rhythm!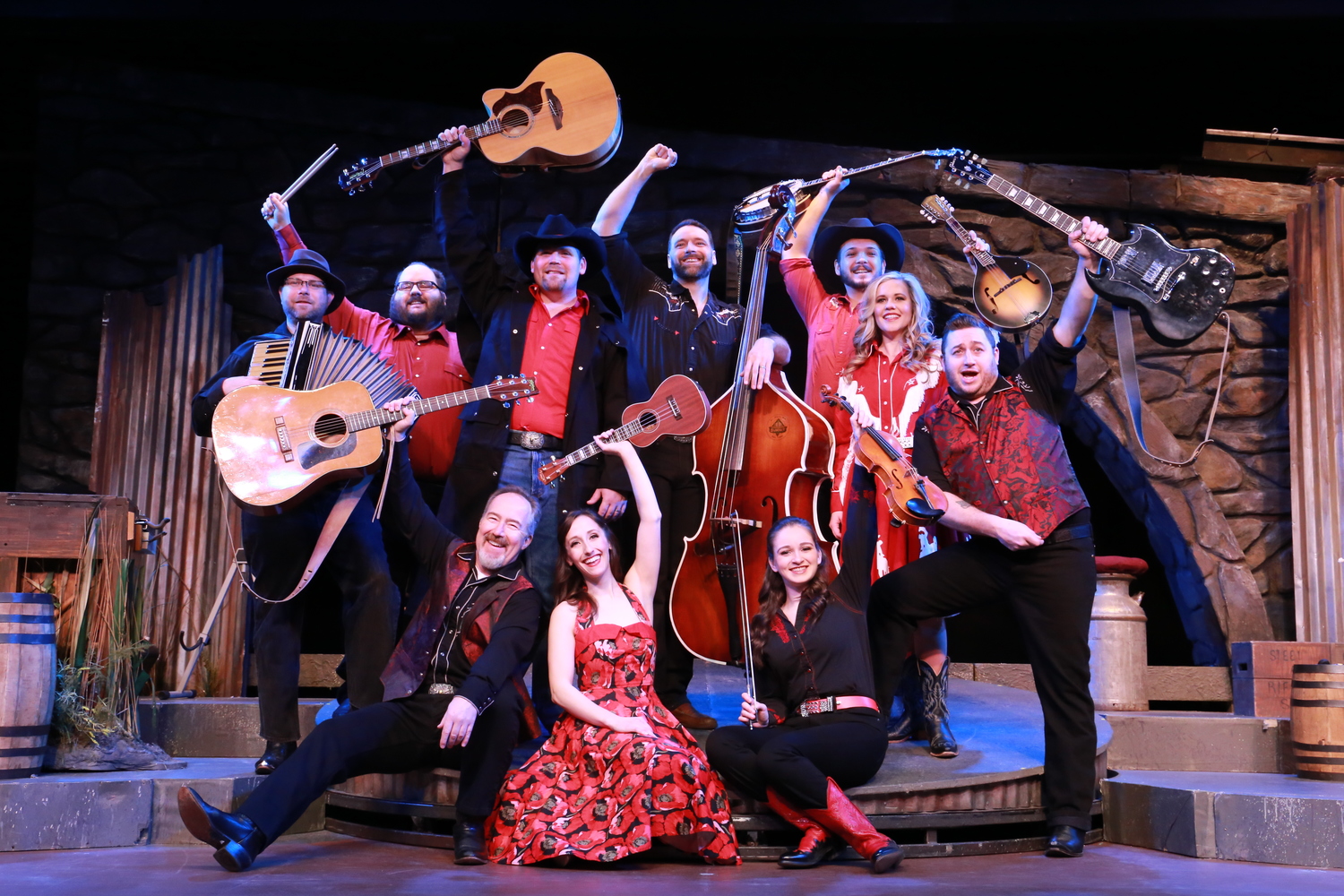 Broadway Palm's production of RING OF FIRE gives audience members the chance to learn about Johnny Cash's life while listening to over 30 of his iconic songs. At the beginning of the show, the entire cast introduces themselves by saying, "I'm Johnny Cash," and from then on they each take turns telling stories of his life, through both song and dialogue.
The cast at my show consisted of Danielle Barnes, Andrea DeVriendt, Tim Drake, Justin Droegemueller, Allison Fund, Alexander Kosmowski, Gary Leone, Jonah M. Martin, Matt McClure, and Emily Woods. I was thoroughly impressed with how every single cast member played various instruments throughout RING OF FIRE, in addition to almost all of them singing. They were clearly talented, and I also appreciated how natural they felt together. Everyone was having fun on stage, and it showed.
From "Daddy Sang Bass," to "Ring of Fire," "I Walk the Line," "I've Been Everywhere," and so many more, RING OF FIRE is full of some of Johnny Cash's most well-known songs. If you're a big fan of him, it's impossible to not love this production. Even if you don't know too much of his music, I guarantee you'll still have fun at this show. It was incredibly high-energy, and you could feel how much the audience was loving it. I really enjoyed the balance between the more happy, fast-paced songs and some of the slower, solemn songs; it was a very good mix, and the cast members had fantastic voices. The stage had some very unique set pieces as well, and they contributed to making it the entertaining production it was.
RING OF FIRE was divided into four segments: Boyhood Years, Opry and Fame, Dark Years, and Redemption and Celebration. I thought this was a very smart way to arrange Johnny Cash's music in the context of the show, as it allowed us to learn about his life and understand some of his music better.
A couple of the most fun moments of RING OF FIRE included Allison Fund singing "Flushed From the Bathroom of Your Heart" and Alexander Kosmowski singing "A Boy Named Sue." These songs are quite funny in their own right, and I thought both Fund and Kosmowski did a fantastic job at making the audience laugh during them.
As we are nearing the end of this season at Broadway Palm, I have to give a special shout out to one of Broadway Palm's kitchen staff, Tommy. He has done the meat carving in the buffet line every time we've attended a show this season, and he is always incredibly kind and friendly. He greets us like friends, and it always makes the experience extra special to get to say hi to him when getting our meal. If you see RING OF FIRE, or another upcoming main theatre production at Broadway Palm, be sure to say hi to Tommy!
If you're a fan of country music, with a little mix of blues and gospel, and/or the "Man in Black" himself, Johnny Cash, Broadway Palm's RING OF FIRE is definitely not a show to be missed.
RING OF FIRE is playing now through June 23. Performances are Wednesday through Sunday evenings, with selected matinees. Ticket prices range from $45 to $70, with discounts for children and parties of 20 or more. Advance reservations are required and tickets can be reserved by calling (239) 278-4422, by visiting BroadwayPalm.com, or by stopping by the box office at 1380 Colonial Boulevard in Fort Myers, Florida.

Related Articles View More Ft. Myers/Naples

Stories

Shows