BWW Review: HOLMES AND WATSON at Gulfshore Playhouse is Cleverly Covert!
Gulfshore Playhouse's HOLMES AND WATSON, directed by Andrew Paul, brings the clever spirit of Sherlock to life on their stage through a witty, well-done production.
Not only is Watson trying to pick out the real Sherlock Holmes from a lineup of 3 men in an asylum in HOLMES AND WATSON, but the audience is also left to solve the mystery of who the real Sherlock Holmes is before all is revealed at the end of the show. Everything was done so cleverly that when the truth was uncovered, it was definitely not an ending that had
been apparent; you'll find yourself wanting to see it again just to catch all the hints and details you may have missed.
Jeffrey Binder, Gulfshore Playhouse's Associate Artistic Director, played Watson, and David Whalen played Dr. Evans. I really enjoyed seeing their characters interact as the plot progressed; both of them were trying to solve mysteries in the show, and they each had their little tricks for both each other and the audience to figure out. Both of these actors are truly fantastic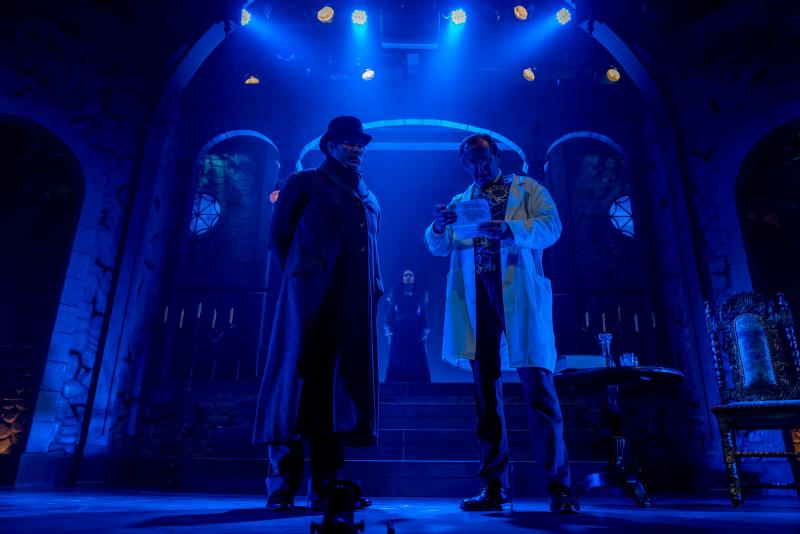 , which helped make this mystery even more captivating.
The 3 men claiming to be Sherlock Holmes were played by John Glowacki, Gregory Johnstone, and Christopher Kelly. I liked how different they all were in their portrayals of a potential Holmes. They really made the puzzle of the show fascinating to observe and try to solve. The rest of the cast included Arthur Lazalde as the Orderly, Moriarty, and the Inspector, and Joanna Strapp as the Matron and The
Woman. They both added to the dark, peculiar feel of the show, which I really enjoyed.
I absolutely suggest seeing this intricate and fun mystery while it's playing at Gulfshore Playhouse. I appreciated the fact that it was a relatively short play because it keeps you on the edge of your seat the whole time, trying to figure out who the real Sherlock is, and the reveal is well worth it; it's a humorous charade not to be missed!
HOLMES AND WATSON is playing at Gulfshore Playhouse through April 20! Evening shows begin at 8 p.m.; matinees begin at 3 p.m. Show subscriptions are available and include priority seating, exclusive events, and discounted pricing. Tickets begin at $42; all tickets are $37 two hours before a performance. For purchase information, visit www.GulfshorePlayhouse.org, or contact 866-811-4111.
Photo Credit: Matthew A. Schipper
Check out a preview of HOLMES AND WATSON below!