BWW Previews: CHITTY CHITTY BANG BANG at Fort Wayne Civic Theatre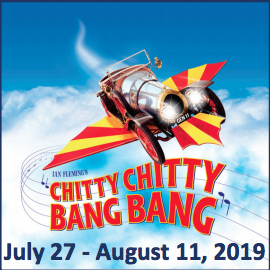 Get ready to fly high at the Fort Wayne Civic Theatre's summer musical, opening this weekend. Following up from last year's crowd-pleasing and high-energy production of NEWSIES, this year's fare is the family-friendly CHITTY CHITTY BANG BANG, based on the beloved 1968 film and with music and lyrics by Richard M. Sherman and Robert B. Sherman. You can read more about the plot of the musical here!
Conner Johnson plays the eccentric inventor Caractacus Potts, returning after his appearance in last season's NEWSIES. He was an Anthony Award winner for Best Male Ensemble performance in a musical as the newsie "Race," and he's sure to bring his talents to his role this year as well.
Cassandra Petrie also stars as Truly Scrumptious. After earning degrees in vocal performance and musical education (among others) at Olivet Nazarene University and the University of Illinois, she's back in the Fort Wayne area, where she attended high school in Churubusco. She'll be teaching theory and high school choir at Warsaw Community High School in the fall. According to Petrie, being able to play Truly Scrumptious is "a real dream come true," and so far she has loved working with this cast and with the production staff of the show.
With such accomplished stars ready to lead an equally gifted ensemble cast, you'll won't want to miss this one. The Civic's production is directed and choreographed by Doug King, with musical direction under Eunice Wadewitz.
Tickets are $33 for adults, $28 for seniors, and $20 for audience members under the age of 23.
You can get your tickets now online here or by calling the box office between Monday-Friday from 12-6 pm at (260) 424-5220. You'll want to get them fast - the Civic summer shows are usually fast sellers!
Showtimes are as follows, but be sure to note the new start time of 7:30 for evening performances:
Saturday, July 27 at 7:30 pm
Sunday, July 28 at 2:00 pm
Friday, August 2 at 7:30 pm
Saturday, August 3 at 7:30 pm
Sunday, August 4 at 2:00 pm
Friday, August 9 at 7:30 pm
Saturday, August 10 at 7:30 pm
Sunday, August 11 at 2:00 pm