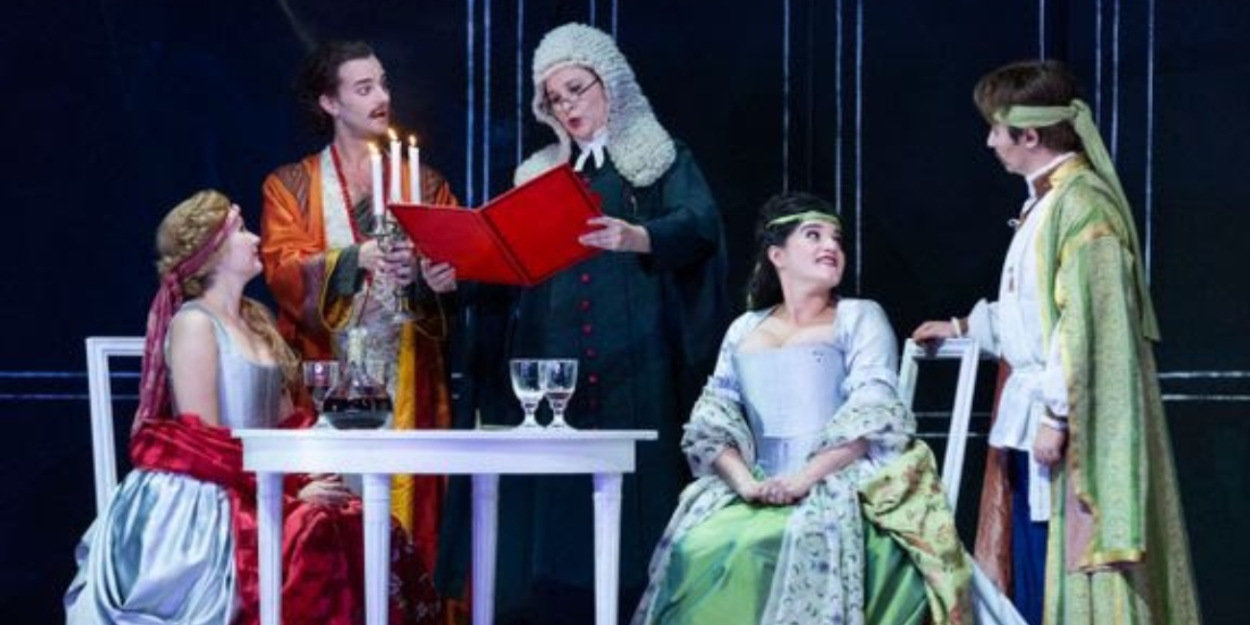 Mozart's Opera COSI FAN TUTTI to Play Royal Danish Opera in February
The production will run 09/02 - 28/02 2023.
Mozart skrev noget af sin smukkeste musik til Così fan tutte, der flyder over af iørefaldende arier og ensembler. Così fan tutte var den første Mozartopera, der blev spillet i Danmark - det skete på Det Kongelige Teater i 1798.
"Det forbløffende ved stor kunst fra fortiden er, at den taler til os, som om det er noget, der sker nu. Konventionerne og adfærden i værkerne kan nogle gange være fortidens, men i sidste ende har vi ikke forandret os i forhold til, hvordan vi elsker, og hvad kærlighed betyder for os," fortæller forestillingens instruktør, Tim Albery, der lader sin iscenesættelse af Mozarts mesterlige opera udspille sig i en gigantisk camera obscura­scenografi tilsat smukke periodekostumer.
Solister fra Den Kongelige Opera og Operaakademiets Young Artist Programme folder sig ud i den underholdende og absurde forviklingsfarce om et væddemål, der kører af sporet. I spidsen for det unge sangerhold står Den Kongelige Operas erfarne baryton Palle Knudsen som den kyniske filosof, Don Alfonso, der trækker i trådende og tester kærlighedens holdbarhed. Han har lang erfaring med lige netop denne opera i samme opsætning, for tilbage i 2005 sang han partiet som en af operaens unge mænd, Guglielmo, i denne iscenesættelse i New York.
De to unge par synges af kongelige operasangere Clara Cecilie Thomsen, Kari Dahl Nielsen, Simon Duus, Jacob Skov Andersen, og i partiet som den snu tjenestepige Despina er det Eldrid Gorset fra Operaakademiets Young Artist Programme.
Forestillingen dirigeres af den prisvindende og internationalt efterspurgte dirigent Kristiina Poska.
Così fan tutte synges på italiensk med danske overtekster.
Così fan tutte er et samarbejde med Opera North.
Læs mere om Così fan tutte HER
Instruktør: Tim Albery
Dirigent: Kristiina Poska
Assisterende dirigent: Marco Crispo
Scenografi og kostumedesign: Tobias Hoheisel
Lysdesign: David Finn
Medvirkende:
Fiordiligi: Clara Cecilie Thomsen
Dorabella: Kari Dahl Nielsen
Guglielmo: Simon Duus
Ferrando: Jacob Skov Andersen
Despina: Eldrid Gorset
Don Alfonso: Palle Knudsen
Det Kongelige Kapel
Foto: Miklos Szabo