BWW Previews: DISENCHANTED! at Bootless Stageworks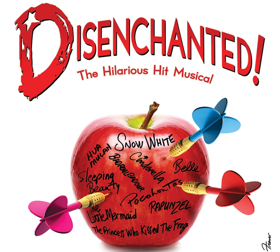 Bootless Stageworks brings another gem of a show to Wilmington with the Delaware premiere of DISENCHANTED!
Poisoned apples. Glass slippers. Who needs 'em?! Not Snow White and her posse of disenchanted Princesses in the hilarious hit musical that's anything but Grimm. The original fairy tale Princesses are none too happy with the exploitation they've suffered in today's films, books and dolls. Snow White and her angry band of storybook friends are 'storming the castle' in order to take their lives back!
The Princesses who make up the cast of the tawdry and very amusing little PG-13 staged cabaret see the world from a different angle. Take the now-alcoholic Little Mermaid, who sings of her consternation of giving up her tail and voice for some "teen-aged boy, crazed swimmer, with the flirty eyes," or the now off-kilter Belle who is delivered to the stage via mover dolly complete with straight-jacket, singing about talking silverware and picking up her boyfriend's poop.
DISENCHANTED! is best enjoyed by audience members 16 years and older.
Tickets: http://www.bootless.org/disenchanted/
March 29 @ 8 pm - Opening Night
March 30 @ 3 pm - New Saturday Matinee
March 30 @ 8 pm
March 31 @ 3 pm - Sunday Matinee
April 3 @ 7:30 pm - Wednesday Industry Night
April 4 @ 7:30 pm - Pay-What-You-Will (at the door)
April 5 @ 8:00 pm
April 6 @ 8:00 pm - Closing Night (After Show Cake with the Cast)
CAST: Snow White - Meg Falasco / Cinderella - Alicia Alaimo / Sleeping Beauty - Samantha McNerney / Belle - Ellorah Mead / Rapunzel - Andrea Arena / Pocahontas - Heather Ferrel / The Frog Princess - Tiara Whaley / Hua Mulan - Mariza Esperanza / Princess Badroulbadour - Ann Kashishian / The Little Mermaid - Rosanne DellAversano
Stage Director - Andrew Dean Laino / Music Director - James W. Fuerst
Related Articles View More Delaware

Stories

Shows