BWW Review: THE COLOR PURPLE Captivates at LA COMEDIA DINNER THEATRE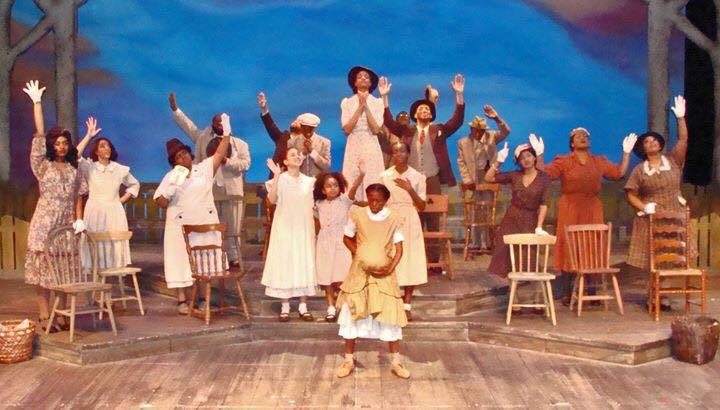 If you have never been to Springboro to visit La Comedia Dinner Theatre, now is the time. Their current production of THE COLOR PURPLE is phenomenal and not to be missed.
THE COLOR PURPLE is based upon the Pulitzer-Prize winning novel of the same name by Alice Walker which was also adapted into an Oscar nominated film of the same name. The musical's score is by Brenda Russell, Allee Willis, and Stephen Bray with book by Marsha Norman. The musical was nominated for 11 Tony awards in its first run and won two Tony awards for the well-received revival in 2016. I admit that I was skeptical going into the evening because, having seen the movie, I was not sure what to expect. The serious themes present in the material don't always make you want to sing and dance. I was wrong. The treatment of the material was just stunning. Each song seems to improve on the one before.
Our heroine, Celie, never beaten down by all of the horrible things that life threw at her, found her own strength and found beauty wherever she possibly could. This was most evident in Celie's show-stopping number near the end of the show, "I'm Here". Cecelia Monica-Lyn (Celie) was brilliant. Whether on stage alone or interacting with her fellow cast members, she never faltered. I enjoyed every moment of her performance.
Powerhouse performances were given by the entire cast, led by director Chris Beiser and Music Director Rebecca Childs. Particular stand outs for me were Justin Emmanuel Parker (Mister) with his number "Mister's Nightmare", Amber Eldreion (Sofia) and George P. Roberts (Harpo) with their feisty "Any Little Thing" and Kendra Guy (Shug) with "The Color Purple". The ensemble together is one of the finest I have ever seen. There was no part of the show that I didn't enjoy. I cried probably 12 times, all in the best ways.
All of these amazing performances had the perfect backdrop, with lovely set designed, not surprisingly, by Ray Zupp. His work never disappoints. Costumes coordinated by Emercita Erb complemented everyone nicely and made the time period and setting all come together.
Do not miss this wonderful show. It is without question, one of the best locally produced shows I have ever seen in Dayton. Also, don't forget that your tickets at La Comedia come with dinner and dessert which are themed to match each show. You can see the menu and get ticket information at their website, www.lacomedia.com or you can call their box office at 800-677-9505. Tickets range in price from $61 to $75. La Comedia is located at 765 W. Central Ave Springboro, Ohio 45066.
The show runs until April 15 and there are 8 shows a week to give you plenty of opportunities to see THE COLOR PURPLE. If you miss this one, you are really missing out.
:Photo credit: La Comedia Dinner Theatre