Women in Theater News for Summer 2017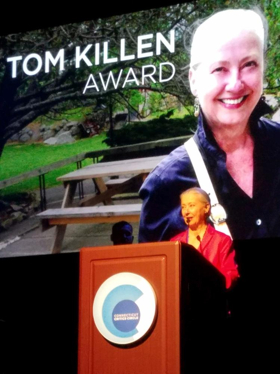 By Lauren Yarger
Women in theater continued to be featured in news this summer, with the O'Neill Theater Center in Waterford, CT taking the spotlight.
Paulette Haupt, outgoing artistic director of the O'Neill Theater Center's National Musical Theater Conference, received the Tom Killen Award for her achievements at the CT Critics Circle Awards June 26 at the Edgerton Center for the Arts in Fairfield, CT.
Haupt served at the O'Neill since 1978 and selected and guided the development of more than 120 new musicals including NINE, AVENUE Q, VIOLET, THE WILD PARTY, IN THE HEIGHTS and DARLING GRENADINE, which will be performed at Goodspeed Musicals' Norma Terris Theatre in Chester later this summer.
An associate producer for Polly Pen's GOBLIN MARKET Off Broadway, Haupt has commissioned, developed, and produced new works for OPERA America, the National Alliance for Musical Theater, and Columbia Artists Management.
Following her San Francisco Opera debut in CARMEN, for more than three decades Haupt was a music director and conductor of numerous operas and musicals in the US and abroad. As a pianist, Haupt has appeared worldwide in concerts with renowned musical theater and opera singers and was the only 'Plaidette' ever to perform in Stuart Ross's FOREVER PLAID in New York.
Since 2001, Haupt has commissioned, developed, and produced new works with her New York Company Premieres, including several works by Richard Rodgers Award recipients and a workshop of Lauren Robert's .22 CALIBER MOUTH (New Millennium Theater Company, Chicago, 2004). She continues to develop Premieres and its very successful "Inner Voices" series.
_______________________
The Burry Fredrik Foundation has announced a new commitment to launching the careers of graduates from the Yale School of Drama Design Departments with the establishment of the Burry Fredrik Design Fellowship. Set designer Claire DeLiso, who received her MFA this past spring, is the first recipient.
This new Foundation initiative is a collaboration with Yale School of Drama and the Eugene O'Neill Theater Center's National Playwrights Conference. Each year, the Yale School of Drama Design Department faculty will select one graduating scenic, costume, lighting, projection, or sound designer as the Burry Fredrik Design Fellow, who will receive a $15,000 award and will be asked to participate in the National Playwrights Conference as a design responder. In addition, if the Fellow is hired as a designer at Goodspeed Musicals, Hartford Stage, Long Wharf Theatre, or Westport Playhouse in the two years following the award, the Foundation will make a grant to that theatre in an amount equal to the fee paid to the designer.
DeLiso is a New York City-based set designer. Her design credits include IMOGEN SAYS NOTHING (Yale Repertory Theatre); NEW DOMESTIC ARCHITECTURE, WOMEN BEWARE WOMEN, costumes for TITUS ANDRONICUS (Yale School of Drama); THE BITTER TEARS OF PETRA VON KANT, BORIS YELTSIN, SHINY OBJECTS (Yale Cabaret); MIDSUMMER, THE LIFE AND DEATH OF DOCTOR FAUSTUS (Yale Summer Cabaret); PRIVATE LIVES, SOME MOTHER'S SON, HEDDA GABLER (Smith College); RED, GOD OF CARNAGE, and Mr. Burns, A POST-ELECTRIC PLAY (New Century Theatre). Her film and television work includes production and costume design for the full-length independent film BadPuss: A Popumentary; Spooners (short), The Stand-ins (web series), and Unforgettable (production assistant). DeLiso was born and raised in a small town in the south of France. She received her BA in theatre studies from Smith College in 2012 and her MFA from Yale School of Drama in 2017.
________________________
Westport Country Playhouse has partnered with the Connecticut Women's Hall of Fame to present the multi-media program "Women and War" free of charge July 14.
The event is in conjunction with Westport Country Playhouse's production of GROUNDED by George Brandt, about a U.S. Air Force fighter pilot who is grounded by an unexpected pregnancy.
The "Women and War" presentation for teen and adult audiences will be held 6:30 to 7:45 pm Friday, July 14 in the Lucille Lortel White Barn Center adjacent to the Playhouse, 25 Powers Court, Westport. The program gives a sweeping history of women's involvement in warfare, with special attention paid to several women who have been inducted into the hall of fame.
Among the Connecticut women featured in the talk are Army Captain Kristen Griest, the first female infantry officer in the U.S. Army and one of the first two women ever to graduate from Army Ranger School; Major Regina Y. Rush-Kittle, military and law enforcement trailblazer and highest-ranking African American woman ever to serve in the Connecticut State Police; and USAF Colonel Ruth A. Lucas (1920-2013), first African American woman to attain the rank of Colonel in the U.S. Air Force and advocate for improved educational opportunities for service personnel. All three will be inducted into the Connecticut Women's Hall of Fame on Nov. 9, 2017.
For more information visit westportplayhouse.org or cwhf.org.
_______________________
Calling Women Playwrights!
Ivoryton Playhouse has announced its second annual Women Playwrights' Initiative. The deadline has been extended to Aug. 15.
They are accepting completed manuscripts of plays that run one hour or less by email only until Aug. 15, 2017. Staged readings of selected plays will be in February/March 2018. Writers will be invited to Ivoryton for a week to work on their play and will receive a small stipend. Interested playwrights should email a completed manuscript and resume to Laura Copland, director of play development, at
laurac@ivorytonplayhouse.org
.
______________________
More News About Women in Theater:
Taneisha Duggan

, producing associate at TheaterWorks, Hartford,

has joined Co-Founder Steven Raider-Ginsburg of Hartbeat Ensemble, in Hartford as

voluntary co-artistic leader in an interim capacity as the organization prepares to search for an artistic director.

Continuing the fight to achieve gender parity in the American Theater, LA-based playwright/producer collective The Kilroys has facilitated its fourth annual List of industry-recommended new plays. The List 2017 features the most recommended un- and under-produced plays written by female and trans writers of color, following a survey of hundreds of professional artistic directors, literary managers, professors, producers, directors, and dramaturgs. The List is organized by The Kilroys: an independent, LA-based group of female playwrights and producers, dedicated to taking action in the face of gender disparity in American Theatre.

www.thekilroys.org
Lauren Yarger reviews theater for the award-winning CT Arts Connection and Reflections in the Light. She is a Vice President of the Drama Desk and Co-Founder of the Connecticut Chapter of the League of Professional Theater Women. She is a contributing editor for BroadwayWorld.com and a voting member of the Outer Critics Circle, the American Theatre Critics Association and the CT Critics Circle.