Photo Flash: In Rehearsal for Starry WILLY WONKA and 'JOSEPH' at NewArts
NewArts, a not-for-profit theatrical production organization based in Newtown, CT that was recently featured in the award-winning documentary film, Midsummer in Newtown, continues its mission of fostering healing and strength through the performing arts and character development as it produces Roald Dahl's Willy Wonka and Joseph and the Amazing Technicolor Dreamcoat for its Summer 2017 season. Scroll down for a sneak peek inside rehearsal for both shows!
The productions feature 130 Newtown-area children onstage, backstage, and in the orchestra; as well as two Broadway performers - Jim Stanek and Janet Metz. A team of professional directors, choreographers, music directors, designers, producers and technicians guide participants in this endeavor of creativity, collaboration and community.
Roald Dahl's Willy Wonka, with music and lyrics by Leslie Bricusse and Anthony Newley, adapted for the stage by Leslie Bricusse and Timothy Allen McDonald and based on the book "Charlie and the Chocolate Factory", features Broadway's Jim Stanek (Fun Home; A Gentlemen's Guide...; A Funny Thing Happened on the Way to the Forum; Little Women) as Willy Wonka, and will be performed today, July 27 at 11 a.m. and 7 p.m., July 28 at 7 p.m., July 29 at 2 p.m. and 7 p.m., and July 30 at 2 p.m. The show's 80 local youth cast members include double-cast principals (Oompa and Loompa casts) who alternate performances.
Michael Unger (25th Annual Putnam County Spelling Bee, You're A Good Man Charlie Brown, eight previous NewArts productions, From Broadway With Love: A Benefit Concert for Sandy Hook) and Jennifer Paulson Lee (NewArts' Seussical, A ROCKIN' Midsummer Night's Dream, Stephen Schwartz's Magic to Do, Temple) co-direct, with choreography by Ms. Lee and music direction by J. Paul Bourque. Costume design is by Krissy Sneshkoff, and lighting design is by Mitchell Girgasky (2015 graduate of Newtown High School, mentored by G. Benjamin Swope).
In Andrew Lloyd Webber's Joseph and the Amazing Technicolor Dreamcoat, with lyrics by Tim Rice and music by Andrew Lloyd Webber, Narrator Janet Metz (Falsettoland; Once Upon a Mattress; Fiddler on the Roof; I Love You, You're Perfect, Now Change) reprises the role she played opposite Donny Osmond for the show's North American tour. Performing alongside 75 local children, Joseph... will run August 11 at 7 p.m., August 12 at 2 p.m. and 7 p.m., and August 13 at 2 p.m. For this production, Michael Unger directs, with choreography by Tara Jeanne Vallee (Cirque Dreams, NewArts' School of Rock: Youth Production), music direction is by Jeffrey Saver, costume coordination is by Stevie Rival, and lighting design is by G. Benjamin Swope.
For both Summer 2017 shows, scenic design is by Brian Prather, production management is by G. Ben Swope; technical direction is by Jon Curns, sound design is by BrIan Kelly, props are by Mary Paul; Kathy Hoefgen and Jomary Pena are production stage managers and NewArts founder Michael Baroody, MD, is executive producer.
All performances will be at The Theater at Walnut Hill Community Church, 156 Walnut Hill Rd., Bethel, CT. Tickets ($17.50-27.50) and information about supporting NewArts are at www.newarts.org.
Photo Credit: Sami Mushin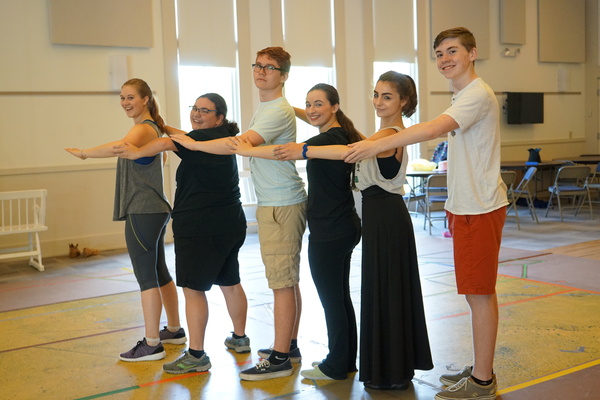 Alex Aug, Melissa Shohet, Christian Winter, Marina Kolitsas, Rebecca Spalvieri and Jason Winter in rehearsal for JOSEPH AND THE AMAZING TECHNICOLOR DREAMCOAT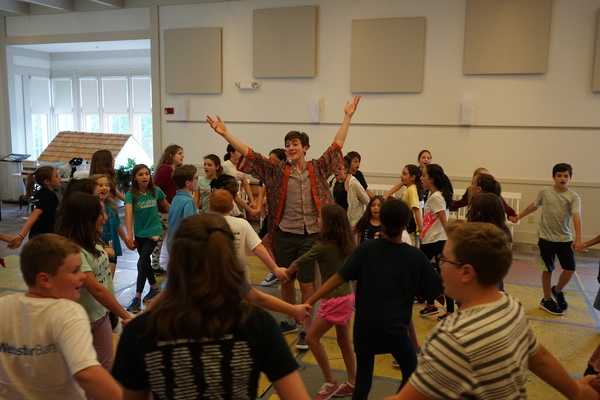 Charles Romano and company in rehearsal for JOSEPH AND THE AMAZING TECHNICOLOR DREAMCOAT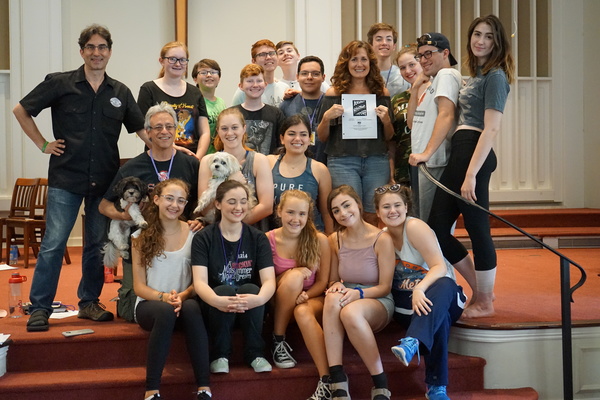 JOSEPH AND THE AMAZING TECHNICOLOR DREAMCOAT director Michael Unger with music director Jeffrey Saver and narrator Janet Metz with the company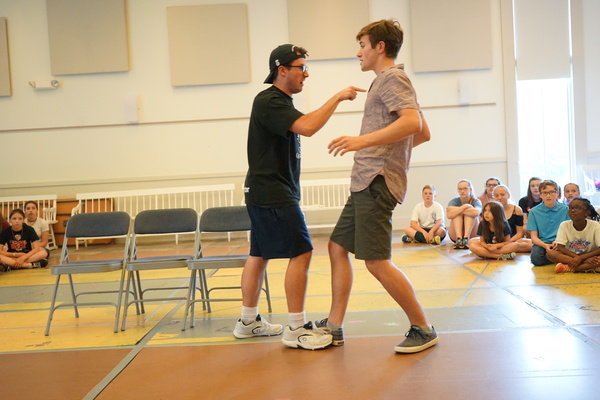 Joey Devellis and Charles Romano in rehearsal for JOSEPH AND THE AMAZING TECHNICOLOR DREAMCOAT

Maddy Oldham, Jason Winter, Christian Winter, Joey Devellis, and Marina Kolitsas in rehearsal for JOSEPH AND THE AMAZING TECHNICOLOR DREAMCOAT

Jennifer Socci with Jim Stanek in rehearsal for WILLY WONKA

Jimmy Hunter with Jim Stanek in rehearsal for WILLY WONKA

Michael Spanedda, Jordan Gomes, Jimmy Hunter and Susan Socci in rehearsal for WILLY WONKA

Nicole Kolitsas with Jim Stanek in rehearsal for WILLY WONKA
More Hot Stories For You