Photo Flash: First Look at AVENUE Q at TheatreWorks New Milford
This Friday, September 19, TheatreWorks New Milford will premiere the Award-winning musical comedy, AVENUE Q, with Book by Jeff Whitty and Music & Lyrics by Robert Lopezand Jeff Marx. The curtain rises at 8:00 p.m. for a five-week run. BroadwayWorld has a first look at the cast in action below!
AVENUE Q is part flesh, part felt, and packed with heart. The show is a laugh-out-loud musical that tells the timeless story of a recent college grad named Princeton who moves into a shabby New York apartment all the way out on Avenue Q. He soon discovers that although the residents seem nice, it's clear that this is not your ordinary neighborhood, considering it's inhabited by both people and puppets. Together, Princeton and his new-found friends struggle to find jobs, dates, and their ever-elusive purpose in life.
The production features some of the finest actors and puppeteers in the region: Jamison Daniels (Stratford), Patricia McCarthy (Bridgeport), Mike L'Altrella (Oxford), Jasmin Love Barbosa (Brewster, N.Y.), Bo Mi Yim (New York, N.Y.),Carey Van Hollen (Sandy Hook), and Glenn R. Couture (Ansonia).
Along with Bradford Blake (director and choreographer) and Richard Pettibone (producer, co-set and co-lighting designer), the show's crew consists of musical director Charles Smith, co-set designerGlenn R. Couture, co-lighting designer Scott Wyshysnki, and stage management by Kathy Bolster with Maya Daleyand Abby Hambidge acting as assistant stage managers.
AVENUE Q made its Broadway debut on July 31, 2003 at the John Golden Theatre and ran for more than six years, making it 23rd on the list of all-time, longest running Broadway shows. The play went on to win the coveted 2004 Tony Award "Triple Crown" for Best Musical, Best Score, and Best Book.
PARENTAL ADVISORY: AVENUE Q contains full puppet nudity and other adult situations. It's recommended only for mature audiences. AVENUE Q runs September 19,20 26,27,28 October 3,4,5 10,11,12 17,18. Curtain time is 8:00 p.m. Fridays & Saturdays, with 2:00 p.m. Sunday matinees on September 28, October 5, and October 12. Tickets for all shows are $28 for reserved seating. Students and Military personnel with ID will be admitted for $25. Reservations can be made online at THEATREWORKS.US or by calling the box office at (860) 350-6863.
Photo Credit: Richard Pettibone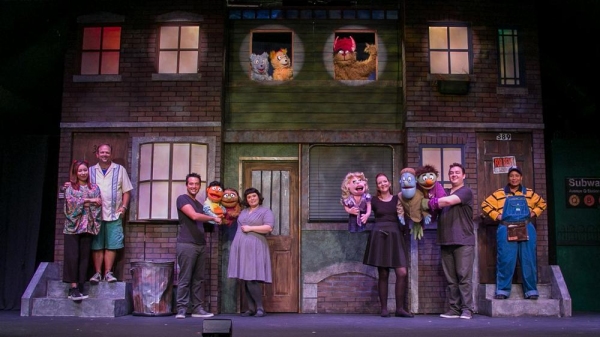 Bomi Yim as Christmas Eve, Glenn R. Couture as Brian, Mike L''Altrella as Princeton, Patricia McCarthy as Kate Monster, Carey Van Hollen as Lucy T. Slut, Jamison Daniels with Rod and Nicky, and Jamison Love Barbosa as Gary Coleman. UPPER WINDOWS: The Bad Idea Bears and Trekkie Monster

Mike L''Altrella as Princeton and Patricia McCarthy as Kate Monster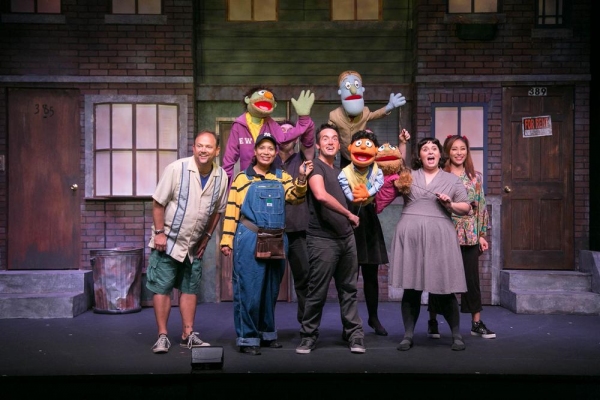 Glenn R. Couture, Jasmin Love Barbosa, Mike L''Altrealla, Patricia, McCarthy, and Bomi Yim. HIDDEN: Jamison Daniels and Carey Van Hollen.

Mike L''Altrella with Princeton and Carey Van Hollen and Jamison Daniels both puppeting The Bad Idea Bears

Mike L''Altrella with Princeton and Carey Van Hollen with Lucy T. Slut

Mike L''Altrealla as Rod, and Jamison Daniels as Nicky