Click Here for More Articles on Ballet!
Bolshoi Ballet's THE NUTCRACKER Set for Encore at Ridgefield Playhouse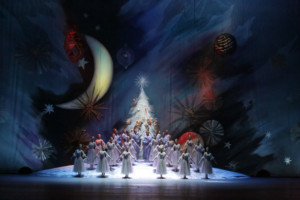 The Nutcracker, a holiday tradition for the whole family, graces the Bolshoi stage for two hours of enchantment and magic in this encore performance of Bolshoi Ballet in HD: The Nutcracker with screenings on December 23rd at 2pm and 6pm at The Ridgefield Playhouse.
As the clock strikes midnight on Christmas Eve, Marie's wooden nutcracker doll comes to life and transforms into a prince! Soon joined by her other toys that have also come to life, Marie and her prince embark on a dreamy unforgettable adventure. This masterpiece of classical dance and holiday classic is a wonderful event for families and is part of the Benchmark Senior Living at Ridgefield Crossings Live in HD & Classical Series and the Ridgefield Academy Family Series.
Combining Tchaikovsky's cherished score and many of the Bolshoi's greatest artists, The Nutcracker remains a treasure not to be missed! The Bolshoi Ballet is a symbol of excellence in ballet - acquiring an almost mythical reputation. The traditions of the company go back to Tsarist Russia (1776). In the 20th century the company has polished its typical, almost athletic style and today boasts such dance stars as Svetlana Zakharova, Nina Kaptsova, Svetlana Lunkina, Maria Alexandrova, Ruslan Skvortsov, David Hallberg, Nikolai Tsiskaridze, and Mikhail Lobukin. Their virtuosity has captured the hearts of audiences throughout the worlds. The artistic director Sergei Filin successfully draws on the immense tradition of the company and transposes it into the context of the present day.
See the greatest classics restaged by today's most celebrated choreographers with the Bolshoi Ballet in HD - allowing you the best seats to this historic Russian tradition! For the eighth consecutive year, the 2017-18 Bolshoi Ballet in HD season presents the greatest classics restaged by today's most celebrated choreographers for a cinema-exclusive experience featuring some of the finest dancers in the world. The Bolshoi Ballet in HD season also includes: Le Corsaire (January 14th), The Lady of the Camellias (February 4th) Romeo and Juliet (February 18th), Giselle (April 12th), The Flames of Paris (May 26th) and Coppélia (June10th).
The Ridgefield Playhouse offers free tickets to students 18 and under as a way for parents to introduce their children to the arts. FREE tickets are also available for Benchmark Senior Living at Ridgefield Crossings Live in HD screenings of the Met Opera and National Theatre of London.
For tickets ($25, Members & Seniors $20, Students $15 - FREE tickets for students 18 and under), call the box office at 203-438-5795, or visit ridgefieldplayhouse.org. The Ridgefield Playhouse is a non-profit performing arts center located at 80 East Ridge, parallel to Main Street, Ridgefield, CT.
Related Articles
More Hot Stories For You