Ben Edelman and Max Wolkowitz to Star in THE CHOSEN at Long Wharf Theatre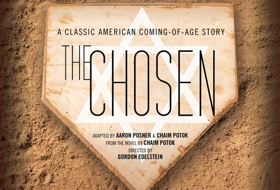 Long Wharf Theatre presents The Chosen, adapted by Aaron Posner and Chaim Potok from the novel by Potok, directed by Artistic Director Gordon Edelstein, from November 22 through December 17. The production takes place on the Claire Tow Stage in the C. Newton Schenck Mainstage, 222 Sargent Drive, New Haven. The press opening takes place on Wednesday, November 29, at 7:30 pm.
The cast includes Ben Edelman (Danny Saunders), George Guidall (Reb Saunders), Steven Skybell (David Malter), and Max Wolkowitz (Reuven Malter).
The creative team includes Eugene Lee (set design), Paloma Young (costume design), Mark Barton (lighting design), John Gromada (sound design), Cole Bonenberger (stage manager), and Calleri Casting (casting).
Brilliant young men from rival yeshivas, Reuven and Danny first meet on a baseball diamond. When Danny fells Reuven with a line drive in the heat of competition, the two boys start a tentative and unique friendship. Growing up in The Shadows of imposing and impressive fathers, the young men question their places in the world. Set against the backdrop of 1940s Brooklyn and the specter of war, Posner's adaptation of Chaim Potok's award-winning 1967 novel is a story of fathers and sons, tradition, modernity, and the difficult choices one must to make to achieve understanding.
"This is a beautiful story about the complicated relationship between parents and their children and how a friendship grows," Edelstein said. "In many way, this play talks about finding your family. Sometimes we seek our fathers in places other than our own homes."
Posner had been seeking Jewish works to adapt because it was a subject he was interested in exploring for himself. He had gotten to know Chaim Potok through his attendance at Philadelphia's Arden Theatre, where Posner was a resident director and co-founder. "I decided to call him up and ask for advice on what Jewish works he thought might make good adaptations. I thought I should reread some of Potok's books before I talked to him, and I started with The Chosen. I read it and thought, oh my God, I don't need to look any further, this is amazing," Posner said in an interview with Steppenwolf Theatre.
Posner, who has also adapted Potok's My Name is Asher Lev for the stage, is drawn to the core conflicts present in his novels: the tension between people and forces like family, religion, and society. "His stories are filled with people doing their best to live their lives in keeping with their own deeply held beliefs and convictions. But sometimes, when those beliefs and convictions are in conflict within a community or family, or even within one's self, it can be very tricky. That is where Chaim located most of his work. He explored big, hard questions in honest, intelligent, and insightful ways," Posner said.
Ben Edelman is making his Long Wharf Theatre debut. He has appeared on Broadway in Significant Other. His television appearances include "Instinct," "Braindead," and "The Good Wife." He has appeared on stage in Angels in America, Three Sisters, Trojan Women: A Love Story, No Exit, and As You Like It, among others.
George Guidall is making his fifth appearance at Long Wharf, previously appearing in Dalliance, A Flea in Her Ear, The Crucible, and A Daring Bride. Widely recognized as the world's most acclaimed and most prolific narrator of audiobooks, Guidall has also career in the theatre, including starring roles on Broadway, an Obie award for best performance Off-Broadway, and has shared the stage at the New York Shakespeare Festival with Kevin Kline, Morgan Freeman, and Meryl Streep.
Steven Skybell is making his Long Wharf Theatre debut. His Broadway appearances include Fiddler on the Roof, Pal Joey, Wicked, The Full Monty, Love, Valour, Compassion, and Ah, Wilderness. He has appeared extensively Off-Broadway, and at regional theatres like Westport Country Playhouse, Yale Rep, Two Rivers Theatre, Shakespeare's Globe, Arena Stage, La Jolla Playhouse, McCarter Theatre, and California Shakespeare, among others. His many films and television appearances include "The Cradle Will Rock," "Blue Bloods," "Chicago PD," "Elementary," "Law & Order," and "Sex and the City."
Max Wolkowitz is making his Long Wharf Theatre debut. He is actor, animator, musician and director and has recently appeared in Love, Sex, and Death in the Amazon, The Velveteen Rabbit, The 25th Annual Putnam County Spelling Bee, My Name is Asher Lev, Ivanov, and Indian Summer, among others.
For more information or to purchase tickets, visit longwharf.org or call 203-787-4282.
ABOUT THE ARTISTS:
Ben Edelman (Danny Saunders) Long Wharf Theatre Debut. Broadway: Significant Other (u/s Jordan). Television: "Braindead," "The Good Wife," "Instinct." Film: Dot (Cannes Short Film Corner). As actor and co-writer: Samantha Moonley's Greatest Feeling (Centerpiece Award, NFFTY), Milkman (Centerpiece Award, NFFTY). Co-producing two upcoming documentaries: Memphis, a cerebral palsy love story, and Buckets, following the rise and fall of the inventor of bucket drumming. Founder of The Commonground NYC, a speed-networking service for artists across disciplines, www.thecommonground.nyc . David Vadim, AC Management, and Innovative. BFA: Carnegie Mellon University. Love to Merissa, family, and friends. www.blpedelman.com
George Guidall (Reb Saunders) Broadway, Off-Broadway (Obie Award), and Television. Mr. Guidall was recently dubbed the "undisputed king of audiobooks" by the New York Times; awarded a life-time achievement award by the Audiobook Publishers Association for his record of over 1350 narrations, his recordings of Don Quixote, Crime and Punishment, Les Miserables, as well as many best sellers have set a standard for excellence recognized throughout the audiobook industry. He is grateful to Gordon Edelstein, artistic director, for bringing him back to the Long Wharf Theatre since his last appearance there in Tom Stoppard's Dalliance in 1987.
Steven Skybell (David Malter) Broadway: Fiddler on the Roof; Pal Joey; Wicked; The Full Monty; Love! Valour! Compassion!; Cafe? Crown; Ah, Wilderness!. Off-Broadway: Cymbeline (Delacorte/Public Theatre), Tamburlaine (TFANA), Antigone in New York (Obie Award, Vineyard Theatre), The Lesson (Atlantic Theatre), What Didn't Happen (Playwrights Horizons). Other: The Merchant of Venice (Peaks Performances Series), Camelot (Arena Stage, Helen Hayes nomination) Arthur Miller's Broken Glass (Westport, Connecticut Critics Circle nomination), Caucasian Chalk Circle (Yale Rep, Connecticut Critics Circle nomination), Henry V (Shakespeare's Globe, London). TV/Film: "Blue Bloods," "Chicago PD," "666 Park Avenue," "Law and Orders," "Sex and The City," Garden Dayze, Simply Irresistible, Cradle Will Rock, Tom and Francie. Faculty: Yale School of Drama, NYU Tisch Grad Acting, Fordham.
Max Wolkowitz (Reuven Saunders) is thrilled to be making his Long Wharf Theatre debut! N.Y./Regional: Assisted Loving (Capital Rep); Love, Sex & Death in the Amazon (Collider Theater); My Name Is Asher Lev (Penguin Rep); Ivanov (Trinity Rep); Indian Summer (Brown/Trinity Playwrights Rep); The 25th...Spelling Bee (The Secret Theatre). Brown/Trinity: In The Next Room (Dr. Givings); The Tooth of Crime (Crow); Twelfth Night (Sir Andrew); Much Ado About Nothing (Borachio); In The Blood (Trouble/Doctor). WISE Foundation Emerging Artist of the Year Award 2015. BA: Bennington. MFA: Brown/Trinity. Member of The Actors Center.
Aaron Posner (Playwright) Aaron Posner is a Helen Hayes and Barrymore Award-winning director and playwright. He is a founder and former Artistic Director of Philadelphia's Arden Theatre, an Associate Artist at both the Folger Theatre and Milwaukee Repertory Theatre. His adaptations include Chaim Potok's The Chosen and My Name is Asher Lev (both of which have enjoyed successful runs at more than 50 theatres across the country and the latter of which ran for ten months Off-Broadway and won both the Outer Circle Critics Award for Best New Off-Broadway play and the John Gassner Award), as well as Ken Kesey's Sometimes a Great Notion, Mark Twain's A Murder, A Mystery, and a Marriage, an adaptation of three Kurt Vonnegut short stories, entitled Who Am I This Time? (and other conundrums of love). His Chekhov inspired Stupid Fucking Bird debuted at Woolly Mammoth and won the Helen Hayes Award for Outstanding Resident Play as well as the Charles MacArthur Award for Outstanding Play or Musical. It has received productions and awards from around the country. His second Chekhov adaptation Life Sucks premiered at Theatre J and the third, No Sisters, was produced by Studio Theatre. His musical for young audiences The Gift of Nothing received a Helen Hayes Award for Outstanding Play and Musical Adaptation for its production at the Kennedy Center. He recently won a Jeff Award for Best Director for his work on The Tempest at Chicago Shakespeare Theater. Aaron was raised in Eugene, Oregon, graduated from Northwestern University, is an Eisenhower Fellow, and lives near Washington, DC.
Chaim Potok (Adaptation/author, source novel) Chaim Potok was born Herman Harold Potok on February 17, 1929. The son of Polish immigrants, he was reared in an Orthodox Jewish home in New York City, where he attended religious schools. As a young man he became fascinated by less restrictive Jewish doctrines, particularly the Conservative side of Judaism. He attended Yeshiva University and graduated summa cum laude in English literature in 1950 before moving on to the Jewish Theological Seminary of America, where he was ordained a Conservative rabbi. Potok then taught at several Jewish colleges, including the University of Judaism in Los Angeles, before moving on to become the managing editor of "Conservative Judaism" in 1964. Potok spent a year in Israel completing his doctoral dissertation on philosophy from the University of Pennsylvania in 1965 and the following year became the editor of the "Jewish Publication Society of America," which he remained for eight years before becoming a special-projects editor of the publication in 1974. Potok began his career as an author and novelist in 1967 with the publication of The Chosen, the first book from a major publisher to portray Orthodox Judiasm in the United States. Two years later, he followed The Chosen with a sequel, The Promise. In 1972, Mr. Potok returned to the subject of Hasidism for a third time with his novel My Name is Asher Lev, the sequel to which, The Gift of Asher Lev, was published 18 years later in 1990. His other novels include In the Beginning (1975), The Book of Lights (1981), Davita's Harp (1985), I Am the Clay (1992), The Tree of Here (1993), The Sky of Now (1995) and The Gates of November (1996). Potok also published several major nonfiction works, including Wanderings: Chaim Potok's History of the Jews (1978).
Eugene Lee (Set Design) Eugene Lee is the production designer of "Saturday Night Live," "The Tonight Show Starring Jimmy Fallon," and "Late Night with Seth Meyers." He is represented on Broadway and Internationally by the musical Wicked. Other Broadway credits: Bright Star, Ragtime, Show Boat, and Sweeney Todd. Film credits: Coppola's Hammett, Huston's Mr. North, Malle's Vanya on 42nd Street, and Demme's A Master Builder. Long Wharf Theatre: Napoli, Brooklyn; Endgame; The Last Five Years; The Shadow Of The Hummingbird; Ride The Tiger; My Name Is Asher Lev; Hughie; Coming Home; The Fantasticks; Have You Seen Us?; The Train Driver; Krapp's Last Tape; and The Price. BFA: The Art Institute of Chicago, Carnegie Mellon. MFA: Yale School of Drama. Three honorary PhDs. Awards: Tony, Drama Desk, Lucille Lortel, Emmy, Elliot Norton Award for Sustained Excellence, Pell Award, and DesignxRI Lifetime Achievement Award. A recent inductee into the New York Theater Hall of Fame, he lives in Providence, RI with his wife, Brooke.
Paloma Young (Costume Design) Long Wharf Theatre: Lewiston; Broadway: Peter and the Starcatcher (Tony Award), Natasha, Pierre and the Great Comet of 1812 (Tony Nomination), Bandstand (Drama Desk Nomination), Time and The Conways. Off-Broadway: Natasha, Pierre..., Kazino (Lucille Lortel Award); Fly By Night (Playwrights Horizons); Recall (Colt Coeur); Permission (MCC); Brooklyn Babylon (BAM). Other regional work at American Repertory Theatre, Dallas Theatre Center, South Coast Repertory, Arena Stage, La Jolla Playhouse, The Old Globe, Oregon Shakespeare Festival, Hand2Mouth, and Mixed Blood among others. MFA UC San Diego. IG: @secondpigeon, palomayoung.com
Mark Barton (Lighting Design). Long Wharf Theatre: February House, No Child.... Regional: A.R.T., Guthrie, Yale Rep, Actors Theatre of Louisville, Center Theatre Group, Berkeley Rep, among many others. Broadway: Ame?lie (co-designed with Jane Cox), The Real Thing, The Realistic Joneses, Violet. Off- Broadway: Elevator Repair Service, Signature, Playwrights Horizons, NYTW, Soho Rep, Theater for a New Audience, among others. Other NYC: Encores! Off-Center 2013-2017. Awards: Lortel, Hewes, Obie.
John Gromada (Sound Design) Long Wharf Theatre: Fireflies, Meteor Shower, Our Town, The Second Mrs. Wilson, The Shadow of the Hummingbird, Fences, Satchmo at the Waldorf, The Killing of Sister George, My Name is Asher Lev, It's a Wonderful Life: A Radio Play, The Old Masters, The Train Driver, The Old Man and the Sea, The Blue
Album, Hamlet, Midsummer Night's Dream, Twelfth Night, How Do You Like Your Meat, and others. Broadway: Music and sound design for more than 35 shows including The Elephant Man, The Trip to Bountiful (Tony nomination), The Best Man (Drama Desk Award), Seminar, Clybourne Park, Twelve Angry Men, Proof and A Few Good Men. Regional: Orphans' Home Cycle (Hartford Stage, Drama Desk and Henry Hewes Awards). New York: Old Hats, Dada Woof Papa Hot, Ripcord, The Screwtape Letters, Shipwrecked! (Lucille Lortel Award), The Skriker (Drama Desk Award), Machinal (Obie). Television: "The Trip to Bountiful" (Lifetime), "The Interrogators" (Biography). www.johngromada.com
Cole P. Bonenberger (Production Stage Manager) Broadway: Dividing the Estate. Off-Broadway: Napoli, Brooklyn (Roundabout Theater Co.); Linda (MTC); The Taming of the Shrew, King Lear, The Comedy of Errors (NY Public's Shakespeare in the Park); Aubergine, Familiar, The Qualms, Stage Kiss, The Great God Pan (Playwrights Horizon); February House, Yellowface, Wrecks (NY Public); Tamburlaine Parts I & II, The Killer (TFANA); Picked (Vineyard Theatre); Night is a Room, The Liquid Plain, The Old Friends, The Dance and the Railroad, The Orphans' Home Cycle, Landscape of the Body and The Trip to Bountiful (Signature Theatre); Dividing the Estate (Primary Stages). Regional: Hartford Stage, Long Wharf Theatre, The Acting Company, Trinity Rep, Westport Playhouse.
More Hot Stories For You