BWW Reviews: Chaim Potok's THE CHOSEN in New Haven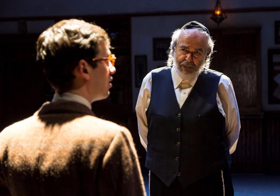 The Long Wharf Theatre's production of The Chosen, co-written by Chaim Potok and Aaron Posner, based on Potok's classic novel, is one of the most powerful plays you will ever see.
Masterfully directed by Gordon Edelstein, the play was revised by Posner. The main characters are the same - two distinguished men and their equally brilliant sons - and the story still takes place in the Williamsburg section of Brooklyn during and after World War II. Reuven Malter (Max Wolkowitz) is injured in the eye by Danny Saunders (Ben Edelman) during an intense baseball game between their competing yeshivas (religious schools). Reuven's father, David (Steven Skybell) is a Modern Orthodox Jew and teacher of Talmud (Jewish law and interpretations of the Five Books of Moses). Danny is the son and heir of Reb Saunders (George Guidall), a Hassidic leader whose devoted flock followed him out of Russia during the pogroms.
After the accident, Danny visits Reuven in the hospital and the two become friends and later confidants. The relationships they have with their fathers are as different as their views of Judaism. Danny and his father live together in silence, and talk only when it comes to religion. Reuven and his father talk and laugh. Danny hides from his father his love of secular books and his desire to become a psychologist. Reuven contemplates becoming a rabbi instead of a mathematician, as his father would like him to be. Against this, world events affect the fathers. The horrors of Nazi destruction reopen Reb Saunders's wounds with memories of the death of his wife, his first son, and the village he left behind. For Saunders, holding fast to traditions is what will preserve and rebuild the Jewish people. For Malter, creating the modern state of Israel is what will preserve the Jewish people. These conflicting views separate Reuven and Danny, who are both loyal to their fathers, yet they also bring them together in the end. The theme about how contrary opinions can be true ("Both These, and These, are the words of the living G-d") is repeated during the play.
Eugene Lee's multipurpose set is impressive, as are Mark Barton's lighting, John Gromada's sound, and Paloma Young's costumes. Claire Zoghb's cover design is simple but deep. The long tradition of Judaism is depicted in the desert sand with symbols of Judaica in it with a baseball base with a Star of David emblazoned on it -- the significance of Jewish history against modernity. Both are compatible, as much as Malter's teachings "Both These and These." But the superb acting and direction could have made this play as enthralling if presented in a ballpark with no set. It was amazing to watch the body language of Edelman - a killer on the ballfield, an intimidated man in the presence of his epic father, and becoming relaxed as he gets closer to Reuven. Wolfkowitz is strong as the play's narrator and likeable as Reuven. Skybell is amiable and warm as Reuven's wise and understanding father. And George Guidall proves he is more than "the undisputed king of audiobooks" as he brings out Reb Saunders' vulnerability and suffering and his understanding of why his son needs to flee his Hassidic dynasty with its insularity and responsibility.
It's easy for some people to pigeon-hole The Chosen as a classic coming of age story or a story about fathers and sons. But that's underappreciating the story, which was credible for the time of its setting, when it was written (the late 1960s), and today. In all honesty, I thought the book and the movie were just OK, but this production is so potent. A lot of that has to do with Posner's focus on the four main characters, but the flawless acting of Edelman, Wolkowitz, Skybell, and Guidall give life and ruach (spirit) to words in the novel. Lest anyone think that such rivalry is a hackneyed plot, I can assure you it is not. There are some Hassidic groups that won't speak to each other and that don't believe that the other denominations (Orthodox, Conservative, and Reform, also known as crazy, hazy, and lazy) are Jewish enough. There is at least one Hasidic group that still does not believe Israel should exist until the Messiah comes.
Don't wait that long. Book your tickets today for The Chosen, which runs through December 17 at the Long Wharf Theatre, 222 Sargent Drive, New Haven. G-d willing, this production will go to New York. Call 203-787-4282 or visit www.longwharf.org.