Review: THE PIANIST OF WILLESDEN LANE at Hartford Stage
THE PIANIST OF WILLESDEN LANE - piano virtuoso Mona Golabek's beautiful retelling of the story of her mother's escape from Vienna as a young woman on the Kindertransport - has returned for a limited engagement through July 22 at Hartford Stage and the performance is once again enthralling, beautifully told (and played) and something not to be missed.
What is fascinating (and unique) about a play like THE PIANIST OF WILLESDEN LANE, is that it is told by someone intimately connected to the story and in a way that takes the fascinating tale of survival and the power of music to a new level. Mona Golabek, who is herself a world-renowned pianist, takes the stage to portray her mother,
Austrian born pianist Lisa Jura, and share the story of her mother's harrowing escape from Nazi-occupied Vienna on the Kindertransport. This program allowed for select Jewish children to travel to England where they would be cared for by families and individuals there during a short period of time at the beginning of the conflict that would escalate into WWII. Lisa's story centers on her intimate and passionate connection to the piano and to the music she can bring to life through it. Her mother, on the train platform as she is departing for London tells her to "hold on to the music" and that is exactly what she does. Her music is what keeps her grounded in a time of uncertainty and fear, and leads her to make choices that will shape the rest of her life. THE PIANIST OF WILLESDEN LANE is a beautifully told story of determination, passion, and of the power of music to heal.
Based on the book "The Children of Willesden Lane: Beyond the Kindertransport: A Memoir of Music, Love, and Survival" by Mona Golabek and Lee Cohen, THE PIANIST OF WILLESDEN LANE was adapted and directed by Hershey Felder, who Hartford Stage audiences may recall from his most recent performance as Tchaikovsky in last year's OUR GREAT TCHAIKOVSKY. The story works beautifully in the Hartford Stage space and transports the audience to the time and place of Lisa Jura's life. Mona Golabek is fantastic in the role as she recounts the many details of her mother's life and tackles portions of some of the great works for piano. Ms. Golabek shows off her amazing talents on the piano playing excerpts from Beethoven, Grieg, Mozart, Debussy, Scriabin, Chopin, Rachmaninoff, and more. Her ability to keep the story moving while playing such complex pieces is just one of the things that make this show unique and special.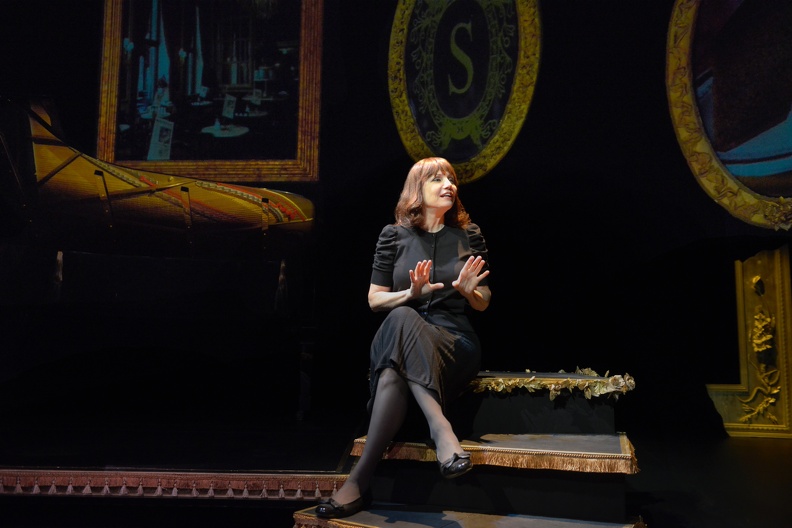 In presenting THE PIANIST OF WILLESDEN LANE, Hartford Stage once again provides theater-goers with an opportunity to be transported by both story and music, and uplifted by a fascinating true-story of courage and love. The play is something that audience don't have the opportunity to experience often, and should take advantage of the limited run to witness this fascinating story and some brilliantly played music. And if you can, get a seat stage right where you can watch Ms. Golabek's hands as they fly through some of the great piano works of our time.
THE PIANIST OF WILLESDEN LANE runs as a Limited Engagement at Hartford Stage in Hartford, CT through Jule 22nd. Hartford Stage is located at 50 Church Street, Hartford, CT 06103. For more information call 860-527-5151 or visit www.hartfordstage.com
All Photos: Mona Golabek in THE PIANIST OF WILLESDEN LANE