BWW Review: THE LITTLE MERMAID at the Warner Theater
It's always a treat to see something familiar come to life in a fresh and exciting way. Mixing the expected with the unexpected adds a certain thrill to any creative endeavor. This is the way it is with Disney's THE LITTLE MERMAID, which is being brought to life on stage (or, rather, under the sea) by the Warner Stage Company at the Warner Theatre in Torrington, Connecticut. The production, which plays through August 5th is every bit as magical and engaging as the original 1989 Disney film by Alan Menken and Howard Ashman. On stage at the Warner, THE LITTLE MERMAID is bubbly, bright and a treat for both the young AND the young at heart.
As the countless fans of the 1989 film can tell you, THE LITTLE MERMAID tells the story of Ariel (
Dana Wilton
), the youngest of King Triton (Patrick Spadaccino)'s mermaid daughters. She is blessed with a beautiful singing voice that is to be featured in a musical performance arranged by her music teacher, Sebastian the crab (Torrey L. Thomas). Much to Triton's chagrin, Ariel would rather spend her time on the surface, observing humans from afar and collecting their stuff. One stormy night, Prince Eric (
Ray Cook
) is flung from his ship and Ariel saves him from a watery grave. From that point on Eric is obsessed with finding his mysterious savior and Ariel is madly in love - so much so, that she makes a deal with her aunt, the Sea Witch Ursula (Alexarae Ireland) bargaining away her most precious asset for a chance to be human and win Eric's love. Ariel journeys to the surface while her father frets and Ursula schemes for ultimate power.
For THE LITTLE MERMAID to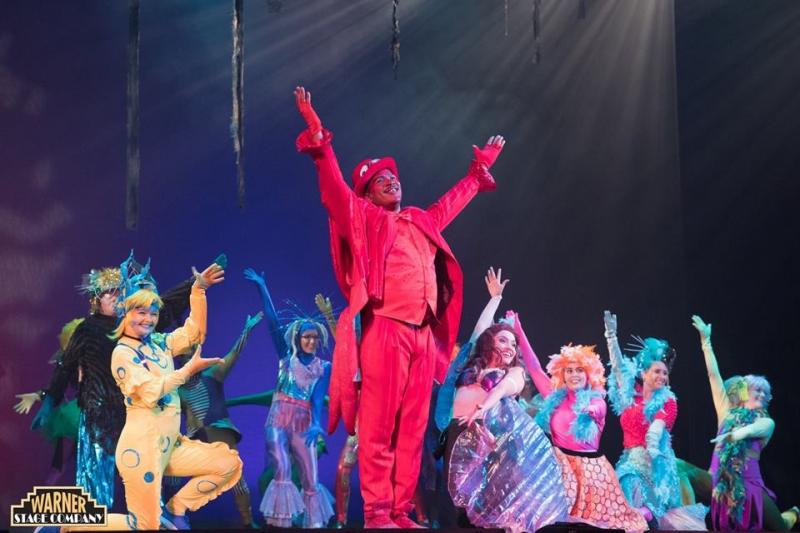 work, you have to have a winsome, beautiful, and vocally gifted actress in the role of Ariel. In Dana Wilton, the Warner has all of this and more. Ms. Wilton is magical as she swims (flies) around the stage making the audience forget she is not truly underwater. Her Ariel is headstrong, but sweet, and Ms. Wilton's voice soars through every one of Ariel's songs. She is a treat to watch and lives up to the title role. The rest of the cast is also quite strong with some standout performances worth noting. As Ursula, Alexarae Ireland is deliciously evil and brings a powerful voice to the role. She is simply fun to watch scheming with her hench-eels, Flotsam (Joey Frighetto) and Jetsam (Ginger Furey) and is a character that you love to hate. Having seen THE LITTLE MERMAID on Broadway, I was disappointed not to get to hear Ms. Ireland sing "I Want the Good Times Back" - a favorite from the original production that was cut - but she did a great job with its replacement "Daddy's Little Angel" as well as "Poor Unfortunate Souls". A surprising performance that stole the show was that of Eric Lindblom as Chef Louis. His "Les Poissons" scene was riotously funny and he showed off an extremely strong singing voice and wonderful comic timing as he chased poor Sebastian around the kitchen. It made me wish Chef Louis had more of a role as Mr. Lindblom was delightful to watch. Speaking of Sebastian, Torrey L. Thomas is inspired as the flustered yet kind-hearted crab. He thrills during "Under the Sea" and is smooth and sensational throughout the show.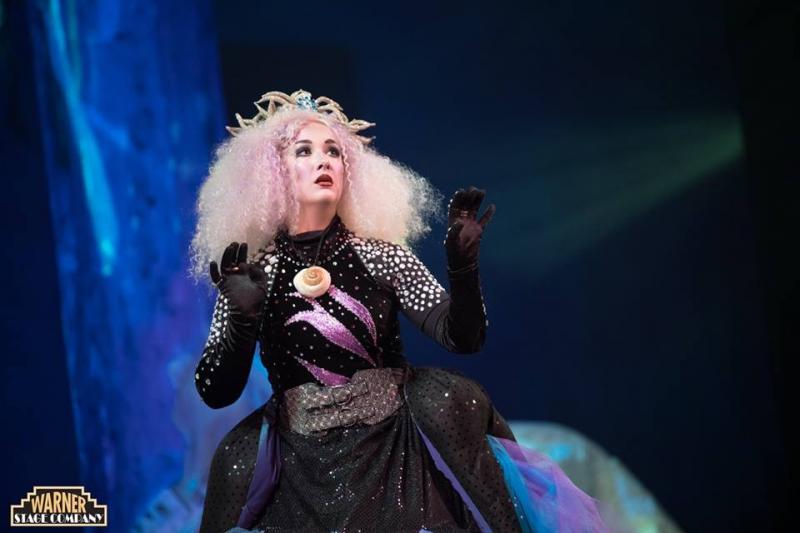 Director Richard McKenna does a great job balancing the large cast, the script and songs, and the added complexity of multiple characters flying on stage. His choices to keep the stage minimal (save for some key set pieces) works most of the time, though some of the set pieces (designed by Jameson H. Willey) get swallowed up by the large and empty stage in certain scenes. James Luurtsema, as Music Director, creates a glorious sound from his 14 piece orchestra and his large cast. Sharon Houk's choreography is bright and fun (especially the second act tap number) and Renee Purdy and Aurora Montenero's costumes bring the characters to life in bold and brilliant colors.
Overall, Warner Stage Company's THE LITTLE MERMAID is exactly what you want out of a family friendly Disney spectacular. It delivers strong performances by a talented cast, with just the right amount of stage magic. It is a great show to take kids to see, but is well-done enough to make even the most cynical of audience members smile. The theater even sells magical light up tridents, tiaras, and wands to cater to the younger set (though, personally, I found the lights a bit annoying and extremely distracting, the kids sure seemed to be having fun with them!) Overall, the Warner has once again delivered a top-notch performance full of energy, life and, most of all, fun.
THE LITTLE MERMAID runs at the Warner Theatre, 68 Main Street, Torrington, CT through August 5. To purchase tickets, call the Warner Box Office at 860-489-7180 or visit warnertheatre.org.
Photo credits: Mandi Martini

Related Articles View More Connecticut

Stories

Shows
Joseph Harrison has been involved with the theatre in some form or fashion all his life. He holds a Journalism degree from the University of (read more...)