Review: THE AGE OF INNOCENCE at Hartford Stage
Passion, scandal, love (both requited and unrequited), and regret are emotions fraught with pain and joy. They are also timeless experiences - as relatable today as they were a hundred years ago. Such is the case with Edith Wharton's THE AGE OF INNOCENCE which has been adapted for the stage by Douglas McGrath and is the latest production from Hartford Stage (in association with the McCarter Theatre Center.) The play, based on Ms. Wharton's Pulitzer Prize winning novel, provides a lavish setting for the tale of one man torn between propriety and passion, and the fixed and proper world of New York society at the end of the 19th century.
THE AGE OF INNOCENCE centers on young lawyer Newland Archer (Andrew Veenstra) who is newly engaged to prim and proper socialite May Welland (Helen Cespedes). All is well until May's cousin, Countess Ellen Olenska (Sierra Boggess), who has scandalously left her husband in Europe, returns to America to stay with her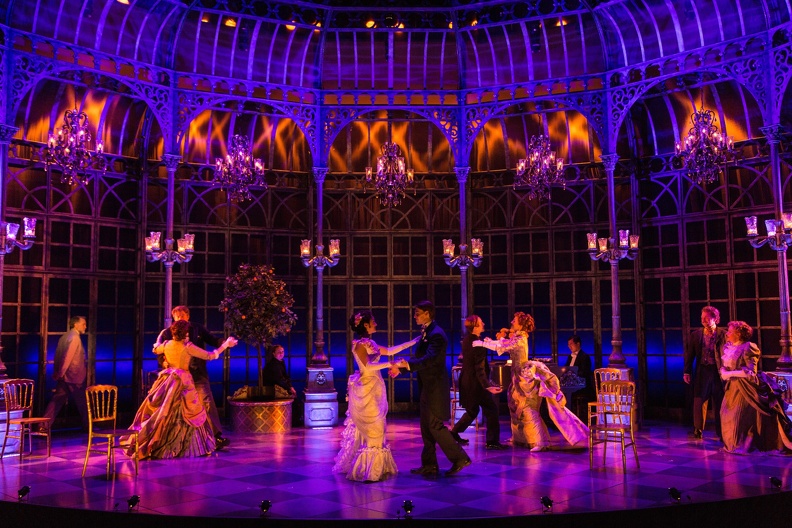 family. The Countess soon captures Newland's eye (and heart) causing him to question his future with May and all the implications of such a decision. The story, narrated by an older Newland (Boyd Gaines) gives the audience a glimpse into the lavish parties, elaborate dresses, and strict rules of New York society as well as the human complexity of the characters on stage.
Edith Wharton's THE AGE OF INNOCENCE provides a real snapshot into what life was like for proper New York society in the 1870's and skewers as much as it portrays. Her characters could become nothing more than just a caricature, but they live and breathe with human emotion making them quite believable. In this production, Douglas McGrath has created a strong adaptation of the novel, focusing the story on Newland and the two women he loves. He nimbly utilizes the "Old Gentleman" to provide both narration to keep the story moving, but also to punctuate Newland's agony at the seemingly impossible choice he must make. Doug Hughes' direction is very strong, keeping the actors transitioning quickly (and seamlessly) from scene to scene, and maintaining a strong pace for the action.
Each of the actors tasked with bringing Ms. Wharton's characters to life take on the challenge head on and deliver stunning results. As Newland, Mr. Veenstra is charming and conflicted, and is quite believably enthralled in his scenes with both Ms. Boggess and Ms. Cespedes. Speaking of, both women breathe a special kind of fire into their respective roles. As May, Ms. Cespedes is deceivingly naive at first, but sharp and calculating by the end of the play. Ms. Boggess truly shines as the Countess Olenska, fighting her own feelings for Newland while also becoming overwhelmed by his kindness and love. She even has the chance to show off her beautiful singing voice during two pivotal scenes. The rest of the cast (many of whom play multiple parts) are equally strong, bringing to life the others that make up the family and friends of the three main characters. Finally, as "The Old Gentleman" Boyd Gaines is stoic with a passionate fire bubbling underneath, especially when conveying those scenes between Newland and Ellen.
The beautifully appointed ballroom set by scenic designer John Lee Beatty provides the perfect setting for the various locations of the play. By simply adding a few gilded chairs or adjusting the lighting the audience is transported seamlessly from place to place. Linda Cho's costumes are simply ravishing, especially Ms. Boggess' and Ms. Cespedes' period gowns and the suits and spats of the gentlemen. Ben Stanton's lighting punctuates appropriately and Charles LaPointe's Wig and Hair designs are also quite beautiful.
Overall, THE AGE OF INNOCENCE is a beautiful, yet heartbreaking story of time and circumstance and how they can be the difference between love found and love lost. Hartford Stage once again delivers a thrilling evening that transports and transforms audiences through Ms. Wharton's prose and the magic of the theatre.
THE AGE OF INNOCENCE runs at Hartford Stage in Hartford, CT through May 6th. Hartford Stage is located at 50 Church Street, Hartford, CT 06103. Performances are Tuesday, Wednesday, Thursday, and Sunday at 7:30 p.m., Friday and Saturday at 8:00 p.m., and Saturday and Sunday at 2:00 p.m. Weekly schedules vary. For tickets or for more information call 860-527-5151 or visit www.hartfordstage.org.
Top Photo: Sierra Boggess (front), Sara Norton, Deirdre Madigan. Photo by T. Charles Erickson
Mid-Photo 1: The cast of The Age of Innocence. Photo by T. Charles Erickson
Mid-Photo 2: Andrew Veenstra and Helen Cespedes. Photo by T. Charles Erickson
Bottom Photo: Boyd Gaines. Photo by T. Charles Erickson