BWW Review: DISASTER! at Connecticut Repertory Theatre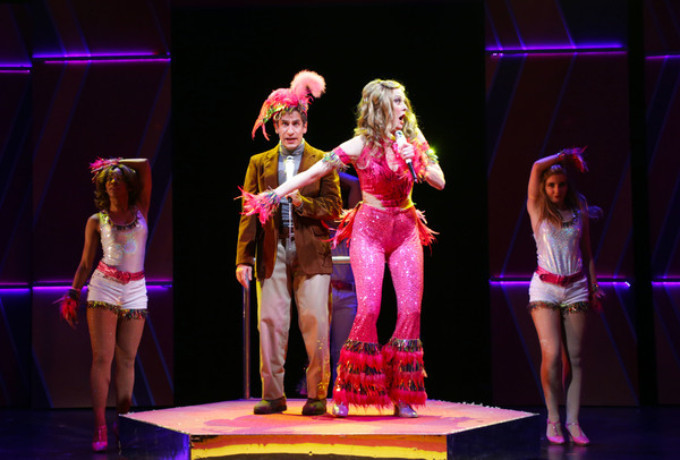 If you were alive in the 1970's, or even if you are just a student of popular culture, you would agree that the 70's were a time of, shall we say, interesting trends. From platform shoes to disco, the 70's were certainly over the top when it comes to fashion and music. And, if you headed to the cinema back then, you were certain to find another staple of the time - the disaster movie. From The Poseidon Adventure to Towering Inferno, audiences couldn't get enough of these films. And as unrealistic or silly as they might have been, they were escapist fantasy, allowing audiences to put their own troubles into perspective. People may have been lining up at the gas station, but at least they weren't desperately trying to escape a burning building or a capsized ship. It is with the same escapist flair (no arguing we have much to escape from in today's world), disco sensibility, and tongue-in-cheek comedy that DISASTER!, the Connecticut Repertory Theatre's (CRT) inaugural production of their 2018 Summer Nutmeg Series brings to vivid, polyester-infused life on stage.
DISASTER! is a musical that makes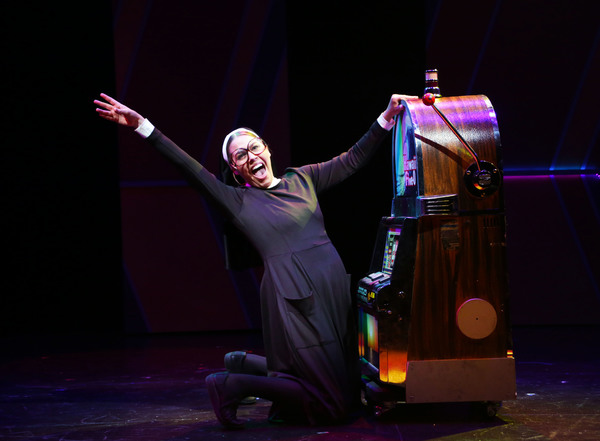 its way to the CRT stage straight from Broadway, and is the creation of co-authors Jack Plotnick (who directs this production) and Broadway icon, Seth Rudetsky (who reprises his role of Ted Scheider which he originated on Broadway). The play takes place in 1979 at the opening of a floating casino and discotheque in New York. The evening starts off with all the fanfare and spinning disco balls you might expect at a fresh and funky club opening. Patrons arrive (at Pier 54) and begin to have the time of their lives. Little do they know that those lives might be short lived during this eventful night. Very soon we meet disaster expert, Professor Ted Scheider (Seth Rudetsky) who does his best to warn the casino owner, Tony (Nick Nudler) and anyone who will listen that a major disaster is on its way. Over the course of the first act we meet waiter Chad (Ben Jackson Walker) and his nerdy friend, Scott (Simon Longnight), reporter Marianne (Alyah Scott) looking for a scoop, Maury (Griffin Binnicker) and Shirley (Anne L. Nathan), a couple celebrating their 35th anniversary, Jackie (Angie Schworer) the casino's resident lounge singer and her twins Ben and Lisa (Sana "Prince" Sarr), Disco Diva Levora Varona (Leanne Antonio) and Sister Mary (Maggie McDowell) a nun trying to save souls while fighting her own inner demons. The characters are introduced to the audience through a non-stop selection of 1970's hit songs, including "Mockingbird", "Saturday Night", "Hot Stuff", and, of course, "I Will Survive." As you might expect from the title, Dr. Scheider's predictions come true (helped along by the rhythmic dancing and gambling in the casino) and the second act becomes a hilarious survival comedy with every disaster type thrown in for good measure (Earthquake, tidal wave, inferno, and yes, even killer rats).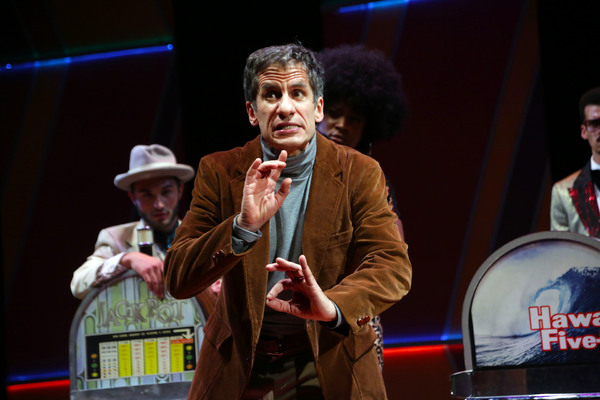 DISASTER! is a show that doesn't take itself too seriously, and in this case, that is a good thing. It is filled with non-stop, familiar music, infectious choreography (including a pre-show Hustle on stage which I had the pleasure of partaking in) and dumb, but hilarious jokes. While there have been many jukebox musicals in the past decade or so, this one accomplishes what many others have not, utilizing familiar songs but in a way that recognizes the inherent silliness in characters breaking out into a familiar tune.
The cast of DISASTER!, to the person, is excellent. 70's dancing and disco-style singing is not easy, but each one of the actors deliver powerhouse performances. Seth Rudetsky is deadpan and hilarious as Dr. Ted Scheider. Other standout performances include Maggie McDowell's Sister Mary who has a way of cracking up the audience with her facial expressions and her delivery. Ben Jackson Walker is bright eyed and hopeful as the handsome, heartbroken Chad, and has many chances to show off his powerhouse vocals (especially in "Don't Cry Out Loud"). Other powerful vocalists include Leanne Antonio as Levora and Angie Schworer as Jackie. And as both Ben and Lisa (a sight gag that never gets old), young Sana "Prince" Sarr garners some of the largest laughs of the evening.
Speaking of laughs, part of what makes DISASTER! work so well, besides the strong writing (which one person described as sketch comedy on steroids and LSD) is the frenetic and functional direction by Jack Plotnick. Mr. Plotnick's staging is creative and draws its own laughs (including one hilarious use of the stage trap door). The creative design of DISASTER! supports this vision, especially via Tim Brown's technicolor scenic designs and Fan Zheng's period-perfect costumes (so much polyester!). The music is delivered brilliantly by an eight-piece orchestra directed by music director Bryan McAdams and the choreography by Mary Ann Lamb is athletic and energetic.
DISASTER! is one of those musicals you may not know much about going in, but will leave with a huge smile on your face and disco music in your head. It is laugh-out-loud funny, entertaining and a visual spectacle that must be experienced in person. And unlike the many disasters that befall the characters on stage, this musical is far from disastrous, and is one you don't want to miss.
DISASTER! by the Connecticut Repertory Theatre (CRT) runs at the Harriet S. Jorgensen Theatre on the campus of the University of Connecticut in Storrs, CT through June 16. Evening performances start at 7:30 p.m. on Tuesdays, Wednesdays and Thursdays, and at 8 p.m. on Fridays and Saturdays. Matinee performances start at 2 p.m. on Saturdays and Sundays. Subscription package options range from $84 to $117. Single tickets prices start at $48. For additional ticket information or to purchase tickets by phone, call 860.486.2113. To purchase tickets online, visit www.crt.uconn.edu.
Top Photo Credit - Seth Rudetsky and Angie Schworer - Photo by Gerry Goodstein
Mid Photo Credit - Maggie McDowell - Photo by Gerry Goodstein
Mid-Photo #2 - Seth Rudetsky - Photo by Gerry Goodstein
Bottom Photo Credit -Maggie McDowell and Anne L. Nathan - Photo by Gerry Goodstein
Related Articles View More Connecticut

Stories

Shows
Joseph Harrison has been involved with the theatre in some form or fashion all his life. He holds a Journalism degree from the University of (read more...)