BWW Review: A CHRISTMAS CAROL at Hartford Stage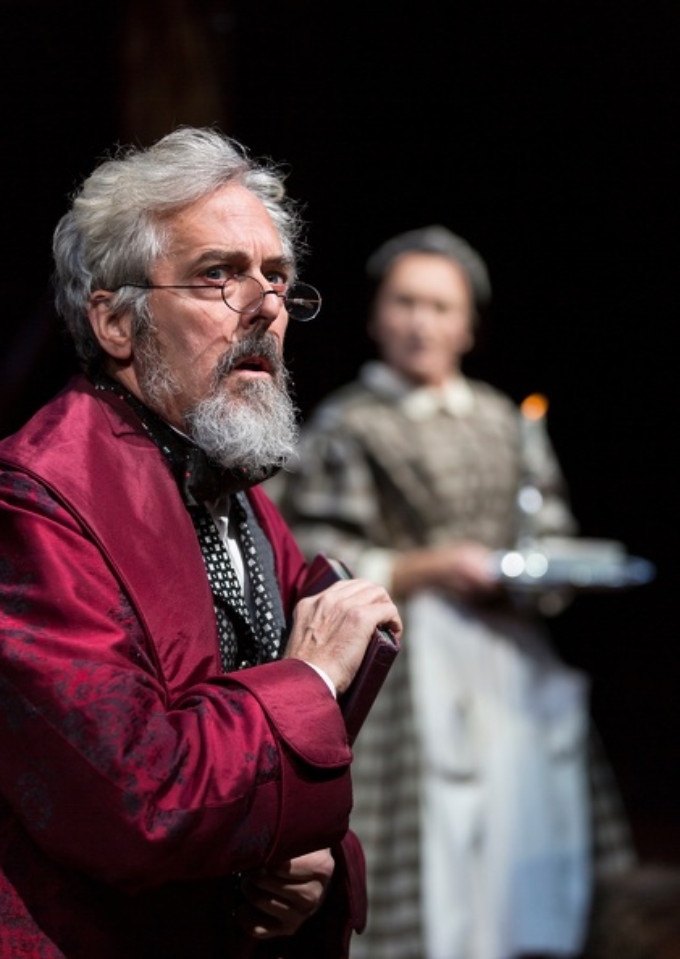 It's a story most of us have heard or witnessed before. Crotchety and greedy old Ebenezer Scrooge, complaining about the poor, turning down the invitation of his nephew to Christmas dinner, and begrudgingly giving Bob Cratchit the day off for Christmas. We fondly remember past portrayals of Scrooge face to face with the ghost of his ex-partner Jacob Marley, flying through the past and present with amiable spirits and having a change of heart after coming face to face with his own death. At Hartford Stage this season, the story comes to life once again in the form of A CHRISTMAS CAROL - A GHOST STORY OF CHRISTMAS. The classic story by Charles Dickens and as adapted and originally directed by Michael Wilson is an annual tradition for Hartford Stage, and one that takes on new life in this, its 20th anniversary.
Stepping into Ebenezer Scrooge's bedroom slippers and nightcap for the first time this year is Michael Preston (who, in past productions at Hartford Stage, portrayed Mr. Marvel). Mr. Preston's Scrooge is as gruff and grim as they come, but with bit of a sparkle in his eye and mischief in his step. As a former performer with the Flying Karamazov Brothers, he also adds a touch of physical humor, and even acrobatics (yes, acrobatics) to the role. Mr. Preston is not only stepping into an iconic role like Scrooge, but one played in an iconic way by his predecessor, Bill Raymond. He does marvelously, playing homage to some of Mr. Raymond's classic scenes, but putting his own unique spin on Scrooge's transformational Christmas Eve.
Speaking of the rest of the cast, as in past productions, a number of performances
are worth noting. First, Noble Shropshire continues to be a favorite and is brilliant once again as Mrs. Dilber (Scrooge's housekeeper) and Jacob Marley. Alan Rust as Bert/Spirit of Christmas Present shines once again as the Spirit of Christmas Present, and John-Andrew Morrison, taking over the role of Mr. Marvel from Michael Preston has a few quite funny scenes where he shows off some great facial expressions. The ensemble is quite strong, including a number of actors from the Hartt School at the University of Hartford, many in the roles of Ghostly Apparitions which serve as both eerie dance troupe and foreboding chorus. The children in the cast do well in the many roles that require younger actors, including the Cratchit children and the children of London.
Rachel Alderman once again nimbly directs this large and diverse cast and keeps the action moving. The staging is amazingly fluid and utilizes the open area of Hartford Stage very well. The scenic design by Tony Straiges is beautiful and evokes the time period simply and perfectly. The special effects, including copious amounts of stage smoke, flying spirits (flying effects by ZFX, Inc.) and creepy lighting (design by Robert Wierzel) all add to the magic and excitement of this story. Alejo Vietti's costumes (based on original designs by Zack Brown) continue to be magnificent.
All in all, Hartford Stage's A CHRISTMAS CAROL is once again a holiday must-see. The strength of the adaptation, staging and performances, especially that of Michael Preston in his debut as Scrooge are definitely worth checking out. And this production is the perfect introduction to the classic tale for children of all ages (recommended for 8 and above by the theatre, due, in part to the ghostly apparitions and scary effects.) So make this season a "Merry Christmas" and not a "Bah Humbug" and check out this holiday classic at Hartford Stage.
[Updated from my 2016 review of Hartford Stage's A CHRISTMAS CAROL]
A CHRISTMAS CAROL - A GHOST STORY OF CHRISTMAS runs at Hartford Stage in Hartford, CT through December 30. Hartford Stage is located at 50 Church Street, Hartford, CT 06103. Performances are Tuesday - Sunday at 7:30 p.m., withand Saturday and Sunday and select weekday matinees at 2:00 p.m. Weekly schedules vary. For more information call 860-527-5151 or visit www.hartfordstage.com/christmas-carol
Top Photo: Michael Preston, Noble Shropshire (background) (photo by T. Charles Erickson)
Middle Photo: Robert HannonA. Davis and RJ Vercellone (photo by T. Charles Erickson)
Bottom Photo: Alan Rust and the Children of A Christmas Carol (photo by T. Charles Erickson)