BWW Reviews: PIPPIN helps Weathervane find its corner in the sky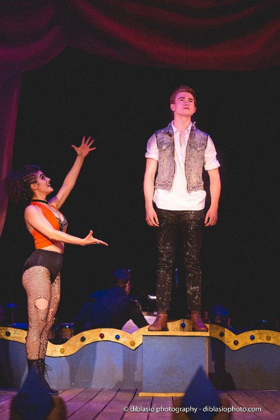 Perhaps the Weathervane Playhouse couldn't have found a better way to close out its 50th anniversary season than finishing the summer session with PIPPIN. Written by Stephen Schwartz (WICKED, CHILDREN OF EDEN and GODSPELL), the two-act, two-and-a-half-hour musical tells the story of Pippin (Kenneth Remaklus), a prince who longs to find meaning in his life.
After 50 summer seasons, Weathervane Playhouse has helped countless actors and musicians find a place to find meaning (and employment) in theatre. The slightly off-kilter musical, which Weathervane last performed in 1999, has its final slate of shows on Aug. 7-11 at the Playhouse (100 Price Road in Newark).
Schwartz originally came up with the idea for PIPPIN as a project at Carnegie Mellon with fellow student Ron Strauss. Strauss dropped out of the project as Schwartz continued to tinker with the songs and plot. The lyricist and composer said almost nothing remains of the original version.
What remains is a funny, yet challenging musical as the Leading Player (Paloma D'Auria) coaxes Pippin into pursuing a life more extraordinary. Pippin states, "I know this is a musical comedy, but I want my life to have meaning!"
Pippin tries to find fulfillment on the battlefield but that doesn't mollify him. He seeks it in sex with several dalliances among the players but that doesn't seem to satisfy him either. Near the end of the first act, he tries to fill his void with power, by eliminating his father Charlemagne (Todd Lemmon) in a Macbeth-like twist and taking over as king. All of these pursuits, and a couple more, don't lead to fulfillment.
Director Valerie Accetta brings the most out of PIPPIN's quirky script. The show succeeds because the cast's ability to not just break the fourth wall of theatre, but to crush it and the actors' ability to bring such unusual characters to life.
D'Auria sets the tone for the performance. From the opening notes of "Magic to Do," she slithers around the theatre like a salamander, popping over a side railing to direct the dialogue right at startled audience members. Throughout the show, she portrays the Leading Player with a mysterious wink to the audience, making wise cracks about all the characters' flaws.
Remaklus plays Pippin with a boyish charm and yet a sense of arrogance and entitlement that only a prince could muster. Kaitlin Descutner adds Fastrada, Pippin's scheming stepmother, to an impressive resume of evil characters while David Emery shines as Lewis, Pippin's buff but dimwitted stepbrother. Barbe Helwig (Berthe) shows off her vocal range and comedic skills in her featured song, "No Time At All."
One of the shows highlights is Lemmon's masterful turn as Charlemagne, a king more obsessed with playing with his puppets than ruling his kingdom or communicating with his son. After the Leading Player helps bring his father back to life in the second act, Pippin seeks his father's forgiveness for killing him in the first place. Lemmon delivers the punchline with a droll "That's okay, son. Just don't let it happen again."
In the second act, Megan Arseneau (as widower Catherine) and Alexander Michael Wettrich (her defiant son Theo) provide a down-to-earth counterbalance to all of Pippin's pursuits toward self-actualization. The mundane life slowly begins to appeal to Pippin but repulses the Leading Player, who criticizes Catherine's every move. At one point, the Leading Player interrupts Catherine's torch song, "I Guess I'll Miss That Man," hissing to the orchestra to "Get your damn hands off the keyboard."
In the fitting closer, "Corner of the Sky," Pippin sings, "I've got to be where my spirit can run free/Gotta find my corner of the sky." After 50 years, Weathervane has clearly found its place at 100 Price Road and hopes to challenge Newark theatre goers with shows like PIPPIN for the next half century.
Weathervane Playhouse presents its final five shows of PIPPIN 7:30 p.m. Aug. 7-11 at 100 Price Road in Newark. For more information, call 740-366-4616
Related Articles View More Columbus

Stories

Shows