BWW Interview: Greg Proops Tows a Fine Line with Improv Group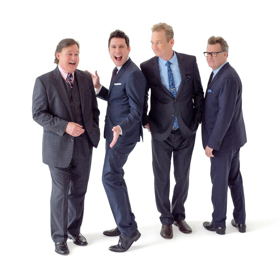 In its six year hiatus from American television from 2007-13, people would always asked comedian Greg Proops, "Do you miss not doing WHOSE LINE IS IT ANYWAY anymore?" Proops would always shake his head.
"People asked me that all the time and I'd say no because for me it's never really gone away," Proops said in a telephone interview from Los Angeles. "I've been on the road with (WHOSE LINE veteran Ryan Stiles) for over 17 years now. We were resurrected four years ago on the TCW Network. Two years ago, we performed on London's West End and we performed in Edinburgh. I just can't seem to shake these people."
Proops, Stiles, Jeff B. Davis and Joel Murray will bring the touring version of the improvisational showcase to Columbus on Sept. 22, performing at the Davidson Theatre (77 S. High Street in downtown Columbus). The show is part of a 16-date tour that began in Canada on Sept. 12 and concludes in South Bend, Ind. on Nov. 5
You will never hear Proops complaining about life on the road.
"Are you kidding? I get to travel around the country," said Proops, who once performed in Stratford Upon The Avon's Globe Theatre and then joined the WHOSE LINE crew in Omaha, Neb. two nights later. "Going on the road and performing is the biggest reward. I am not like Mick Jagger (who abhors touring). If anyone is like that it's Ryan. He's the one who wants to go home and walk his dog. But then he gets home and gets bored.
"I am in a group with Babe Ruth (of improvisational acting) in Ryan Stiles. I am like Ringo. I play a couple of numbers and he knocks it over fences."
Proops discovered his gift for improve while he attended San Francisco State University. One of the local cantinas hosted an improve group. Curious about what it was, he attended a performance and was instantly hooked. The following week he came to the show, got a seat as close as he could to the stage and when they asked for volunteers, he jumped to his feet first.
Proops was asked to join the group the next day. The comedian said that improvisation just came naturally to him.
"The thing people worry about if they had to do it is what if they couldn't think of anything to say," Proops said. "We don't really look at it that way.
"First of all, we want to get out there and improvise. We want to make each other laugh. If we aren't making each other laugh, we're not in good form."
The WHOSE LINE IS IT ANYWAY format allows the quartet to explore a variety of scenarios, from the World's Worst, where participants have to come up with a few lines as the world's worst of any given topic, to an improvised news broadcast that would make any anchor cringe.
One aspect of the television show that the quartet will NEVER perform live is the hoedown.
"We all hate Hoe Down. I hate that more than any other human. We kind of forced to do it because it works well on TV," Proops said. "Some nights, someone will shout out for the hoe down and Ryan will say 'I got your hoe down right here, pal."
WHOSE LINE is one of the more visible parts of Proops' career. While he landed roles in shows like JUST SHOOT ME, THE Drew Carey SHOW, and FLIGHT OF THE CONCHORDS, Proops provided the voice for programs like BOB THE BUILDER (as Bob), NIGHTMARE BEFORE CHRISTMAS (Harlequin Demon), BROTHER BEAR (male lover bear), STAR WARS (Tal Merrick) and STRIPELLA (Bernard). He also lends his vocals to video games like DRIVEN (David Doyle) and STAR WARS EPISODE I - RACER (Beed Annoule, Green Announcer).
"I am recognized by my voice almost as much as I am by my looks. People go 'I thought that was you but when I heard you talk I knew it was you,'" said Proops, who will be in DUCK, DUCK GOOSE with Jim Gaffigan, Carl Reiner, and Zendaya. "They said of Groucho Marx, "He looked funny, he walked funny and he talked funny." If you're a comedian, that element is not to be sniffed at. I didn't choose this voice but it seems to work for me."
And Proops isn't afraid of using his voice to promote things he believes in or bash things he's against. In his solo tours and even in his interviews, Proops often grapples with political issues. Proops' idols George Carlin, Richard Pryor, Lilly Tomlin, Lenny Bruce, Joan Rivers and Robin Williams were not afraid of taking a stand.
"I don't buy the theory that once you mention politics you lose half the room," Proops said. "I knew Joan Rivers and Robin Williams and they were absolutely unafraid to say what they wanted to say. If people are upset because they disagree with my opinion, I always offer them this: "there's a name for people who laugh at something they disagree with. It's call being sophisticated."
WHOSE LIVE ANYWAY will roll into Columbus Sept. 22 at the Joann Davidson Theatre (77 S. High Street in downtown Columbus). For ticket information, call 614-469-1045.