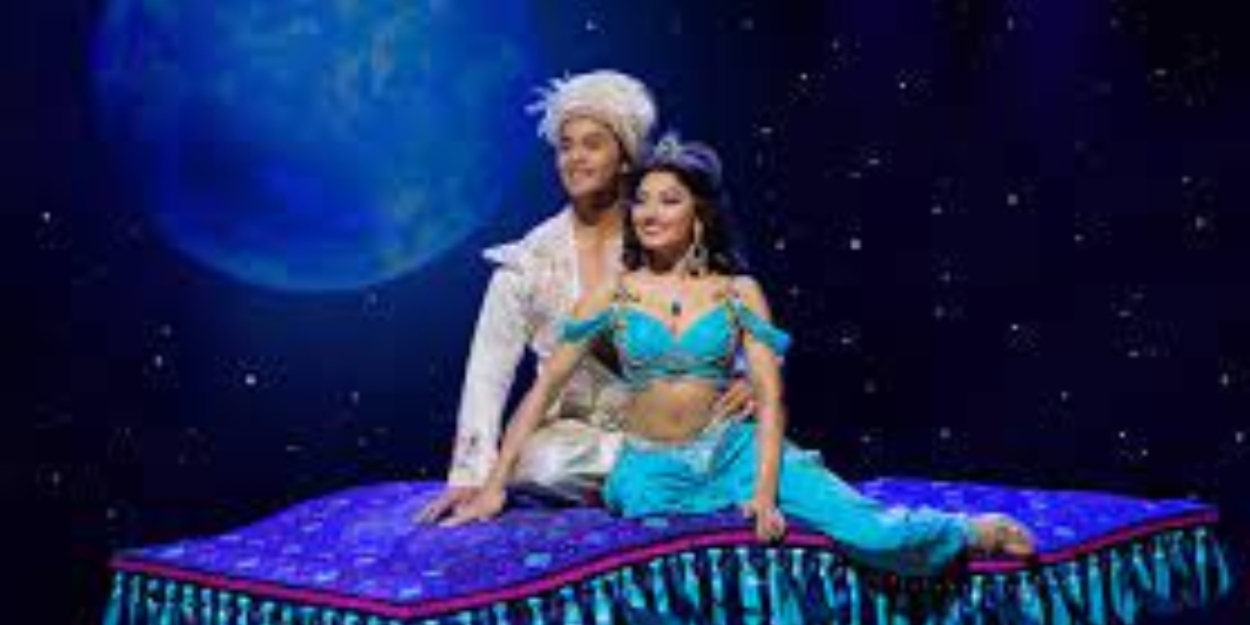 Review: ALADDIN at Connor Palace, Cleveland
"Aladdin: take audience on a less than dynamic magic carpet ride
Disney, whether it's their theme parks, cruises or Broadway-style shows, has a special approach that excites kids as well as adults.

Disney's "Aladdin" as it has done several times, is again attempting to take CLE on a magic carpet ride at the Connor Palace as part of the Huntington Featured Performance Series.

The musical, with music by Alan Menken and lyrics by Howard Ashman, Tim Rice and Menken, is based on the 1992 Disney film "Aladdin."

The stage version basically sticks to the cinema's story line, but instead of the film's animals, Aladdin is blessed with three buddies to help him through his exploits, and add delight through their Three Stooges-like shenanigans. Jasmine gets three handmaidens, and Aladdin's second wish is used to free him and his friends from capture, not to stop him from drowning, as it is in the movie.

In addition, the stage version, while including five cherished songs from the Academy Award-winning soundtrack, adds some new tunes written especially for the live presentation.

The story follows the young orphaned Aladdin, who, with the help of his three amigos, does petty stealing in a marketplace in the Arabian city of Agrabah, someplace in the Middle East.

Bad guy Jafar, (Boo!) Grand Vizier and assistant to the King, finds out there is a magic lamp which encases a Genie who can grant three wishes to its possessor.
Getting that lamp is a great way for the scheming Jafar (Boo!) to become King. Unfortunately, the cave can only be entered by the "chosen one." The chosen one? Aladdin, of course. (Hey, this is a fairytale.)

Meanwhile, Princess Jasmine is in a tizzy because the law of the land says she must marry a prince. She's not interested, but she has a three-day window of time and every prince that she's offered isn't to her liking. (We all know where this plot device is going!)

She sneaks out of the palace and goes to the bazaar. Aladdin and his friends are being chased by the royal guards after our hero stole a loaf of bread (you think the guys at Disney got a little mixed up and stole some of the plot from LES MIZ?).

Jaz and 'Ladin lock eyes and they are smitten.

And, so, the plot is laid for the Genie to grant Aladdin his wish to become a prince, thus being eligible to marry Jasmine. (Of course, there are stumbles along the way, as well as lots of singing and dancing and a magic carpet ride.)

In the end, as is the case with all good tales of this ilk, guy gets girl, villain gets his just just-punishment, and the audience goes home happy, (after stopping at the concession stand in the lobby to buy lots of Disneyesque "stuff").

The touring company is a visual delight of Arabian night costumes, sets and music. However, the cast, who mostly are making their professional tour appearances, is either tired from a long tour, doesn't have the needed experience, or just doesn't have the singing and acting chops to carry the show to its potential dynamics.

Akron native and BW Music Theatre grad, Marcus M. Martin, is delightful as the wise-cracking, ad-libbing, bedeviling Genie. His cast-involving opening number sets what should be a perfect delightful tone for the show, and "Friend Like Me," sung with Aladdin and the Ensemble, evoked extended cheering (there was a large BW and Akron contingent in the audience.)

Anand Nagraj was evil-light as Jafar, not engendering enough real melodramatic scary. Just moving your eyes upward and scowling, does not evil make. As Iago, his bumbling side-kick, Iago, Ohio bred, Aaron Choi, feigned being a duffus. At times he delighted, other instances, he was surface playing put-upon, not being real enough to be believable.

Adi Roy, he of handsome face, dark hair, nice singing voice, and expressive eyes, was acceptable as Aladdin. He lacked the special charming quality needed to make the audience fall in love with him.

His sidekicks, Babkak (delightful Jake Letts), Omar (stand-in Joshua Kenneth Allen Johnson) and Kassim (gym-toned Colt Pratts), were perfect foils. (Side note: Baldwin Wallace Musical Theatre grad, Steel Burkhardt, played Kassim on Broadway).

Pretty Senzel Ahmady had the right spunk as Jasmine, one of the few Disney princesses with a backbone. Her nicely sung "These Palace Walls" gave a clear picture of her desire to be her own person. However, there appeared to be no emotional connection, a plot necessity, between her and Adi Roy (Aladdin). "A Whole New World," a Tony Winner for Best Song, a duet between the two, needed more dynamics.

Cody Hernández (Razoul) is making his homecoming with this Cleveland tour stop.

CAPSULE JUDGEMENT: "Aladdin" is a family-friendly, escapist musical that gets an adequate production, by a cast of mostly newbies to professional theatre.

"Aladdin" will play Wednesday through Friday at 7:30 p.m., Saturday at 1:30 p.m. and 7:30 p.m., and Sunday at 1:00 p.m. and 6:30 p.m. Tickets are available now by calling at 216-241-6000, or via the Internet at playhousesquare.org.