BWW Review: THE HUNCHBACK OF NOTRE DAME (MUSICAL) rings in at Great Lakes Theater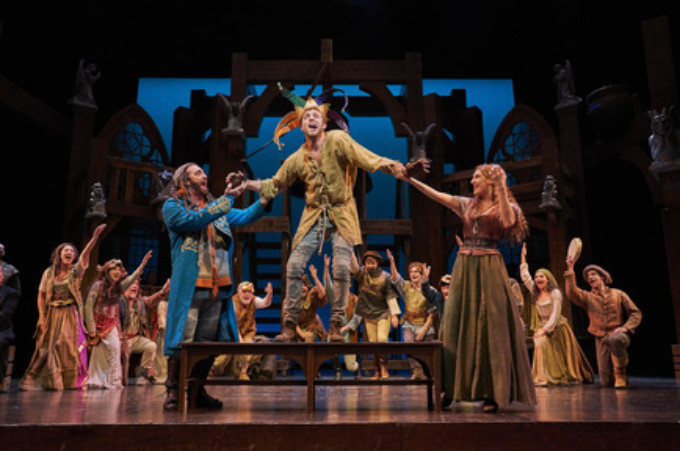 What do "Beauty and The Beast," "The Lion King," "Tarzan," "The Little Mermaid," "Aladdin," and, "The Hunchback of Notre Dame" have in common? Yes, they are all animated Walt Disney Studio films. The first five also transformed into Broadway hits. Though "Hunchback" received Disneyfication, it never made it to the Great White Way.
"
The Hunchback of Notre Dame
" which is now on stage at Great Lakes Theatre, which has music by
Alan Menken
, lyrics by
Stephen Schwartz
and book by
Peter Parnell
, is based on
Victor Hugo
's 1831 novel of the same name which was transformed by Disney into an animated film in 1996. The musical debuted at California's
LaJolla Playhouse
in October of 2014. In March of 2015 it played at New Jersey's
Paper Mill Playhouse
. Both venues have hosted shows on their way to Broadway. However, after the Paper Mill production closed, it was decided that "
Hunchback
" was not Broadway material. The question as to why the script has been released for non-Broadway theatres without getting a Big Apple trial has been a subject of conjecture. Casting a crystal ball into the producers' mind, here is some conjecture. In contrast to most previous Disney tales transferring film to stage, Hunchback's subject matter doesn't center on princesses, animals or fairy book characters who end up with happy-ever-after lives. Instead, the Hugo tale concerns physical and emotional malformation, negative observations about the church and its leadership, as well as prejudice about a cultural group, in this case, Gypsies. The ending is anything but happy. The audience does not leave humming lovely ditties, they don't joyfully exit with positive thoughts and feelings. The subject doesn't lend itself to joyous musical sounds and lyrics. Then there is the case that "
The Hunchback of Notre Dame
" is dark, both in staging and in message. Its hero is not heroic in the traditional sense. He does not reach a happy ending, problems solved. He starts as a troubled, misshapen child and ends as a troubled, misshapen adult. The script, with the play's topics of gothic architecture, religion, politics and immigration, are not exactly the subject of joyous Disney musicals. Successful Broadway musicals aren't all sunshine and roses. Think "
Next to Normal,
"
"Ragtime," and "Spring Awakening."
But these didn't start out as animated movies, products of Disney Studios. So, what's the tale? The story centers on Quasimodo, a bastard and deformed child who is being raised by his uncle, Dom Claude Frollo, the archdeacon of Notre Dame. The youth grows to manhood hidden away in the church's bell tower with only the gargoyles as friends. Gargoyles who come to life only in Quasimodo's presence. One day Quasimodo overcomes his fears and, against Frollo's commands, decides to go to a festival. There he is humiliated when he is offered as a contestant in the "ugliest man competition" by Esmerelda, a well-meaning Gypsy. He wins, but is attacked in the riot which follows. A riot started by Frollo's men mainly because of the archdeacon's hatred of the Gypsies. He is freed by Esmerelda, goes back to the tower, but pines for the gypsy girl. What follows are a series of events which eventually lead to a heartbreaking ending. An ending which leads to a curtain-closing speech about bodies found years later in a burial vault in Notre Dame, a vault in which "two skeletons, one of which held the other in a singular embrace." The spine of one of the skeletons was crooked, "the head depressed between the shoulders, and one leg was shorter than the other." When the skeletons were touched, they disintegrated into dust. After a slow, often tedious first act filled with lots of exposition, the second act exploded into strong, often captivating theatre. The second act also contain
Ed Strong
er music. The music, most of it based on clerical, heavy sounds that fit in Notre Dame, but aren't exactly Broadway riffs. "Entr'acte," the first song of the 2 nd Act was mesmerizing. Esmeralda and Phoebus's "Someday" is one of
Stephen Schwartz
's signature "message" songs, such as "Corner of the Sky" from "
Pippin
," which creates memorable meaning for a character and their dreams and wishes. The GLT production, under the direction of
Victoria Bussert
, gets a lot out of what the conceivers give her. There are many meaningful and impressive segments and performances. The cast has a definite Baldwin Wallace Musical Theatre program slant. Among others, in name roles, Dan Hoy (Jehan Frollo, the Archdeacon's younger brother),
Alex Syiek
(Clopin Trouillefou, King of the Gypsies),
Olivia Kaufmann
(Florika),
Jon Loya
(Phoebus De Martin),
Corey Mach
(Quasimodo) and Keri René Fuller (Esmeralda) are all BW grads or students. Ironically, in both the LaJolla and Paper Mill productions, Esmeralda was performed by 2013 BW grad,
Ciara Renee
(who appeared on Broadway in "
Big Fish
" and the revival of "
Pippin
." The cast was strong.
Alex Syiek
, with his deep set dark eyes, sunken with makeup, was excellent as the swarthy King of the Gypsies. He is a strong presence on stage.
Cory Mach
's strong singing voice and acting skills gave Quasimodo a sad but charming presence, though on occasion, he had some difficulty consistently maintaining the gimpy walk and stammering speech. Mach has appeared on Broadway in "
Hands On Hard
body," and "
Godspell,
" and in the national tours of "
Flashdance (The Musical)
," "
Wicked
" And "
Rent
." Keri René Fuller sang Esmeralda beautifully. She could have displayed a little more seductive fire as the beguiling Gypsy and center of Quasimodo's infatuation. When
Tom Ford
came out for his solo curtain call he was soundly booed. That's quite a compliment for the believability of his nastiness in developing the maniacal archdeacon of Notre Dame. The choral singing was beautifully executed by the Baldwin Wallace Choral Studies Program Choir and the orchestra was excellent under the conductorship of
Joel Mercier
. Jeff Herrmann's scenic design aided in setting the somber mood, as did
Mary Jo Dondlinger
's somber lighting.
Capsule judgement:
"
The Hunchback of Notre Dame
" is not a typical Disney stage creation. It is a dark, brooding musical and probably not appropriate for children. While the first act is rather slow, the second act is strong. It is well worth seeing. "
The Hunchback of Notre Dame
" runs through November 4, 2017 at the Hanna
Theatre in repertoire with "A Midsummer Night's Dream." For tickets: 216-664-6064 or
www.greatlakestheater.org