Click Here for More Articles on STUDENT CENTER - COLLEGE EDITION

Theatre School at DePaul to Stage MR. BURNS, A POST-ELECTRIC PLAY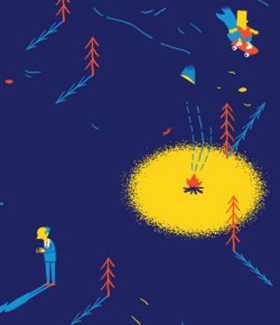 The Theatre School at DePaul University is pleased to present Mr. Burns, a Post-Electric Play, written by Anne Washburn and directed by Jeremy Aluma (MFA Directing candidate, Class of 2019), with music by Michael Friedman, in the Sondra & Denis Healy Theatre. The production premieres on Friday, January 26, and runs through Sunday, February 4, 2018. Performances are Wednesdays through Saturdays at 7:30 PM and Sundays at 2 PM. Previews are on January 24 and 25 at 7:30 PM. Post-show discussions will follow the performances on January 28 (2:00 PM) and February 1 (7:30 PM).
About the production: What would you hold sacred if everything you knew was destroyed? In three acts, Mr. Burns, a Post-Electric Play is the story of survival and reinvention in a post-apocalyptic world. What starts as a group of friends casually recounting a Simpson's episode morphs-over the course of more than 80 years-into a completely new form of storytelling.
"Our world has changed considerably in the last year," explains director Jeremy Aluma. "The stories we tell have helped shape this change and continue to do so. The act of sharing through story has the power to birth revolution, revision, and unity."
Tickets are $15, preview tickets are $10, and student tickets are always $5. Tickets are available online at http://theatre.depaul.edu or by calling the Box Office at 773.325.7900. Subscriptions and group rates are also available. Members of the active military and their families can receive a discount with a valid ID.
If patrons require wheelchair accessible and/or companion seating, or have any other hearing or vision needs, please let the Box Office staff know when you reserve your tickets, so that they can make sure your visit to our theatre is an excellent one.
The Theatre School at DePaul University is located at 2350 N. Racine Avenue (at Fullerton). The school is easily accessible via the Fullerton CTA Station and the Fullerton (74) Bus. Visitors and audience members can receive discounted parking rates in DePaul University's Clifton Parking Deck, located at 2330 N. Clifton Avenue. Call the Box Office for additional information in order to plan your trip.
The cast features Kayla Forde (Quincy/Bart), Elliot Gross (Sam/Mr. Burns), Maddy Mason (Edna), Juan Pablo Ocasio (Matt/Itchy), Grainne Ortlieb (Jenny/Scratchy), Katie Travers (Colleen/Marge), Garrett Young (Gibson/Homer), and Harmony Zhang (Maria/Lisa).
The production team includes
Jeremy Aluma
(Director), Mark Elliott (Musical Director),
Chuck Coyl
(Fight Choreographer), Ashley Wang (Scenic Designer), Angela Mix(Costume Designer), Jay Koch (Lighting Designer), Alyssa Kerr (Sound Designer), Frankie Charles (Technical Director), Trisha Mahoney (Dramaturg), and Erin Collins (Stage Manager).
Jeremy Aluma (Director) is an award-winning Jewish-American theatre director of Iraqi descent. He founded the international touring clown troupe Four Clowns and served as Artistic Director during their first seven years. Directing credits include: Abraham & Isaac (MuBe Cultural Theatre, São Paulo, Brazil); Four Clowns (La MaMa, New York City); Pinocchio and Robin Hood (South Coast Repertory); Sublimity (Theatre Row, New York City); The Elaborate Entrance of Chad Deity (Red Theater, Chicago); Crumble, Lay Me Down Justin Timberlake (Sacred Fools, Los Angeles); The Last Days of Judas Iscariot (Urban Theatre Movement, Los Angeles); Henry's Potato (REDCAT, Los Angeles); Beyond Dark (Odyssey Theater, Los Angeles); Jonah (Annenberg, Santa Monica) and Hamlet (American Coast Theater). Previous credits at The Theatre School include The House of Bernarda Alba and The Zoo Story. Jeremy is a company member at Red Theater and a member of the Stage Directors and Choreographers Society. jeremyaluma.com
Related Articles
More Hot Stories For You